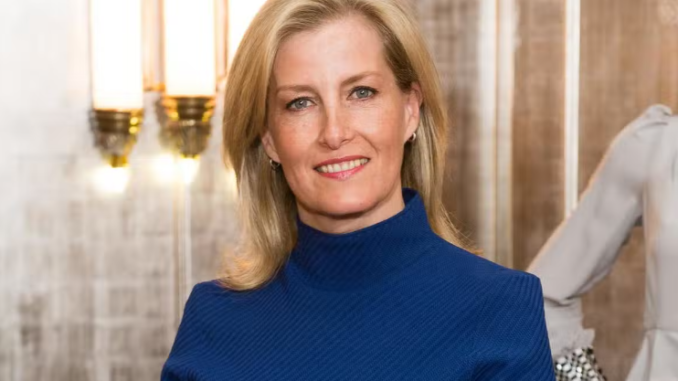 Sophie, Countess of Wessex is a member of the British royal family who is well known for being the wife of Prince Edward, Earl of Wessex, who is the youngest child of late Queen Elizabeth II and Prince Philip, Duke of Edinburgh. Initially, she trained as a secretary while attending West Kent College. After that, she began working in public relations, representing firms across the UK, Switzerland, and Australia before opening her own agency in 1996. After her marriage to Prince Edward, in 2002, Sophie closed her business interests and began full-time work as a member of the royal family. She is the patron of over 70 charities and organizations, including Childline and the London College of Fashion. She undertakes over 200 engagements each year, including visits to schools, universities, and military bases. Her charity work primarily revolves around people with disabilities, women's rights, avoidable blindness, and agriculture. With her marriage to Prince Edward, her title has been styled as "Her Royal Highness The Countess of Wessex". Sophie is regarded as one of the most stylish members of the British royal family alongside Catherine, Duchess of Cambridge, and Meghan, Duchess of Sussex. 
Sophie, Countess of Wessex Known For
Who are Sophie, Countess of Wessex's Parents?
Sophie was born as Sophie Helen Rhys-Jones on 20th January 1965. She is from Radcliffe Infirmary, Oxford, United Kingdom. She was raised in a four-bedroom 17th-century farmhouse in Brenchley, Kent. She holds British nationality and her ethnicity is British-White. Her father, Christopher Bournes Rhys-Jones (born 1931), is a retired sales director for an importer of industrial tires and rubber goods. Her mother was Mary (née O'Sullivan; 1934–2005), a charity worker and secretary. She has an elder brother, David (born 1963), and was named after her father's sister, Helen, who died in a riding accident in 1960. Her godfather, actor Thane Bettany, was her father's stepbrother; both men spent their early life in Sarawak, North Borneo, then a British Protectorate ruled by the White Rajahs. She descends from King Henry IV of England and is related to the family of the Viscounts Molesworth; her grandmother, Margaret Rhys-Jones, née Molesworth, was the great-granddaughter of the Rev. She began her education at Dulwich Preparatory School, before moving on to Kent College, Pembury. She then trained as a secretary at West Kent College, Tonbridge. As of 2022, she is 57 years old. 
Sophie, Countess of Wessex Career
Sophie started her career in public relations, and she worked at Capital Radio, The Quentin Bell Organisation, and MacLaurin Communications & Media.
In Switzerland, she served as a ski representative and she founded her public relation agency, RJH Public Relations in 1996.
She has been in various campaigns and works along with her husband. 
She visited the troops in Afghanistan, in December 2011.
They visited South Africa in 2013. 
At end of 2013, she went to India and Qatar solo as the patron of the sight-saving charity Orbis UK.
She made a similar visit to Bangladesh in November 2017.
She represented the Queen on the 70th anniversary in May 2015, to mark the Liberation Day of the Channel Islands.
She visited Canada and the United States in November 2015.
While in Toronto, she crisscrossed across the city, making stops at the Royal Agricultural Winter Fair and the UHN's Toronto General Hospital, and Toronto Western Hospital, of which she is a patron. 
She also made an appearance at an Armistice Day service at the Queen Elizabeth II September 11th Garden, which was opened in commemoration of the 67 British victims of the attack. The Countess later attended the 100 Women in Hedge Funds Gala dinner in Manhattan.
In October 2018, the Earl and Countess of Wessex toured the Baltic states.
In March 2019, the Countess traveled to New York City to attend the 63rd session of the United Nations Commission on the Status of Women (CSW). 
In March 2020, Sophie became the first member of the royal family to visit South Sudan. 
In January 2022, the Countess went on a solo visit to Qatar in her capacity as the global ambassador for the International Agency for the Prevention of Blindness (IAPB) to support the organization's '2030 in Sight' initiative and visit projects by the Qatar Fund and Orbis International aimed at improving eye tests and treatments in India and Bangladesh. 
As a supporter of the Women Peace and Security Network, she met with Afghan women refugees who had been evacuated from the country following the 2021 Taliban offensive.
In March 2022, Sophie went on a four-day solo trip to New York City, visiting the Queen Elizabeth II September 11th Garden and Consuls General from across the Commonwealth to mark Commonwealth Day. 
In April 2022, the Earl and Countess of Wessex and Forfar toured Saint Lucia, Saint Vincent, and the Grenadines, and Antigua and Barbuda to mark the Queen's Platinum Jubilee.
Along with her husband, in 1999, she founded The Wessex Youth Trust, which aims to aid children and young people. 
Later, In 2019, the Wessex Youth Trust has been renamed the Earl and the Countess of Wessex Charitable Trust.
As a full-time member of the royal family, part of her focus became charities that dealt with communications difficulties, including Southampton General Hospital, and the New Haven Trust in Toronto, a learning center for children with autism.
The countess worked as a care volunteer at an NHS vaccination center, as the Grand President of St John Ambulance in February 2021. 
In the following year, she was assigned as royal patron of Wellbeing of Women, and patronage of The Guide Dogs for the Blind Association was passed on to Princes Alexandra in July 2021.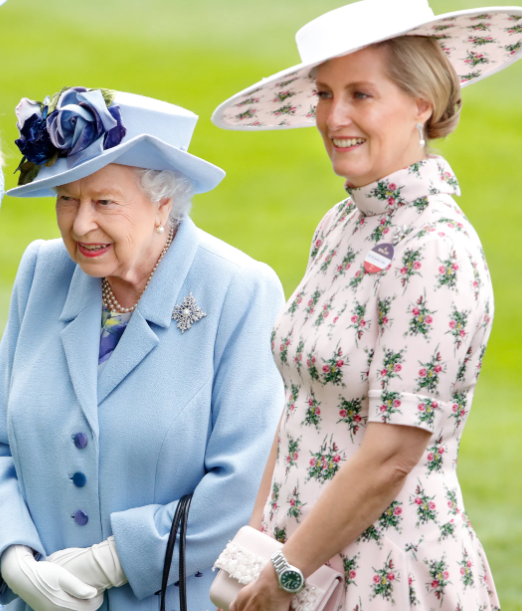 Everything To Know About Queen Elizabeth II
Sophie, Countess of Wessex Titles, Honors, and Achievements
20 January 1965 – 19 June 1999: Miss Sophie Rhys-Jones
19 June 1999 – present: Her Royal Highness The Countess of Wessex: In Scotland: 10 March 2019 – present: Her Royal Highness The Countess of Forfar
2002: Queen Elizabeth II Golden Jubilee Medal 
2004: Royal Family Order of Queen Elizabeth II 
2005: Commemorative Medal for the Centennial of Saskatchewan 
2010: Dame Grand Cross of the Royal Victorian Order (GCVO) 
2012: Queen Elizabeth II Diamond Jubilee Medal 
2016: Canadian Forces Decoration (CD)
2017: Service Medal of the Order of St John 
2021: Service Medal of the Order of St John (First Bar to the Service Medal)
2022: Queen Elizabeth II Platinum Jubilee Medal 
2022: Dame Grand Cross of the Venerable Order of Saint John (GCStJ) 
2005–2022: Dame of Justice of the Venerable Order of Saint John (DStJ) 
2015: Sash of the Order of the Aztec Eagle 
2017: Sultan of Brunei Golden Jubilee Medal 
2004: Colonel-in-Chief of the Lincoln and Welland Regiment 
2005: Colonel-in-Chief of the South Alberta Light Horse 
2003: Colonel-in-Chief of the Queen Alexandra's Royal Army Nursing Corps 
2005: Colonel-in-Chief of the Royal Corps of Army Music 
2006: Lady Sponsor of HMS Daring 
2007: Royal Colonel of the 5th Battalion The Rifles 
2008: Honorary Air Commodore Royal Air Force Wittering 
2022: Colonel-in-Chief of the Royal Electrical and Mechanical Engineers 
What is the Net Worth of Sophie, Countess of Wessex?
Sophie Wessex is a British member of the royal family. As of 2022, the net worth of Sophie is estimated to have $10 million. Since marrying Prince Edward, she now serves as a working member of the Royal Family. Having grown up in Kent, she later trained as a secretary, before beginning her career in public relations. This included working for four years at Capital Radio. She also worked as a ski representative in Switzerland, as well as spent a year traveling and working in Australia. Since stepping down from her career in business, Sophie and her spouse are funded by Queen Elizabeth. These full-time royals receive a salary via the Queen's income from the Crown Estate. Now, Sophie spends much of her time supporting the monarch Queen Elizabeth and a number of her own charities and organizations. Sophie, Countess of Wessex's income source is mainly from being a successful Countess. Today, she is living a lavish lifestyle.  
Who is the Husband of Sophie, Countess of Wessex?
Sophie, Countess of Wessex is a married woman to her handsome husband, Prince Edward. Prince is the youngest child and third son of Queen Elizabeth and Prince Philip, Duke of Edinburgh. In 1987, they met for the first time, and again they met in 1993, at the promotion shoot for the Prince Edward Summer Challenge to raise money for charity. Later, in December 1998, Sophie proposed to Edward, and on 6th January 1999, he proposed to her with an Asprey and Garrard engagement ring worth around, £105,000: a two-carat oval diamond flanked by two heart-shaped gemstones set in 18-carat white gold. On 19th June 1999, they wedded at St George's Chapel at Windsor Castle and spent their honeymoon at Balmoral Castle. On the same day, Prince Edward was given the title of Earl of Wessex and the subsidiary title of Viscount Severn. In 2001, Sophie went through an ectopic pregnancy and have two children – Lady Louise Windsor (b. November 8, 2003) and James, Viscount Severn (b. December 17, 2007), respectively 13th and 12th in line to the British throne. She prematurely gave birth to her daughter, Lady Louise Mountbatten-Windsor, resulting from a sudden placental abruption that placed both mother and child at risk, and the Countess had to undergo an emergency cesarean section at Frimley Park Hospital, while the Earl of Wessex rushed back from Mauritius. She returned to Frimley Park Hospital on 17 December 2007, to give birth, again by cesarean section, to her son, James Mountbatten-Windsor, Viscount Severn. Currently, the family resides at Buckingham Palace. Her sexual orientaiton is straight. She divides her time between her residences in Buckingham Palace, London, England, United Kingdom, and Bagshot Park, Surrey, England, United Kingdom.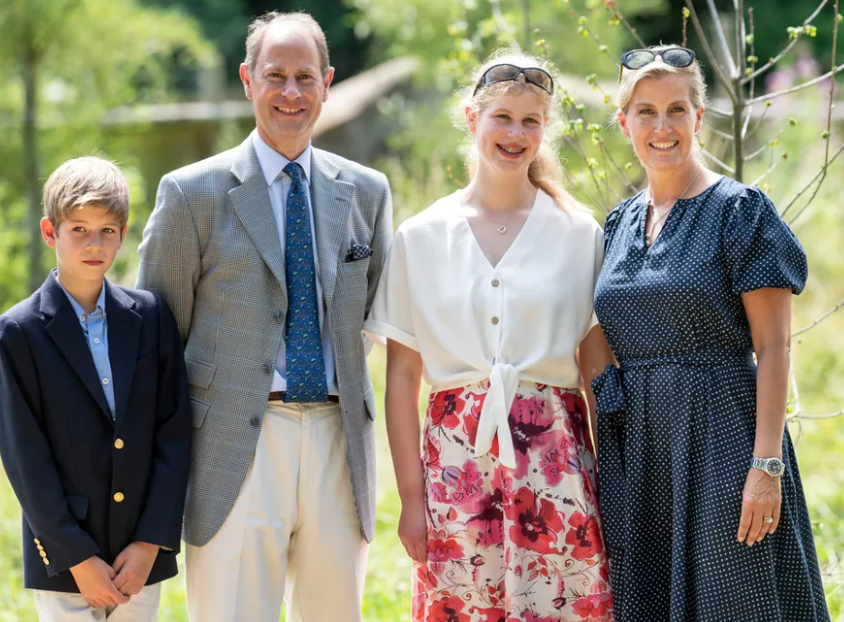 Sophie, Countess of Wessex Height and Weight
Sophie is a beautiful woman with a standing height of 5 feet 5 inches or 1.65 m. Her body weight consists of 62 Kg or 136.5 lbs. Her body type is average. She has got blonde hair color with blue eyes. She has got a healthy body with a charming smile attracting a lot of people towards her.