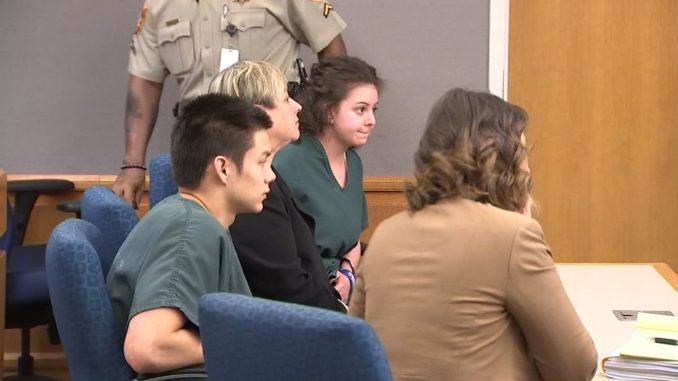 The World Prison Brief estimates that 500,000 prisoners are serving life sentences across the world; about 200,000 of these prisoners are in U.S. prisons. One would be mistaken to assume that the prisoners who have been handed life sentences are hardened and seasoned criminals, but the reality is much darker. Some of them are teenagers who committed horrific atrocities that left everyone who heard of their crimes in shock over the vicious cruelty in people who have barely outgrown the innocence of childhood. Here is a list of some teens who have been sentenced to life in prison and the shocking crimes that landed them behind bars.
Aiden Fucci
In March this year, the family and friends of Tristyn Bailey let out a collective sigh of relief after the court handed Aiden Fucci, her killer, a life sentence. However, the sentence did little to bring comfort to the family of the teenager who met an horrific death in 2021. Aiden and Tristyn were both students at Patriot Oaks Academy. On the eve of Mother's Day 2021, Aiden asked one of his friends for Tristyn's number. He initiated a conversation with the 13-year-old cheerleader, asking her to meet him at a friend's house. Tristyn obliged and left her house to meet Aiden, unaware that she would not return to help her elder sister prepare a Mother's Day surprise for their mother the following morning, as they'd planned. Later that night, Aiden and Tristyn were spotted walking along Saddlestone Drive. One hour and 45 minutes later, video footage showed Aiden walking back along the same path alone. Tristyn's body was found in a pond near Saddlestone Drive.
Investigations into Tristyn's death uncovered several troubling facts about Aiden. According to his girlfriend and some close friends, the teen often talked about murder – he had once confessed that he would drag someone into the woods and stab them to death. He acted on his fantasy when he stabbed Tristyn to death. During his trial, Tristyn's sister demonstrated the depth of the darkness in Aiden when she counted the number of stab wounds on the 13-year-old's body. One by one, she dropped glass balls into a glass jar, making an impactful statement that her sister was stabbed 114 times. Several minutes and 114 balls later, the courtroom was dead silent as everyone contemplated the terror Tristyn felt as Aiden drove a knife into her again and again until she died.
Aiden was 14 at the time of the incident and 16 when he stood trial for the horrific crime. Although he was a minor, the judge charged him as an adult, citing the amount of time and thought that Aiden put into planning and executing the crime, the lack of an external source pressuring him into committing the crime, and his level of maturity, which meant that Aiden understood the consequences of his actions. Naturally, Aiden was handed a life sentence, but his lawyer has filed an appeal claiming that the court should strike a psychological evaluation stating that Aiden was a poor candidate for rehabilitation, and reconsider the ruling. The appeal came just as Aiden's mother is set to stand trial for destroying evidence by washing her son's bloody jeans on the night of the murder. For now, the ruling stands. Aiden Fucci will spend the rest of his life in prison.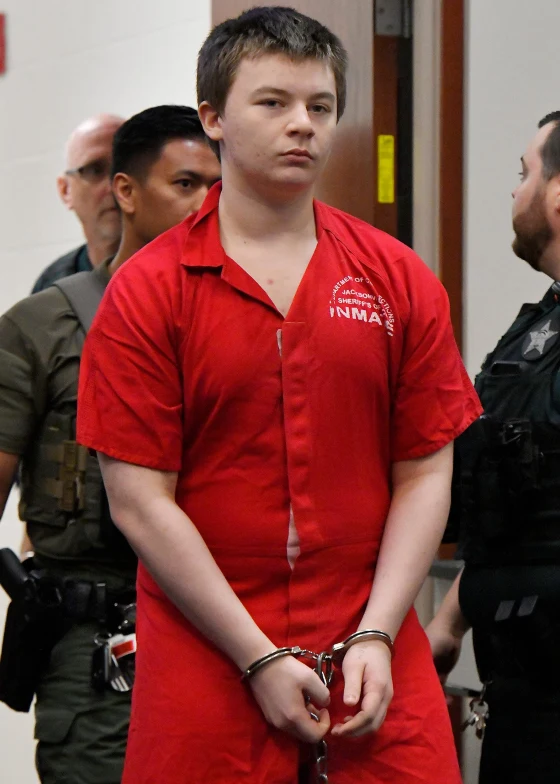 Lionel Tate
In 1999, a mother left her 6-year-old daughter, Tiffany Eunick, with a friend, Kathleen, for the night. Kathleen had a 12-year-old son, Lionel Tate. At 10:00, Kathleen left Lionel and Tiffany watching TV and playing and went upstairs to bed. At 10:40, Lionel rushed upstairs and informed his mother that Tiffany wasn't breathing. According to Lionel, he and Tiffany were playing a wrestling game. He put her in a headlock and she hit her head against the edge of the table. She then rolled on the ground and peed her pants before she stopped moving. He left her on the floor and watched more television before checking on her again, only to find her unresponsive and cold. That's when he rushed to get his mother.
Lionel's case had people divided. One group argued that she met her tragic death in a harmless wrestling game between two children, but the second believed that Lionel had attacked her violently and killed her; experts agreed with the second group. A child-abuse expert testified that Lionel beat Tiffany brutally for at least five minutes, which left the 6-year-old with a cracked skull, bruises all over her body, lacerations to her liver, bleeding in her kidneys, and a broken rib. Kathleen rejected a plea deal, believing that Lionel would be acquitted, but he was handed a life sentence in 2001, becoming the youngest person to be sentenced to life in the US. Lionel's story becomes more complicated from then, since his sentence was later reviewed, and he was released on parole only to end up in prison again after pleading guilty to armed robbery.
Brian Draper and Torey Adamcik
Brian and Torey rival Aiden Fucci's psychopathic level of premeditation and meticulous planning before the execution of an heinous crime. Dubbed "The Scream Killers" for their reverence for the masked killer in the horror film "Scream," friends and classmates Brian and Torey shocked the world with their brutality and lack of remorse for their actions. They took time to choose their victim, place themselves in her circle, and wait for the perfect time to strike.
The murderous teens created a "death list" – Cassie Jo Stoddart was one of the names on the list. 22 September 2006 was a school day. During the day, Brian and Torey filmed her as she placed her books in her locker and went about her day. That night, Cassie was house-sitting for some relatives and had invited her boyfriend, Matt, and their two friends, Brian and Torey. After spending the evening together, the two boys, who were 16 years old at the time, left Cassie and Matt to go back to their homes for the night. Unknown to Cassie, they left the basement door open for their return that night, to execute their crime.
Brian Lee Draper (born in 1990) and Torey Michael Adamcik (born June 14, 1990) are American men who were each convicted…

Posted by Midnight Mass on Monday, March 19, 2018
Outside, the two boys donned the same outfit as the masked killer in "Scream" and crept back into the house through the basement door armed with two knives. They made some noises to lure Matt and Cassey downstairs by frightening the couple. A scared Cassie begged Matt to spend the night, but his mother insisted that he had to go home. Cassie declined his offer to go with him to his house since she was house-sitting. With Matt gone, Brian and Torey went upstairs and stabbed Cassie to death before fleeing, leaving her to bleed to death. They were caught a few days later and sentenced to life in prison without the possibility of parole in their trial the following year.
Sierra Halseth and Aaron Guerrero
There are more male than female perpetrators of violent crimes and homicide worldwide but women, in this case a teenage girl, have often committed murder and other violent crimes. In 2021, 16-year-old Sierra Halseth and her 18-year-old boyfriend Aaron Guerrero killed Daniel Halseth, Sierra's father, by stabbing and cutting him 70 times. After killing him, they attempted to burn his body and house, stole his car and debit card, and fled the city. They were arrested shortly afterwards and charged with fraud, conspiracy to commit murder, and robbery, arson, robbery, and murder with a deadly weapon. There was plenty of evidence against them, including suspicious purchases of items such as saw blades, disposable gloves, and lighter fluid that Guerrero had made the day before Halseth's body was found. Both pleaded guilty to all charges and were sentenced to life in prison.
However, there was more to Sierra's involvement in the crime than just killing her father and fleeing with her boyfriend. Sierra's mother, who was divorced from Daniel Halseth at the time of the murder, had filed a case against him for assault, battery, and coercion, to which he pleaded guilty. Sierra claimed that her father had abused her physically and sexually, an accusation that her mother supported given her history with her deceased ex-husband. Reports from some officers from Child Protective Services seemed to corroborate Sierra's accusations against her deceased father. One officer in particular suspected that one of Sierra's parents could have involved her in human trafficking. Although Sierra's allegations matched these concerns, Tierra Jones, the judge, went on to hand Sierra and Guerrero life sentences but granted them reprieve when she allowed their eligibility for parole in 22 years.
Aaron Guerrero and Sierra Halseth make a video and post in on social media. Here they are bragging about killing Sierra's dad. I'll also post a YouTube link below of sensitive soci3ty talking more about it. Truly disturbing. pic.twitter.com/kmdylqREDW

— ❂̷̨̰͍̜̈́̃̓̉̌̔͋̚͘͝ Michael (@OdinAwakens) June 23, 2021
Monique Maestas
In January 2003, Monique Maestas and her brother Beau Maestas, marched into the home of Tamara Bergeron fuming mad at her for selling them salt instead of the methamphetamine they had paid for. The drug dealer was not at home at the time but her two children, three-year-old Kristyanna and 10-year-old Brittney were in the house. When the siblings rang the doorbell, Brittney refused to let them in since they were strangers. Monique lied that Tamara had been injured prompting Brittney to open the door. Once inside, Monique and Beau attacked the two children. They slit Kristyanna's throat, stabbed, and cut her. She died at the scene. The siblings then turned to Brittney and stabbed her 20 times and cut through to her spinal cord twice, leaving her paralyzed for life.
Monique was 16 when she and Beau, who was 19 at the time, cut short one child's life and condemned her sister to a wheelchair for the rest of her life. Beau confessed to the crime by saying that he "slaughtered the little piggies." He was handed the death penalty.  Monique was charged with four crimes, including conspiracy to commit murder, armed burglary, attempted murder with a weapon, and murder to the first degree. She plead guilty, but was ineligible for the death penalty since, unlike her elder brother, she was a minor when she committed the crime. In 2006, Monique was handed a sentence of 47 years to life. Beau's sentence is apparently still under appeal/review.
Cyntoia Brown
Have you watched the documentary "Murder to Mercy" on Netflix? If you have, you are familiar with the complex case of Cyntoia Brown. Hers is a story that brought together celebrities such as Rihanna and Kim Kardashian, producers from PBS and Netflix, and high-profile lawyers from all over the country, and sparked interest all over the world. One night in 2004, Johnny Allen picked up Cyntoia in Nashville. They agreed that he would pay her $150 to have sex with him and drove to his house for the service. While they were in Johnny's bed, Cyntoia shot and killed him. She claimed that he made a movement that she interpreted as him reaching for a gun. She shot him first in self-defense but prosecutors insisted that she intended to rob him the entire time. During the trial, Cyntoia revealed that she was a victim of sex trafficking, who had been forced to have sex with different men for money by a man she only identified as "Cut Throat."
Two years after the incident, Cyntoia was convicted of murder in the first degree and aggravated robbery, and handed a life sentence that only made her eligible for parole in 2055. Years after her sentence, the #MeToo movement gained momentum, prompting a paradigm shift in how violence against women was perceived. Renewed interest in her case arose, and people's perception and understanding of Cyntoia changed. They stopped seeing her as a sex worker who killed and robbed her victim, and started looking at her as a minor who was forced into prostitution. Campaigns for her innocence were launched and new advocates put on her case. In 2019, Cyntoia Brown was granted clemency by Governor Bill Haslam. She is now a renowned author and speaker, who is passionate about the fight for a better juvenile justice system.
Ultimately, the world's prisons have seen it all, from teenage prisoners who perpetrated unspeakable evil to teenage victims of systemic injustices who found themselves behind bars, but were liberated and granted second chances. The death sentence is now also rarely carried out.