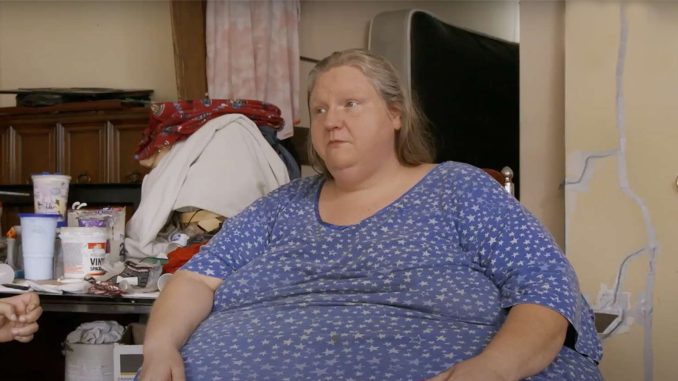 Vannessa Cross
The incredible success of shows such as "My 600-lb Life" and "1000-lb Sisters", coupled with the worrying obesity epidemic in the USA, have made Vannessa Cross and other reality TV participants minor celebrities. When viewers met Vannessa in Season 1 of "1000-lb Best Friends", she weighed a staggering 442lbs, about 200kgs, but had rarely, if ever, considered her vast size an issue.
"I still drove, I still walked around, so my mentality was I'm fine, I'm perfect the way I am. I could still do things," the 44-year-old explained in an interview. As her quality of life hadn't drastically decreased yet, Vannessa never thought of slimming down until her best friend and costar, Meghan Crumpler, went on her own weight loss journey.
When Vannessa witnessed the health benefits in Meghan's life, she was inspired to go down the same path, and began preparing for bariatric surgery by cutting bread, sugar and soda out of her diet. Next, she began going to therapy to work on her toxic relationship with food.
"I opened my mind to try to understand what in my brain is making me want to stay fat and stay helpless," she admitted. "Why do I have to eat three cheeseburgers and two fries instead of one cheeseburger like a normal person?"
Prior to surgery, Vannessa had already lost almost 50lbs (23kgs) on her own. The day of her weight loss surgery, she weighed 398 lbs – and went on to lose 159 more, about 70kgs. Following her surgery, Vannessa has implemented plenty of changes into her diet and lifestyle, swapping fried food with fruits and vegan smoothies, and learning how to make healthy recipes with her children.
In the past, Vannessa ate for comfort and pleasure. Now, however, she goes to the gym or on long walks whenever she's struck by a sudden craving. "I get my joy, my comfort, my anxiety levels down, everything, from pushing myself more and more in the gym," she said.
However, it took Vannessa a while to get to where she is today. The first time she saw Dr. Procter, she weighed 446 lbs, then lost 20lbs between appointments. Encouraged by her progress, Dr. Procter set Vannessa a goal weight of under 400 lbs to qualify for surgery. Six months later, Vannessa weighed 442lbs at the follow-up appointment, and was discouraged by her weight gain.
Nevertheless, the TV personality was inspired to try harder, and her efforts paid off. From celebrating being able to wear a seatbelt again, to regaining her confidence and spark, Vannessa has proved herself to be a positive role model with every step she takes in this challenging but rewarding journey.
Throughout her adult life, the Georgia native weighed around 350lbs. Her weight began fluctuating in 2016 after the death of her husband, as her life "spiraled out of control". For the next few years, her weight often fluctuated up to 500lbs, as she used food to feel better about herself.
Viewers of "1000-lb Best Friends" are thrilled to see the positive change in Vannessa, and how she's acting as a positive role model for her children. Meanwhile, Meghan Crumpler's journey hasn't been going so smoothly.
Meghan Crumpler
At the start of season one, Meghan weighed approximately 500lbs, about 230kgs, and had difficulty moving around and doing everyday tasks – so much so that she relied on her husband for almost everything, and required oxygen to breathe.
Although Vannessa has been giving interviews and keeping fans posted with her exact weight so they can see her progress, Meghan has shied away from doing the same. It's undeniable that she's lost weight since filming began, but her recent actions have led to netizens thinking that she's not as committed to changing her life as her best friend is.
"I started watching beginning of S1 and I had Megan's number right away," a Reddit user said on the show's official forum. "She wants to benefit from all of the free and PREMIUM NICE medical treatment and rehab, while drinking and not dealing properly with her issues, while having already had the surgery and should be benefitting from it, the fact she has stayed this large is a medical miracle."
In one of the latest episodes of Season 2, Meghan was also seen screaming at Vannessa and having one of her frequent meltdowns. The TV personality has recently been accused of disrespecting Dr. Procter by addressing him by his surname instead of his title – with some netizens even claiming that she is sexually suggestive towards him during their appointments.
Fans of the show are of the opinion that Meghan, who is going through financial hardship, is irresponsible with her money after spending her savings on a fancy wedding and having to move in with her friend Tina Arnold and her husband. Meghan has taken to selling her second-hand clothes, bodycare products, and other random objects in an attempt to scrape some extra cash together, which has led to speculations regarding how much she and Vannessa are paid per episode.
Not much is known about Meghan's friend Tina, but the Reddit subforum /r/1000lbbestfriends refers to the latter as a "grifter" after she started a GoFundMe campaign for her disabled daughter's apartment and allegedly turned said apartment into a gym for herself and Meghan. Tina, who is also trying to lose weight, often features in the show, and dramatically kicked Meghan out in one episode after a heated argument – however, the women are believed to be on good terms again, as Meghan is apparently still living with her and her husband.
Check out On the Road with Meghan and Tina by Tina Arnold on @Kickstarter https://t.co/Qxx270u1C6

— Tina1kBF (@Tina1kBf) April 29, 2023
There's also the possibility that the show contains scripted screens, as viewers find it hard to believe that Meghan and her husband celebrated their honeymoon in Tina's bedroom. Whatever the case, Meghan's weight loss appears to have stalled dramatically in the last few months, and her living situation is clearly an unstable one.
For now, TLC has yet to confirm if there'll be a third season of "1000-lb Best Friends". The Season 2 premiere took place in early March 2023, and was viewed in around 500,000 households.