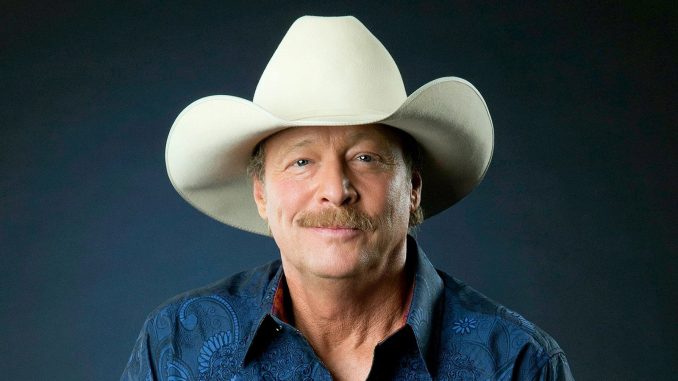 Alan Jackson is a country music legend, who's been entertaining audiences for over three decades. With his distinctive voice and classic songwriting style, he's sold over 75 million albums, and charted more than 50 hit singles, making him one of the most successful artists in the history of country music. Unfortunately, in 2021 he announced that he has been battling with Charcot-Marie-Tooth disease, but despite which, he stated that he won't make a farewell tour, and retire. Since then, he's been performing in concerts to the best of his ability, and is likely to continue so as long as his health allows.
Alan Jackson early life and career
Alan Jackson was born 17 October 1958, in Newnan, Georgia. His family is primarily English, and he has four older sisters. In his early childhood, he was very fond of gospel music, until he was introduced by a friend to country music legends such as Gene Watson and Hank Williams Jr.. His love for music led him to begin playing guitar as a child, and by his teenage years, he was writing and performing his own songs.
He attended Newnan High School, after which he joined his first band called Dixie Steel. After matriculating, Jackson worked various odd jobs while playing music on the side. In 1979, he married Denise Jackson, his high school love, and in 1983, the couple moved to Nashville, Tennessee. From playing music as a hobby, Jackson's dreams turned big as he hoped to build his career in music. He continued to hone his skills, working as a mailman during the day and performing at bars at night. Working towards his goal to becoming a professional musician, Jackson made a pre-debut demo album with the title "New Traditional", which is incredibly rare today, as it was released solely in Japan.
Jackson's big break came in 1989, when he signed a record deal with Arista Nashville through a chain of fortunate events. His wife, Denise, was working as a flight attendant around that time, and happened to come across the legendary American singer, Glen Campbell at an airport. She boldly asked for advice for her husband's music career, and received his manager's business card in return. Taking this unique opportunity, Jackson sent his demo which kickstarted his journey to becoming the legend that he is today, and as the first artist to be signed for Arista Records.
That same year, his debut single "Blue Blooded Woman" was released, although it failed to climb to the top 40 Hot Country Songs chart. His debut album, "Here in the Real World," was released the following year and spawned several hit singles, including the title track and his first ever number one single – "I'd love you all over again". The album was a commercial and critical success, establishing Jackson as a rising star in the country music scene.
Throughout the 1990s, Jackson continued to release hit albums and singles, including "Don't Rock the Jukebox," his second album featuring four number one hits, and "A Lot About Livin' (And a Little 'bout Love)," his third album. His hit song "Chattahoochee" from this album, got him the 1994's Country Music Award for the Single and Song of the year. He became known for his traditional country sound and heartfelt lyrics, earning a reputation as one of the genre's most authentic and sincere performers.
The year 1994 saw a change in Jackson's management, when he switched from Ten Ten Management over to Gary Overton before the release of his fourth album "Who I Am". The following year, with four albums and many hit singles behind him, Alan Jackson released his "The Greatest Hits Collection", which contained 17 songs, including two new ones.
During the 2000s and 2010s, Alan Jackson remained a consistent force in country music, releasing several albums that featured a blend of traditional and contemporary country sounds. He continued to write many of his own songs, and his lyrics often touched on themes of family, love, and loss.
Some of his most popular songs from this period include "Where Were You (When the World Stopped Turning)," which was written in response to the September 11th attacks, and earned Jackson multiple awards including a Grammy. Other notable hits from this period include "Remember When" and "Drive (For Daddy Gene)" which showcase Jackson's storytelling and his ability to connect with audiences through his music.
In addition to his solo work, Jackson also collaborated with several other country music artists, including Jimmy Buffett, George Strait and the Zac Brown Band. His duet with Buffett on "It's Five O'Clock Somewhere" became a massive hit, and topped the country charts for eight non-consecutive weeks.
Alan Jackson's music from the 2000s and 2010s continued to reflect his deep love and respect for traditional country music, while also incorporating contemporary sounds and themes. His songwriting skills and ability to connect with audiences ensured that his music remained popular and relevant throughout the years.
Today we celebrate Alan's 1st Grammy win, Best Country Song for "Where Were You (When The World Stopped Turning)" at the 2003 Grammy Awards. pic.twitter.com/ge043KHvWT

— Alan Jackson (@OfficialJackson) February 23, 2022
Over the course of his career, Jackson has sold over 40 million albums in America and won numerous awards, including two Grammy Awards and 16 Country Music Association Awards. His impact on the country music industry is undeniable, and his music continues to resonate with fans around the world.
Alan Jackson's music
Alan Jackson's music is recognizable for its traditional country sound, which blends elements of honky-tonk, bluegrass, and gospel music. It often features simple instrumentation, with a focus on acoustic guitar, steel guitar, and fiddle.
Jackson's songwriting is often inspired by his own life experiences, and the people and places he's encountered throughout his career. He's written songs about love, loss, family, and the joys and struggles of everyday life.
Many of Jackson's most popular songs have become country music classics, including "Chattahoochee," "Don't Rock the Jukebox," and "Remember When." His music has also tackled important social and political issues, such as the aftermath of 9/11 in "Where Were You (When the World Stopped Turning)" and the struggles faced by small farmers in "Gone Country." He also criticized country music's shift to pop style, with George Strait in their song "Murder on Music Row", which opened a debate about the future of "traditional" country music.
In addition to his original compositions, Jackson has recorded several covers of classic country songs, including "Pop A Top," "Summertime Blues," and "Little Bitty." He has also collaborated with other country music legends, including George Jones, Jimmy Buffett and Alison Krauss.
Throughout his career, Jackson has remained true to his traditional country roots, earning him a reputation as one of the genre's most authentic and respected performers. His music has had a lasting impact on the country music industry and continues to inspire new generations of fans.
"The songs from your memory I cling to today…" #WhereHaveYouGone umgn.us/AJWhereHaveYouGoneFP

Posted by Alan Jackson on Saturday, October 16, 2021
Alan Jackson's live performances
Alan Jackson has performed in countless memorable concerts throughout his career, but there are a few that stand out as some of his best performances.
His most iconic performances was at the 2001 Country Music Association Awards, where he debuted his emotional and patriotic ballad, "Where Were You (When the World Stopped Turning)", and earned Jackson a standing ovation and multiple awards, including Single and Song of the Year.
Another standout performance was his appearance at the George Jones tribute concert in 2013, where he sang a moving rendition of Jones' hit song "He Stopped Loving Her Today", paying tribute to the late country legend, and showcasing Jackson's own vocal talents.
Throughout his career, Jackson has also performed numerous benefit concerts and charity events, using his music to raise awareness and funds for various causes. His dedication to his fans and his craft has made him one of the most respected and beloved figures in country music, and his live performances continue to inspire and entertain audiences around the world.
Alan Jackson's Net Worth
Alan Jackson's estimated net worth is $150 million, primarily from his successful music career spanning over three decades. His contributions to the music industry have made him one of the most successful and respected country music artists of all time, and his net worth reflects his achievements.
Alan Jackson's battle with Charcot-Marie-Tooth disease
In an interview with the Tennessean in 2021, Alan Jackson publicly disclosed that he has been battling with Charcot-Marie-Tooth disease for several years, a genetic disorder that affects the nerves controlling the muscles in the hands, feet, and legs. It can lead to muscle weakness and difficulty with walking and fine motor skills. In interviews Jackson hinted that he likely inherited the disease from his father. While there is no cure for CMT, treatment can help manage symptoms.
Despite the challenges posed by CMT, Jackson has continued to tour and perform, adapting his playing style and using a brace on his right hand to support his fingers.
Jackson also shared that he hopes to raise awareness about CMT, and to encourage others with the disease to continue pursuing their passions and living life to the fullest. Similarly, he also wishes to continue that way himself, and that he doesn't plan on retiring, expressing his desire to continue touring as much as his health will allow him to.
Conclusion
Alan Jackson remains one of the most respected and beloved figures in country music today. Jackson's influence on the genre is immeasurable, and his enduring popularity is a testament to the timelessness of his music. Whether performing live or recording in the studio, Alan Jackson continues to inspire fans and fellow musicians alike with his authentic sound and dedication to his craft.