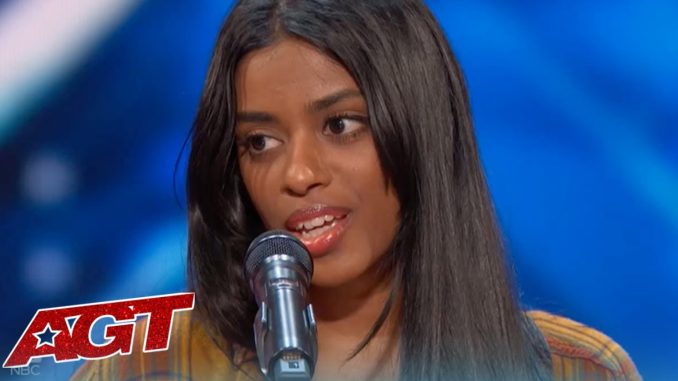 Debbii Dawson made the headlines on 26 July 2022 upon being featured in the eighth episode of the 17th season of "America's Got Talent" ("AGT"), in which she blew the judges away with a rather unique take on ABBA's all-time greatest hit "Dancing Queen".
She played the guitar and sang with a clear, recognizable voice, at a tempo that seems to be only two thirds of the original. The rendition won the crowd over rapidly, and the judges were left stumped at just how talented Debbii turned out to be.
Dawson moved on through the competition with easily won four yesses, and hopes were high among her newfound fans that she would eventually perform in the finals, with probably a great deal more personalized song renditions to come.
However, the hungry crowds found themselves promptly disappointed by the judges in early August 2022, when it was decided that the number of that year's successful auditions was just too high for all of them to participate in the coming live shows, which is the next step in the long and rigorous process of "America's Got Talent".
Then came the unexpected twist, when instead of advancing 36 acts to the live shows, the judges decided to increase that number to 55. This adjustment posed a formidable challenge for all four of the judges, as it was almost impossible to narrow their choices down.
Aside from the six Golden Buzzer recipients, the chances of anyone else making it through were dubious at best, which included Debbii. Howie Mandel and Heidi Klum convened with Simon Cowell at his estate to make the choices, while Sofia Vergara sent carefully crafted notes instead of showing up herself.
They ultimately came up with a list of 54 contestants who would make it to the live shows, and left the final spot fully up to the audience by organizing a worldwide vote between four distinct talents, among whom was Debbii Dawson.
Comedian Jordan Conley's victory in the vote was announced on Twitter by the staff of "AGT", and many were quick to point out their dissatisfaction with the outcome. The user @Autorennen7 commented 'Congratulations to him, but I feel like Debbii Dawson was robbed.'
Despite the clear dissatisfaction that befell a major part of the audience, Debbie's rendition of ABBA's masterpiece proved to be the only performance she would be able to gift the crowds throughout the 17th season of "AGT," which left many wanting more.
Who really is Debbii Dawson?
Debbii Dawson was born on 10 March 1993, in Hutchinson, Minnesota USA, into a supportive family of diverse musical origins. Her upbringing was somewhat split between her birth state and California, since the family relocated to San Francisco at some point, taking Debbii and her two siblings along.
Her brother Jonathan is a professional photographer pursuing a limelight of his own, who has been married to a doctor named Salomi Paul Dawson. They had a son named Felix on 25 March 2020, and have since continued to reside in San Francisco.
Debbii's sister Sitarah Gjerme is a musician as well, and the two had been dedicated to pursuing a career in show business together as teenagers, having participated in various talent hunt shows. Their greatest mutual achievement is winning second place in a musical competition at Minnesota State fair, while they also graced numerous sports events around Hutchinson, to perform the national anthem.
Dawson's parents also came from and met through music, which played a key role in shaping their children's earliest aspirations. Her Indian father David was taught how to play various instruments by her paternal grandfather, who himself learned the craft in rather destitute conditions, having drawn keys of an organ on concrete with a piece of charcoal in order to practice.
David eventually found his way to the US in pursuit of a higher musical education, which is where Debbii's mother Sharon had been nurturing the same interests. He was sent to Texas Bible College through a student exchange program, and subsequently never returned home. They met there by chance, when David happened to hear a beautiful piano performance on his way through the halls. He approached the young player and struck up a conversation, which eventually ended up producing three children.
As for Debbii's schooling, she obtained her elementary education in Hutchinson, thereupon starting high school in the same area. However, as the family moved later on, she attended an unspecified high school in California. After her matriculation in 2011, she moved to Los Angeles apparently in an attempt to fully pursue a musical career.
Hi, remember me?

Posted by Debbii Dawson on Saturday, February 9, 2019
Is she shy?
In spite of Dawson being dedicated to becoming a full-time famous musician, apparently she's not all too keen to capitalize on every bit and piece of attention, as is normally the case with young would-be superstars. The world was surprised to see that she tends to be more of a private person, even while trying to make it in the unforgiving world of show business.
This was very easy to see during her audition, at which point the judges asked her why her parents weren't present. Debbie initially told them they just didn't come, which Simon found outrageous, and insisted that they call her parents. However, upon picking up the phone and being given the great news that his daughter amazed everyone present, her father told the judges that it was Debbii herself who asked the parents not to come.
An ethnic struggle?
It was mentioned by Debbii herself that her father had fought against racism in his own time, and that she'd experienced similar issues upon trying to become incorporated into society, be it professional or social circles. While it's certainly possible that a person of color has heard a number of derogatory remarks in a predominantly Caucasian country, the lacking details in her claim falls short of presenting a comprehensible account.
David Dawson apparently even spent some time in jail in the 1980s, somewhere in Mississippi, due to reportedly facing racial discrimination and acting out against it. Whether he ended up inside due to actually breaking the law, or simply because law enforcement was racially biased at the time, remains to be explained by members of the family.
That said, it's no mystery that each "AGT" contestant is given massive brownie points for having suffered hardships, especially if they belong to a minority in one way or another. Their accounts of going through difficulties seem to make for captivating television, guaranteeing ever greater viewer numbers that are equally proportional to the intensity of feelings an average teenage girl catches while checking out "AGT" clips on YouTube. With this in mind, it's possible that some contestants tell the crowds exactly what they expect to hear, which conversely boosts their chances of winning $1 million and a career deal.
Where is she now?
After almost managing to get through to the next part of the competition in "AGT," it seemed that Debbii went on to undertake various endeavors with the goal of furthering her career. In actuality, the fame she obtained by participating in the series only helped her get more of what she'd already been doing out in the world, as her singing career in itself started more than six years before her most publicized performance.
Dawson has been growing her YouTube channel since 20 May 2016, with dreams to one day releasing her own extended play (EP), which is longer than a single, but shorter than an album, usually featuring around 3-5 songs. In spite of Debbii's talent, it appears that she has some tunes to push out before claiming this achievement, as the only song she's officially released thus far is "Even if it Kills Me," which came out on 5 May 2023.
The channel sits at almost 55,000 subscribers in mid-2023, with nearly 2.5 million total video views. Her most popular upload is of course the acoustic version of the song she performed in "AGT," which was the main driving force behind the audience that came to her channel, with over 430,000 views.
Her 62 uploaded videos are all of a musical nature, as it looks like she indeed loves to keep to herself on most things. Just like she didn't invite her parents to watch her perform in "AGT," Debbii also chose to keep her matters private even while attempting to jumpstart a singing career, which requires a great many dedicated fans.
A kicking start
The good news is that her next single – "Downer" – is set to come out on 23 June 2023, and with this tempo, it looks like she'll have her three to five songs out in no time. A lot of her new content was made available by the Kickstarter project she created in December 2022, evidently using her newfound fame to boost her career.
It appears to have worked out perfectly, since her 143 backers had pledged over $25,000 to her goal of just over $20,000 by the time the project was finished. In order to try her best and offer as many benefits for the support as possible, Debbii came up with varying methods of piquing her customers' interest. While all packs included her EP's immediate digital download upon its finishing date, they also had different benefits.
There was a $50 pack that gave the supporters access to her private concert livestreams, whereas the $80 pack came with a polaroid featuring Debbi's own autograph. Along the way, she also released some merchandise, selling a "Day One" T-shirt in the $150 pack, as well as her hand-written lyrics of any song the customer chose in their $300 pack.
Finally, the ultimate and most expensive pack for $1,000, which five individuals purchased, featured Debbii's original paintings with acrylic on a medium canvas, which was also signed at the bottom and shipped to any location on the planet.
In her Kickstarter campaign, Debbii expressed her excitement about recording and releasing her original songs in an upcoming debut EP. She mentioned that she'd been writing and producing songs from her bedroom for the past few years, and was finally ready to share them with the world. The funds raised from the Kickstarter campaign were intended to support the costly process of recording the EP at a professional studio, and subsequently releasing it.
According to Dawson's own explanation on the project page, the music on the EP is described as an intimate look into her heart and mind, with lyrical and melodic themes of love, loss, justice, and life's joys and struggles. Her music draws on classic pop, R&B, and folk/country influences, blending multiple genres to create a sound that is authentically hers.
Come to my show at @downtowngoodness on June 30th at 6:30pm. Bring friends! Feel free to dm me or visit venue page for more info ✌#concert pic.twitter.com/ZEr2OqOwlf

— debbii dawson (@debbiidawson) June 21, 2017
She also expressed that, as a woman and creator in the music industry, her goal was to have ownership of the master recordings she's written over the years. This grants her the freedom to express her true self and directly connect with the audience, eliminating the middleman. She envisions her music as a bridge between cultures, and a voice for those on their own personal journeys, being a rather introspective and inner-focused individual herself.
Finally, the project came to an end upon its completion on 4 May 2023, at which point the entire EP was provided as a digital download to every single backer. The rest of the world, however, will have to hold on for the songs to come out in their gradual tempo, which seems to be one per a month and a half.
Those who are really passionate about Dawson's work are welcome to follow her YouTube for any important updates regarding the releases, as it will always be posted there first. Her new song "Downer" can be pre-saved on streaming platforms such as Spotify and iTunes, allowing every devoted listener to instantly have the song on their playlists, the second its released. In doing so, they will support what seems to be Debbii's only focus in mid-2023, as her future in the entertainment industry becomes ever brighter.