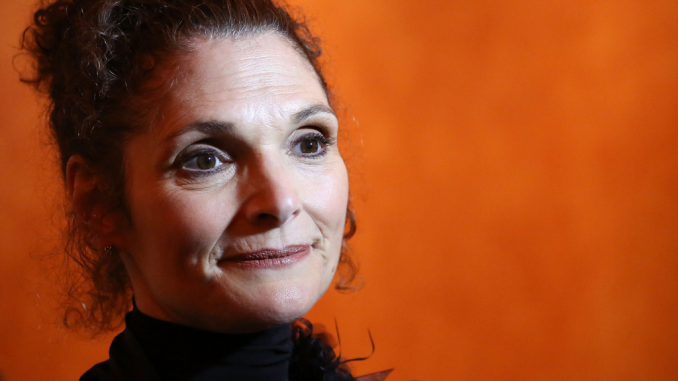 Who is Mary Elizabeth Mastrantonio?
Do you remember Gina Montana, Tony's sexy sister in the epic crime drama "Scarface"? Well, then you must have heard about the actress who played this character, Mary Elizabeth Mastrantonio. She was nominated for the Oscar for Best Actress in a Supporting Role for her portrayal of Carmen in the movie "The Color of Money". Sounds familiar? For those younger viewers, she is perhaps known best as Madeline Burke in the series "Blindspot".
However, let us tell you more about this versatile actress, her career and her life, and where she is now.
Early life, family, and education
Born on 17 November 1958, Mary's zodiac sign is Scorpio, and so is aged 64 as of May 2023. A native of Lombard, Illinois USA, she holds American nationality, although she comes from a family of Italian descent. Mary was raised by her parents, Mary Dominica and Frank A. Mastrantonio, alongside her four sisters, whose names Mary hasn't shared as she respects their privacy.
Mary hadn't dreamed of an acting career, but wanted to be an opera singer. She attended a local high school, and during summers worked at a theme park to earn money for college. Upon matriculating in 1976, Mary enrolled at the University of Illinois, where she studied drama, and there she was bitten by the acting bug. She graduated with a BA degree in 1980.
Roles in movies
Mary had her first encounter with the movie cameras in 1982 when she had an uncredited role as a stunt in "The King of Comedy", a crime drama directed by Martin Scorsese. In the following year, she was cast to play Gina in "Scarface", starring Al Pacino, Michelle Pfeiffer and Steven Bauer. The movie follows the story of Cuban immigrant Tony, who takes over a Miami drug cartel.
Mary followed with her role as Carmen in the 1986 sports drama "The Color of Money", in which she starred opposite Paul Newman and Tom Cruise. Besides an Oscar nomination, Mary was also nominated for the Golden Globe-Best Performance by an Actress in a Supporting Role in a Motion Picture, and New York Film Critics Circle Award for Best Supporting Actress.
Happy Birthday Mary Elizabeth MastrantonioFeliz Cumpleaños a Mary Elizabeth MastrantonioMary Elizabeth Mastrantonio…

Posted by Hollywood & Latin Divas on Tuesday, November 17, 2020
Next, Mary landed the lead role as Helen Drood in the 1987 mystery crime drama "Slam Dance", followed by her role as Bernadette Flynn in the 1989 action comedy "The January Man", also starring Kevin Kline and Susan Sarandon. Later that year, Mary portrayed Lindsey Brigman in "The Abyss" – the plot of this film revolved around a civilian diving crew engaged to seek a lost nuclear submarine and encounters danger while witnessing an alien aquatic species. Mary starred opposite Ed Harris and Michael Biehn, while the movie was written and directed by the great James Cameron. It had 15 award nominations, winning nine, including the Oscar for Best Effects, Visual Effects. Mary was nominated for the Academy of Science Fiction, Fantasy & Horror Films- Saturn Award for Best Actress.
The '90s saw Mary in "Fools of Fortune" (1990) and "Class Action" (1991), followed by another of Mary's notable roles as Marian opposite Kevin Costner in "Robin Hood: Prince of Thieves", which brought her another Saturn Award nomination, this time for Best Supporting Actress, and MTV Movie + TV Award nomination for Best Female Performance.
In 1992, she starred in "White Sands" and "Consenting Adults", followed by her role in the 1995 drama "Two Bits". Later that year, Mary was cast to play Jeanne in the family drama "Three Wishes", also starring Patrick Swayze and Joseph Mazzello, which followed the story of Jeanne who takes home a tramp not realizing who he is and how he will affect her life and those of her sons.
Mary's next role came four years later, when she was cast to play Donna De Angelo in the adventure drama "Limbo", which brought her a nomination for the Las Vegas Film Critics Society Award- Best Actress.
The early 2000s saw Mary in "The Perfect Storm" (2000) and "Tabloid" (2001), followed by her roles in movies made for television, such as "The Brooke Ellison Story", which earned her the 2005 Gracie Allen Award for Outstanding Female Lead in a Drama Special.
Three years later, she was seen in the TV movie "The Russell Girl", and Mary returned on the big screen as Dorothy in the 2015 thriller "Amok", also starring Josh Hamilton. Her most recent movie role was her portrayal of Senator Helen Barret in the 2017 TV drama "Salamander".
Roles in series
Mary made her television series debut as Edda Mussolini-Ciano in the 1985 TV mini-series "Mussolini: The Untold Story". Her next role came in 2005, when she landed the recurring role as Anne Cassidy in "Without a Trace"; during 2005 and 2006, Mary was seen in 10 episodes of this mystery crime-drama about the special Federal Bureau of Investigation (FBI) Missing Persons Squad, starring Anthony LaPaglia.
In 2010, Mary made an appearance as Captain Zoe Callas in 14 episodes of the series "Law & Order: Criminal Intent". Mary had the recurring role as Kelly Burkhardt in the series "Grimm" (2012-2017), and concurrently was seen as Mary Kincaid in "Hostages" (2013-2014). Mary also portrayed Nasreen Pouran in "Limitless", and during 2015 and 2016, she was seen in 22 episodes of this Primetime Emmy-nominated comedy crime-drama.
From 2017 through 2019, Mary played Marion James in "The Punisher", and concurrently was cast to play her most recent TV series role, as Madeline Burke in "Blindspot". Between 2018 and 2020, Mary made an appearance in 22 episodes of this show, which followed the story of an unnamed girl found in Times Square who's lost her memory, and her body has mysterious tattoos which she can't explain. The stars of the series were Jaimie Alexander, Audrey Esparza, and Sullivan Stapleton, and it had nine award nominations, including three Primetime Emmys.
#Blindspot Madeline Burke is so fiercely evil! She really knocked my socks off when she killed Blake & HCI Board of Directors… AND then killed Kira Evans in cold blood… in front of Zapata!!! Mary Elizabeth Mastrantonio is killing it!!! Love how bad she is!!! Great character!! pic.twitter.com/4we4zCwCqn

— Browniehardbody (@BrownieHardBody) October 28, 2018
Love life and relationships
Mary hasn't been the subject of any rumors about her romantic life, since it's widely known that she's a married woman. Her husband is Pat O'Connor, an American producer and director, perhaps known best for his work on "Sweet November", "The Ballroom of Romance", and "Fools of Fortune". The two actually met on the set of the last-mentioned movie, and soon after in 1990, they married. Mary and Pat have two sons together. The elder ia Jack was born in 1992, and their second son Declan, was born in 1997.
As of May 2023, the two are still together.
Where is she now? What happened to her?
Mary has no social media accounts, thus it's hard to keep track of her life, especially after her last TV appearance in 2020. Many assume that Mary perhaps retired, although her fans are hoping that this isn't true.
It's known that in recent years she devoted her time to stage performing, but when we checked, her most recent Broadway role was back in 2013 when she played Grace Winslow in "The Winslow Boy". However, in April 2022, Mary was seen performing in the Bagley Wright Theater as Mrs Alving in the play "Ghosts" by Henrik Ibsen, which received numerous praises and accolades.
How rich is Mary Elizabeth Mastrantonio?
She is a successful movie, television, and stage actress, and thanks to her talent, Mary has earned a decent amount of money. According to sources, as of May 2023, her net worth has been estimated at over $2 million.