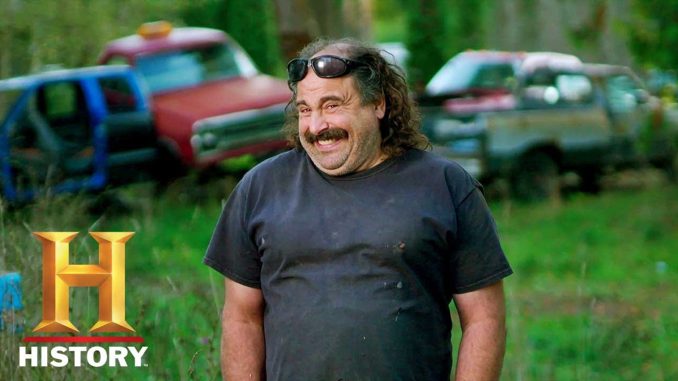 Finishing a long-delayed rebuilding project can bring an incomparable sense of satisfaction for a car owner, but what happens when it's not just one car but hundreds of them which require the same treatment? The guys at "Rust Valley Restorers" know that feeling well, as season after season they have tried to restore and sell Mike Hall's 400 vintage car collection, even if it takes them more time and effort than expected.
"Rust Valley Restorers" is also special for its charming cast members such as Avery Shoaf, the show's incredibly knowledgeable engine master who has become one of the most unforgettable stars in the show for his memorable screen presence and good sense of humor.
So what's Avery up to these days? Is he still working with Mike? And did he have any legal problems? Know all the most interesting details about Avery Shoaf's whereabouts!
What's With Avery Shoaf?
It's been some time since we last saw "Rust Valley Restorers" on TV, but that doesn't mean that Avery Shoaf has stopped doing his own thing.
After taking a long hiatus from social media following the fourth season premiere in early 2022, later in April 2023 Avery revived his account on Instagram to inform his followers about his plans of taking a more active role on social media. These have included sharing short videos of his works, everyday life, and other shenanigans. As well, he has made clear that his business Wildman Restorations is still active and running as usual.
Even though no news about a fifth season of "Rust Valley Restorers" has been announced yet, Avery is still doing local public appearances such as RetroFest, on top of being featured alongside Mike Hall in several YouTube channels such as Killer Customs and RustWorldTV.
Regarding Avery's future projects, in early 2022 he announced the launch of his online project The Avery Shoaf Show, only one trailer was shared on TikTok and YouTube before taking his prolonged absence from social media. Upon his return the following year, unfortunately Avery didn't reveal what would happen to any of these projects.
That being said, life seems to be great for Avery Shoaf these days, and hopefully we'll keep seeing more of him in some way or another.
Did He Have An Accident?
One of the perks of having Avery Shoaf back on social media is that it makes it easier for his fans to know the good things going on with his life. Nevertheless, this also means getting not-so-fortunate health updates about the man, such as the time he shared a very explicit video of his mauled thumb on Instagram in May 2023.
Though Avery didn't reveal details about the accident which resulted in his left hand's thumb looking so bad, in his post he mentioned that a sledgehammer was at fault, pointing out that his 'ouchie' also resulted in a broken bone.
While the video shared by Avery was definitely not for the faint-hearted, he didn't seem distressed at all when he talked to the cameras, as a health professional from Salmon Arm Hospital removed a piece of a glove away from his bloody thumb, revealing the mauled condition of his limb.
To date, it's unclear what the condition of Avery's thumb is, but there's nothing else for us but to wish him a speedy and safe recovery.
Legal Issues
Most reality TV stars have been involved in some type of legal issue, and Avery Shoaf is no exception, though his specific problem is a confusing and complicated one.
As reported by Infotel.ca, in 2021 Avery sued his mother Helen for selling a property which he believed he partially owned. The property was Helen's house located in the Shuswap district of British Columbia, which Avery claimed to have significantly improved for around two decades. The real issue came when Helen tried selling the house to move away from Canada, resulting in a lawsuit filed on Avery's part to prevent his mother from selling the house unless she agreed to give him half of the money from the sale.
Helen's response to her son's claim was to deny that he played any part in the house's purchase in the 1990s, also affirming that his improvements didn't add more value to the property and had 'diminished, rather than enhanced, the fair market value of the property,' on top of allegedly owing her money for using her property as a storage lot for cars.
The case was complicated further when the potential buyer filed a second lawsuit against Avery and Helen, claiming that they were trying to make him pay more than the agreed price, or cancel the deal altogether. Unfortunately, further updates about the case haven't been released after November 2022.
What's Avery's Business About?
Just as seen in "Rust Valley Restorers", Avery Shoaf is an experienced car restorer, and in fact expert in all things automotive. It's due to his vast knowledge of the industry that his own business, Wildman Restorations not only thrived throughout the years, but also keeps active even when Avery is busy filming the show or in other endeavors.
Then, Wildman Restorations does more than bring cars to their old glory but has also given a try to the industry of goods sale. As seen on the business website, Avery offers his fans a limited but very originally designed merchandise line, listing pieces such as t-shirts, accessories, and face masks. The website also sells Avery's distinctive laugh as a ringtone, though those who want something more personal can buy a special video message by Avery on the Cameo platform.
Avery takes on Mission Raceway! 😎#rustbros #rustvalley #averyshoaf #missionraceway #carshow #classiccars #vintagecar #classiccar #supercar #rustvalleyrestorers

Posted by RustWorld TV on Tuesday, November 1, 2022
Does He Still Work With Mike?
Although Avery Shoaf and Mike Hall are often seen teaming up together in "Rust Valley Restorers", the truth is that both men had kept their businesses separate all along – Mike keeps his Rust Bros Restorations active, while Avery does his thing with Wildman Restoration.
Having separate businesses doesn't affect Avery and Mike's friendship, as it was this that connected them in the first place. As Avery admitted during an interview with Cruising The Okanagan in January 2023, the first member of the Hall family that he met was Mike's son Connor, who worked for him for several years before leaving to join his father's business. It was around those years that Avery and Mike were introduced by Connor, forming an instant friendship based on their ease to get along without major troubles and their mutual interest in cars, especially old and dilapidated-looking ones.
By the time Avery and Mike had been friends for over 15 years, they were invited to appear in a show by a local producer, who figured out that their friendship and dynamics would make great TV. So in 2018 Mike and Avery became the stars of "Rust Valley Restorers", but fame and success didn't affect the great bond they'd formed throughout the years.
Will The Show Come Back?
The latest "Rust Valley Restorers" season aired its finale in mid-2022, but news about a possible renewal hasn't been released since then, leaving its fans confused about whether the show will go on, or is done for sure.
While nothing is for sure quite yet, one of the rumored reasons to explain Mike's absence from TV is the fact that he recently sold most of his collection. As Mike explained in a video shared by EG Auctions Facebook in September 2022, he 'lost' his yard and was auctioning the last lot of cars he could say goodbye to after so many years trying to.
Did you check out the Rust Valley Restorers auction this weekend? Fans of the show had another chance to own a piece of Mike Hall and Avery Shoaf's antique car collection. @SydneyrMorton reports hundreds of people took part in the two-day auction.
More: https://t.co/0Zktc2FpTm pic.twitter.com/TNQ1IftoBH

— Global BC (@GlobalBC) October 3, 2022
Later in October of that year, Mike told Infotel.ca that his collection of over 600 cars was reduced to 40, the last ones going away during the last auction early in September. Though saying goodbye to his beloved collection was surely difficult, the sale was also relieving for Mike, who confessed that he no longer worried about making his family deal with any of his car-related problems, on top of having all his cars in one yard for the first time in his life.
This is positive for Mike in many ways, but it's also disheartening for fans who understandably fear that this means the end of "Rust Valley Restorers" as we know it. Nevertheless, as long as the show isn't officially canceled, the hopes of seeing Mike, Avery, Connor, and all their crew returning to TV isn't lost just yet.