It's been too long since "American Restoration" left TV screens in 2016. Despite starting as a spin-off from the widely famous "Pawn Stars", the show stood on its own by giving its audience everything from funny and memorable cast members to featuring many fantastic restorations.
That being said, "American Restoration" wouldn't have been the same without Rick Dale, the man behind every project, who wasn't only a master at bringing new life to some of the most amazing parts of American history, but also had a very inspiring backstory.
Given how unforgettable Rick was, people these days keep wondering what's with his life,  whether he's still in the same business, and does he have any future TV projects and so much more.
So what's with Rick Dale now? Keep with us to discover it!
What Is He Doing Now?
A lot has been going on for Rick Dale since the last time we saw him on TV. Following "American Restoration"s cancellation in 2016, Rick's business Rick's Restoration kept working on a wide variety of restorations such as vending machines, signs, and even cars. At the same time, Rick made regular appearances in shows such as "Pawn Stars", and "American Pickers: Best Of", on top of starting his online show "Restoration Ricks", posting eight episodes as part of its first and only season and his online restoration course Learn From Rick Dale.
Nevertheless, it was around the time "Restoration Ricks" posted its last episode in late 2021 that Rick stopped posting updates about his business and other restoration-related things. Even though he didn't offer any explanation about this, his social media followers have confirmed in some of his posts that Rick's Restorations is no longer in business. On top of that, Learn From Rick Dale seemed to have gone a similar path given how its website is no longer active these days.
While it's unclear if Rick has any projects in the works, nowadays he seems content by using his social media to update his fans on his everyday life and to promote other people's businesses as well, including his wife Kelly's business My Best Font Forward.
Was The Show Canceled?
"American Restoration" might have ended in 2016 during its seventh season, but the last time Rick Dale and his shop's team were in the show was back in the sixth season. Despite starring in the show since its premiere in 2010 and becoming worldwide famous for their top-notch work, the Dale family was left out of "American Restoration" by History and the production company behind the show.
While neither the network nor the producers explained the reasons behind this sudden and unexpected decision, Rick once took to Facebook to share a heartful video message about the issue: 'One of the things I wish you would do is get on "American Restoration" website and tell them how you feel', he said, before expressing his gratitude towards his fans.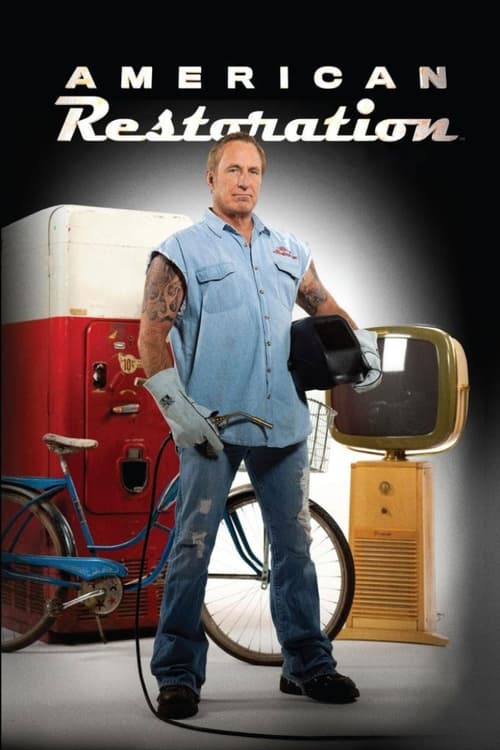 Though Rick's message left a lot unsaid, the video came at a time when the sixth season was premiering on History and he and his shop were nowhere to be seen. Instead, they were replaced by a new "American Restoration" cast formed by several restoration shops around the country, also changing the old format which audiences had grown used to.
It's unclear whether the new format didn't work out, or if there were any other issues behind the show, but "American Restoration" departed TV screens for good in April 2016, leaving its fans with only memories from the good times, and lots of re-run episodes to enjoy.
How Did The Show Start?
Even though "American Restoration" ended on a sad and confusing note, the show gave its audience many great moments from the very beginning and became an international TV sensation.
To explain how "American Restoration" came to be, it's necessary to go back to 2009, when the first season of the wildly popular show "Pawn Stars" aired on History. Back then, Rick made an appearance as an antiquity expert, evaluating whether a soda vending machine was worth the money. That first appearance left such a good impression that soon Rick became a regular in "Pawn Stars", passing from being an expert to eventually having his business featured in it, as he restored some of Rick Harrison's vintage purchases.
In late 2010, Rick's own show "American Restoration" premiered as the first "Pawn Stars" spin-off, turning into an instant success. Nevertheless, fame also brought a couple of challenges to Rick and his family, such as unprompted visits from fans to his Las Vegas home, where the business was located at the time. These inconveniences resulted in the move of Rick's Restoration to a new commercial location, which not only made filming "American Restoration" more comfortable for everyone, but also took the business to the next level.
New episodes of Ricks Restoration next Thursday. Woo been their, got some souvenirs 😄 @_RickDale_ @_KellyDale_ pic.twitter.com/OhJI2KoQN6

— Gavin (@Gavlar_03) December 30, 2014
Rick's Beginnings
Long before rising to fame through his worldwide famous show "American Restoration", Rick Dale had been an expert in all things restoration-related. His start in restoration comes from when he was only nine years old – as Rick confessed in an episode of "Restoration Ricks" on YouTube, his beginnings in restoration date back to when his father gave him an old and overused bicycle, telling him 'If you want something, you've got to work for it.'
That was the beginning of everything for Rick, who since then learned the art of taking apart and putting together all types of artifacts, getting to the point of working on cars and motorcycles by himself at only 15 years of age. Nonetheless, his hobby didn't turn into a business right away, as his first years in the workforce were in the construction field instead.
He stayed in that business until his financial situation went downhill in the 1980s, leading Rick to buy a vintage drink vending machine in the flea market, restore it himself, and sell it for thousands in profit afterward, setting his path in the field of vintage items restoration. His new business took him all over the country as he picked-up forgotten vending machines and other vintage items on the road, while also selling parts, effectively making a name for himself in the industry.
The Business
Although Rick Dale successfully set up his business from the bottom in the 1980s, his shop once suffered the consequences of his personal struggles. As it happened, in 1993 Rick went through some of the hardest times of his life when he and his first wife divorced, an incident which also resulted in the closure of his business that same year.
Leaving behind the shop in which he'd worked for over a decade, Rick moved to a former-farm property and set up his new shop there, working from home to endure his then-tight financial situation. Rick's marketing strategy back then was to put his items on the homefront to promote his business, slowly but surely gaining enough clients to set Rick's Restorations in the right direction again.
Another crisis came for Rick in 2007, but when he was sure that it was the end of Rick's Restoration, his then-girlfriend-turned-wife Kelly advised him not to close the business, and instead prompted him to take Rick's Restoration to the next level, as she served as the business's financial mind, while Rick was the man in charge of the heavy work. Their team worked so well that Rick gained enough of a good reputation to be featured in "Pawn Stars" when the right time came.
Rick's Future Projects
Unfortunately, Rick's Restorations is no longer active, despite all the hard work Rick put in to keep it afloat, but that doesn't mean that his legacy in the restoration industry is lost.
For one part, Tyler has done a good job of putting his father's teachings to use by starting his car restoration shop Tyler Dale Project.
While it's unclear if Rick's stepchildren Brettly and Ally took similar career paths as him, his wife Kelly has also given a try to the trades industry with her business My Best Font Forward, which manufactures wood signs and custom embroidery and carpentry. She's also a certified real estate agent in Las Vegas.
Even though there aren't any signs of Rick Dale returning to TV or the restoration business, it seems that he's having a great time just enjoying his family and all the great things life has now given him.