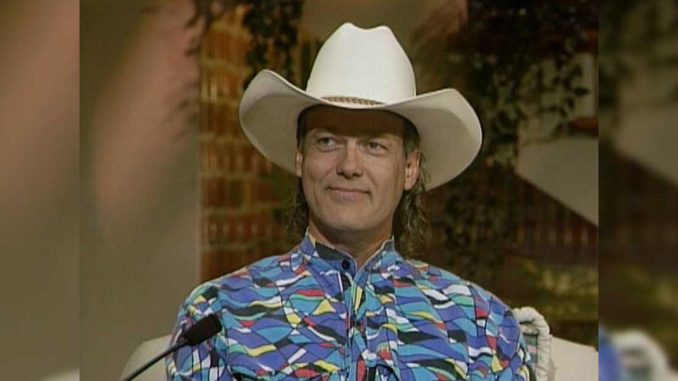 Ricky Van Shelton is a retired country music superstar, who spent three decades in the industry. He found early recognition and was successful and beloved by the audience only two years after he started working on his music. During his lengthy career, Ricky released nine studio albums, four compilation albums, and two holiday albums. His work was praiseworthy; 20 singles landed on the Billboard Hot Country Songs charts, 10 charted in the number one spot, and seven were in the top 10. Unfortunately, Ricky Van Shelton stopped recording around 2000, and announced his retirement in 2006. Here's what happened and what he did afterwards.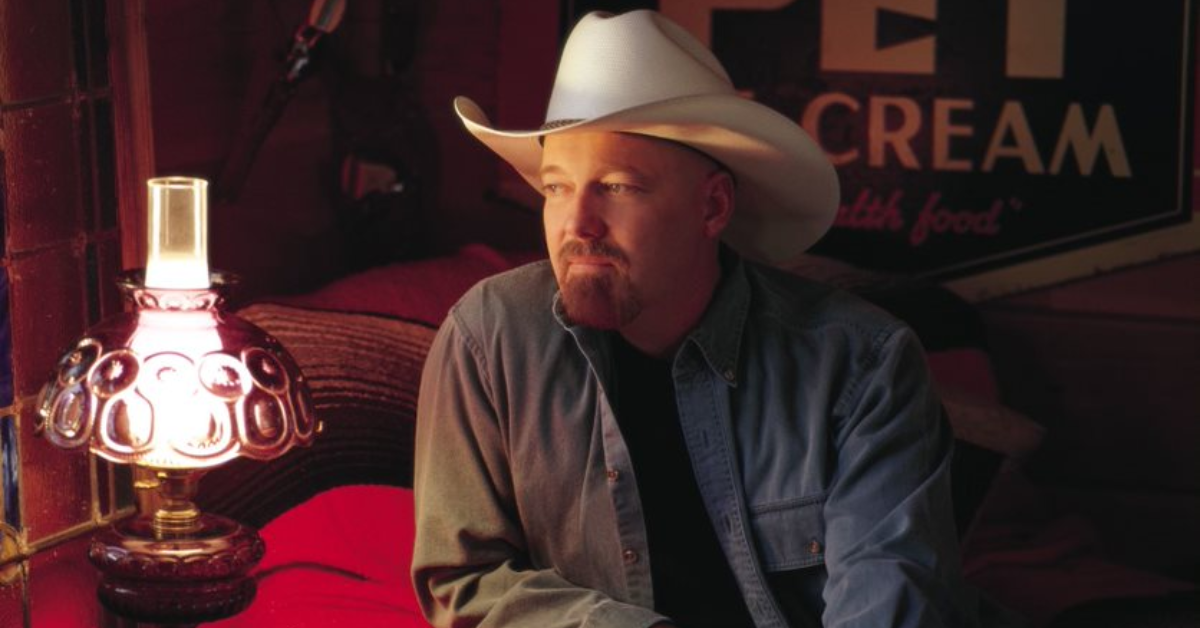 Ricky didn't cater to the mainstream sound
Ricky Van Shelton was a renowned recording and performing country music artist between 1986 and 1992 and could have kept going. His albums were certified platinum and gold by the Recording Industry Association of America (RIAA), and he had thousands of fans awaiting new releases. However, his displeasure with the new wave of country artists in the early 1990s, which would force him to alter his sound, put him off.
Ricky wanted to do what he loved, and didn't regard his public fall from grace that way. He was always open about being lucky to find fame in his 30s, and his readiness to leave the industry when it no longer aligned with his goals. Thus, Ricky started a recording label, had a minor studio album release, then signed with another well-known label before he got tired of performing and touring. Ricky had earned enough to live off his past work and so dedicated his life to his hobbies, household duties, and marriage.
A demo launched his career
Ricky's father was musically inclined, and son began singing gospel and pop music as a child. However, his love for country music developed in his teens, and he promptly joined his brother's band and began performing wherever he could. Although he worked in area clubs, his name needed to be more recognizable to earn a living, forcing him to work various other jobs.
He finally got lucky after he moved to Nashville, Tennessee in 1984, which many consider the Mecca of country music, with his then-girlfriend, now wife, Bettye Witt. After two years of performing, newspaper columnist Jerry Thompson heard one of his demo tracks, and facilitated an audition with one of the oldest companies in the sound business, Columbia Records.
Jerry started managing his career after Columbia Records signed Ricky to CBS Records International, a branch of the main label that released recordings outside North America. His first album, "Wild-Eyed Dream," released in 1987, was an instant success, and the singles after that charted better and better. His second album, "Loving Proof," released in 1988, reached first place on the Billboard Council albums list, and had three top-charting singles.
He persevered despite the genre's decline
Ricky Van Shelton enjoyed praise and high chart positions until 1992. That wasn't his fault entirely. His albums, "RVS III" from 1990 and "Backroads" from 1991, still charted well. However, the popularity of his country music sub-genre, neo-traditionalism, was waning. Therefore, his colleagues such as Dwight Yoakam, George Strait, Garth Brooks, and Randy Travis also faced troubles.
Grand Ole Opry, which he joined in 1988, described the change as the appearance of 'a group of hat acts,' cowboys who moved away from the traditional country genre to release music with pop, gospel, and rock influences. Moreover, female country stars rose in prominence; Shania Twain, Martina McBride and Faith Hill figuratively stole a portion of the audience.
Ricky had trouble with alcohol in 1992
As if the industry decline wasn't affecting his career enough, Ricky finally confessed that he'd struggled with alcoholism for a while and wanted to become sober. His fans knew that he was serious and that it could mean giving up his career if sobriety was more important. After all, Ricky told Detroit Free Press in 1990, 'I've always had faith in myself… With these three albums, it's been wonderful. However, if it ends tomorrow, I would just walk away with a smile.'
His admission brought attention to his life away from the spotlight – people around him revealed that alcohol had taken full control of his life. Ricky staved off his alcoholism on stage to avoid ruining his career but struggled away from the spotlight. Consequently, his drinking destroyed his relationship with family and friends, and his eight-year-long marriage was in danger. His parents didn't want to meddle in his affairs, but ended every conversation with, 'We're praying for you, son!'
That forced Ricky to self-reflect, and recalled how happy his childhood was. Since he sang gospel in church growing up, and his type of country music was losing popularity, he switched things up and in 1992 released an album of his favorite gospel songs, "Don't Overlook Salvation,"
Ricky Van Shelton became a member of the Opry 33 years ago today!

What's your favorite song of his? pic.twitter.com/MS3PwjkiUN

— Grand Ole Opry (@opry) June 10, 2021
He voiced his displeasure
Ricky's departure from mainstream music wasn't so hasty. Some fans recalled his interview with Morning Call in November 1999, when Ricky revealed that his dissatisfaction with the music industry began in 1992, when he performed at the Country Music Association's anniversary event. He stated that the songs he was supposed to sing weren't in his key, however, the event's director told him and other participants that it didn't matter what they sounded like, only that the performances looked good on camera. Ricky was insulted, saying he would leave instead of sounding bad because of someone else's decisions.
Shortly after security escorted him from the event for refusing to co-operate, Ricky also started disliking his radio performances. He stated that the new wave would ruin the country because the artists sounded alike. What hurt him the most was that the single, "Where Was I," from his platinum-certified 1991 studio album, "Backroads," vanished from all charts after his statements, despite being 'hot as a firecracker,' according to him.
He recovered and adjusted his career goals
Although he never clarified whether he beat his alcohol addiction, Ricky noted that his career rapidly deteriorated because he didn't want to conform to current trends. Thus, Ricky left Columbia Records after releasing two more studio albums, "A Bridge I Didn't Burn" in 1993, and "Love and Honor" in 1994. However, his former label released several Greatest Hits collections afterwards, including "Super Hits" in 1995, "Super Hits Vol. 2" in 1996, and "16 Biggest Hits" in 1999.
Ricky decided to reduce his touring and recording commitments in 1997, and launched the recording label, RVS Records. He financed his next album, "Making Plans," and released it solely in Wal-Mart stores the following year.
His eighth studio album received some praise, but lacked the backing of a large record label. Plus, its release made it unable to chart, and he didn't release any singles. As a last-ditch effort to revive his career, Ricky signed with the Canadian record label Audium before releasing his last studio album, "Fried Green Tomatoes," in May 2000. Although it had a notable single, "The Decision," it didn't achieve noteworthy worldwide success.
It's Ricky Van Shelton's birthday! Click LIKE to show him some love and catch the birthday boy in a classic Music City Tonight, today at 5PM E/P on Heartland!

Posted by The Heartland Network on Monday, January 12, 2015
Ricky retired a decade and a half ago
Ricky continued touring and performing his best-known songs for six years through 2006, however, everyone noticed his reluctance to live a country superstar life. He was never really into fans camping in his trailer or throwing him objects such as teddy bears and lingerie, some of which had female fans' numbers and names. Additionally, Ricky never lived a fast-paced rockstar life, which included sleeping around, taking drugs, or partying late into the night. Most importantly, his fans noticed that he barely gave interviews after 2000, which suggested that the end was near.
Most of his fans were unsurprised to read Ricky's letter, dated 3 May 2006, informing everyone that he would take a break. He asked the label to release him from performing for the rest of the year, saying that he wanted to spend more time with his family. However, when the hiatus stretched into 2007, and he didn't return the year after, it was clear that Ricky had decided to retire, at least until further notice.
He never returned to the scene
Ricky never clarified why he retired, as many assumed that he loved country music and performing. However, he never wanted the headache, busy lifestyle, and constant competition that being a recording artist demands. Many fans need to remember that Ricky struggled to find recognition until he was in his mid-30s and only enjoyed several years of unbelievable success before his fame took a toll.
Following several decently-performing albums after 1992, Ricky presumably recognized that he would never recapture the stardom that he once had. Thus, he potentially decided that the sacrifices of being away from family and friends weren't worth the moderate success he could maintain.
Although he refused to speak publicly about his reasons or potential plans for his return, his website, www.rickyvanshelton.com, provided some information – Ricky used his retirement years to work on his 150-acre farm, located along the Cumberland River, east of Nashville. He was also interested in collecting antiques, including expanding his classic car collection, gardening, and flying his airplane.
Ricky lives on his terms
After becoming an instant star in the late 1980s, Ricky Van Shelton was a sensation for roughly eight years. At the height of his fame, he decided not to blend in with the so-called New Country wave, explaining that he refused to look or sound like other country stars. Ricky's unwillingness to align with the record label's plans and standards led him to leave fame behind, and make independent decisions.
True fans appreciated the post-1992 releases. After Ricky launched his label, many fans rushed to Wal-Mart to hear what he had to offer, and still showed up at his shows until 2006. His passion for performing wilted, and he couldn't justify the financial, time, and energy investments. Hence, Ricky quit media life and now enjoys privacy, having been one of the best-recognized male country music vocalists.
He isn't keeping his fans in the loop
Although fans can read or hear some old interviews, only bits of information are available. Ricky's official website, created in June 1997, is inaccessible despite its renewal in 2018. Similarly, his official Facebook page under the handle @rickyvanshelton.music, has been deleted. Only his fans keep the legacy alive online. A Facebook fan group, Bring Back Ricky van Shelton, mentions occasional tidbits that surface online. For example, they keep track of his wife's YouTube channel, @@BettyeShelton-RickyVanShelton, and noticed that she'd uploaded an unreleased song that Ricky wrote, "I Know About You and Me," on 14 May 2022. She recorded it with her iPhone's Voice Memo app; fewer than five people had heard it before that day.
That shows that Ricky is still happily married to the woman he began dating in 1979, and tied the knot with seven years later. Bettye is equally satisfied with her life; she released a 25-second video of Ricky's contagious laughter in August 2020, a video of them celebrating Easter morning that year, and landscaping their yard. She also revealed that her husband still loves Randy Travis. Bettye posted a video of Ricky saluting and admiring Randy in the home studio in 2017 for being 'distinctive and a true star.' Her uploads indirectly disproved fake news on YouTube in 2022, about Ricky 'being in critical condition and begging for help'.