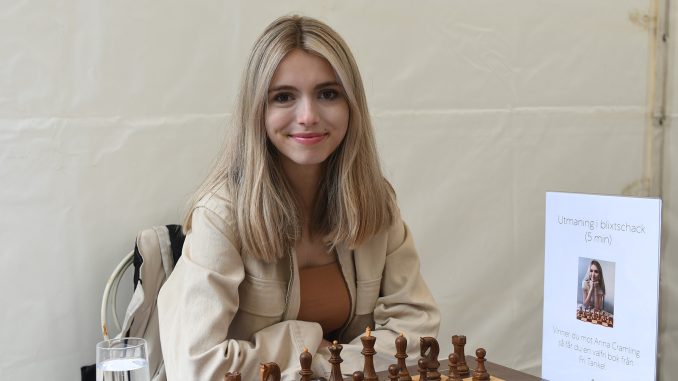 Chess is becoming mainstream, primarily through players with charismatic personalities who stream the board game on platforms such as Twitch and YouTube. Anna Cramling has a similar story; only people intimately familiar with the board game knew her and her chess-playing family before 2020. She changed that by starting a Twitch channel, AnnaCramling, and amassing over 330,000 followers since, and a YouTube channel, @AnnaCramling, on 16 February that year, with over 520,000 subscribers in late May 2023. However, many of her followers have yet to learn about her history, which is where we come in.
21 today 🥳 pic.twitter.com/VvC6hL0gOg

— Anna Cramling (@AnnaCramling) April 30, 2023
Anna is branching out
Anna gained prominence as an amateur chess player for Spain, then Sweden, and achieved a career peak in 2018 after becoming a Woman FIDE Master (WFM). Although she was successful the following year, her rating dropped, and the COVID-19 pandemic reduced her chances to play in person. Instead of sitting on her hands, Anna accepted the opportunity to comment on chess matches and started YouTube and Twitch channels which quickly took off. Although she competed a few times during the lockdowns, and played at the 2023 Reykjavik Open, Anna's streaming career is at the forefront. Thankfully, she uses her engaging personality to bring attention to the board game in media, persuading more girls and women to start playing.
Her parents are renowned chess players
Anna Yolanda Cramling Bellón, born on 30 April 2002 in Málaga, Spain, started playing chess at three. Pia Cramling, her mother, is a Swedish Grandmaster (GM), while her father, Juan Manuel Bellón López, is a Grandmaster (GM) and a five-time Spanish chess champion. Her parents regularly competed in chess tournaments when she was a child. Her mother took a 10-month break during her pregnancy with Anna, which included three months after her birth, arguably her longest pause from playing.
Her mother was the top-rated female chess player in the FIDE International Chess Federation in 1984 and a few other times. Thus in 1992, Pia became the fifth woman to reach the rank of Grandmaster. Anna spent most of her childhood at tournaments, watching her parents play. Her maternal grandfather babysat her whenever that wasn't possible, which was tricky because he's from Sweden. However, her parents noted that Anna was unbelievably calm and quiet as a kid.
Interestingly, Anna later stated that her parents never pressured her to play chess. Instead, she said that she felt pressure from herself and the community to live up to being the daughter of two Grandmasters.
She briefly played for Spain
Anna started competing early but only participated in a small number of chess tournaments under the Spanish flag. However, that's when she earned her first FIDE rating of 1519, competing in the Amateur A contest at the Gibraltar Chess Festival in February 2013 aged 10. Anna returned the next year and won the women's prize, which earned her considerable praise and publicity. That was unsurprising; her parents actively competed there many times, and she had watched them for nearly a decade. Anna crossed the 1600 FIDE rating mark at the event, and ended her chess career under the Spanish flag.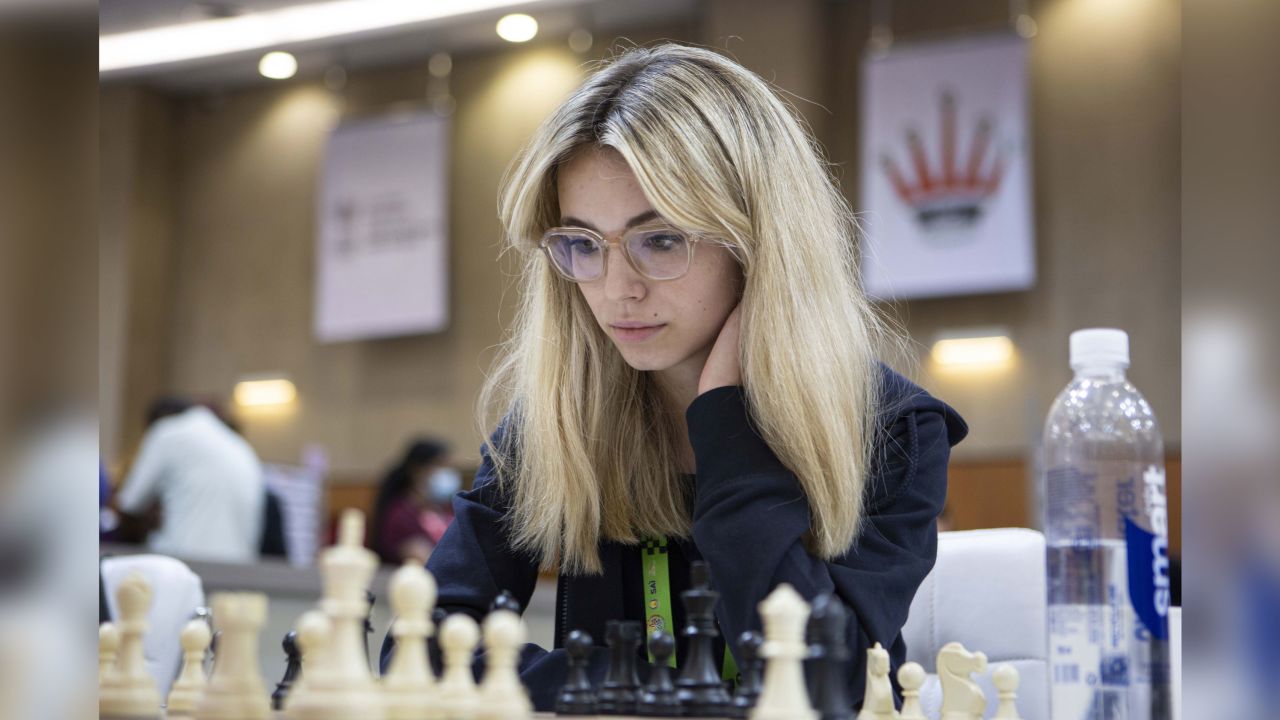 Anna moved to Sweden in 2012
Anna and her parents relocated to Sweden when she was 11, but she only officially switched to a Swedish chess federation in 2014. In hindsight, that was the right move, as her rating increased by 300 in early 2015. Towards the year's end, she had a chance to compete in the girl's U-14 division of the World Cadets Chess Championship, where she finished 58th out of 125 competitors.
Anna wasn't discouraged and crossed the 2000 FIDE rating mark in mid-2016, at 14, during the Hasselbacken Chess Open event held in Stockholm. Although she didn't win the event, she beat her fellow Swede, Michael Backman, with a FIDE rating of 2161.
Her success was noticed, and she got to represent Sweden in Azerbaijan during the 2016 Chess Olympiad and helped her country win 23rd place. Furthermore, Anna played for Sweden in 2017 during the Master's competition in Gibraltar, at the European Youth Chess Championships in the girls under-16 category, and the World Junior Chess Championships in the under-20 girls division. She praised Sweden's government programs for cultural projects, chess included, for children under 20. However, she disliked that newspapers with a chess column were far more common when she was growing up.
2018 was both great and disappointing for her
Anna had her most successful year in 2018, when she performed well in four tournaments, earning her peak FIDE rating of 2175 and the title of the Woman FIDE Master (WFM). Moreover, she beat the Spanish International Master (IM) Renier Castellanos Rodriguez, who held a rating of 2498, at the Open Internacional Villa de Benasque event in Spain in July. Unfortunately, she underperformed towards the end of 2018, and her rating fell below 2000.
She started making changes in 2019
Anna didn't rest on her laurels, and participated in several tournaments in 2019. She ended up in 13th place at the European Youth Championships, and beat a fellow WFM with a rating of 2307, Govhar Beydullayeva. Consequently, Anna's rating rose to 2164 by October of that year, shy of her highest.
Anna Cramling's success as a chess commentatorWFM Anna Cramling made great success as a commentator during the Rilton…

Posted by Rilton Cup on Monday, January 20, 2020
Anna combined her parents' styles
When asked to describe her playstyle, Anna replied that she plays aggressively, particularly online for practice, as she finds it more fun. She got that part from her father, who is very aggressive and tactical. In contrast, her openings are calculated and calm; her mother taught her many of them, and like her, Anna prefers the 1.d4 opening with white pieces, the second most popular chess opening after 1.e4, also called the Queen's Pawn Game. Therefore, Anna stated that she 'plays her mother's openings with her dad's style.'
Her parents, who still compete, have frequently been by her side  – for instance, during two European Team Chess Championships and the 2016 Chess Olympiad, her mother was on her team while her father organized their efforts as the team captain. Her mother's absence from the team was also why Anna didn't participate in the Chess Olympiad two years later.
She started streaming during the pandemic
As a successful chess player, Anna has much experience deliberating and voicing moves to her peers. The number of chess tournaments dwindled when the COVID-19 outbreak grew in severity in late 2019. Thus, she decided to comment on one of the rare ongoing competitions, the 2020 Women's World Chess Championship, held in Russia and China. Anna created her Twitch channel, and alongside her mother, commented on the match between the title defender, world champion Ju Wenjun, rated at 2584, and the challenger, Aleksandra Goryachkina, who won the new Candidates Tournament the year before, and was rated 2578.
Additionally, Anna competed in the "Femme Batale" Twitch event alongside IM Anna Rudolf, WFM Alexandra Botez, and WGM (Woman Grandmaster) Jennifer Shahade in March of that year. All proceeds from the event were donated to the World Health Organization's Solidarity Response Fund during COVID-19. Anna also did live commentary during the first portion of the 2020 Women's Speed Chess Championship alongside GM Robert Hess.
Anna joined the Panda esports team
Anna liked what she was doing on Twitch, and the audience tuned in to listen to her expertise and fun personality. Her mother and father periodically voiced their opinion, making things more interesting. For instance, they discussed the chess opening that Anna invented, "the COW opening," and played against chess hustlers in Union Square Park in New York City. Anna realized that combining chess with entertainment was a career worth exploring, and she started posting on social media, Twitter and Instagram. The esports company Panda spotted her in late 2020, and signed her the following year, making her their first chess streamer.
Anna credits the mini-series "The Queen's Gambit," which premiered a few months after she became active online, for her sudden surge of followers. Moreover, Anna's prominence grew after she signed up with a renowned talent agency, Evolved Talent or Evolved.GG. It represents well-known streamers such as xQc, Kitboga, Alinity, and Jerma985, and esports gamers Gorgc, Elevate, Babybay, and GarrettG. She mentioned that one reason for getting into esports is that chess was neither a sport nor a part of the culture, making it harder to earn money and get government assistance. She felt that chess becoming an esport would motivate more people to join clubs and play online. Moreover, she wanted to inspire girls to play and thought that the more girls started, the more they would join her as streamers or competitors. Her mother also said that chess needs better marketing, higher prizes, better playing conditions, and more women.
She had a boyfriend
Anna prefers to keep many things a secret, and separates her private and public life. Fans mostly know about her love for coffee, home workouts, and the beige color. However, observant fans noticed a minor mention of a previous relationship in a CNN article from March 2023, that revealed the most about her as a person, Anna mentioning that she used her ex-boyfriend's laptop to start her first stream. That means that the relationship is over, and her followers have yet to discover whom she dated, and whether she has a new partner.
Sadly, in the same interview, Anna described her experience as a woman during chess tournaments as 'lonely and sometimes uncomfortable.' She said that adult men had complimented her since she was a kid. Moreover, some of her chess opponents admitted that they couldn't stop looking at her. It's important to note that chess bouts can last to five hours. Even worse, Anna revealed that a chess official warned her not to wear shorts, to avoid distracting male players.
She successfully transitioned
Anna started playing chess at three and had a successful career, reaching the third-highest rank in 2019. However, she used an unfortunate situation, the outbreak of the coronavirus pandemic, to pursue her dream of making chess accessible and fun for everyone. She wanted more women to join the board game and eradicate the misconception that it was only for 'old, intelligent men.' Additionally, Anna claims that streaming helped her start playing chess 'in a relaxed way, and not trying to be the best,' which weirdly led to better results in the International Chess Federation matches.
Anna will continue streaming
Anna was nominated in the Best Chess Streamer category at The Streamer Awards in 2023, suggesting that her popularity is rising. Plus, Anna has taken a gap year after matriculating from high school, and is expanding her reach by partnering with Chess.com and Menē, a jewelry company that ,presented a 24K gold and pure platinum chess collection during Paris Couture Week, with her help. Sadly, her official website, www.annacramling.com, doesn't work in May 2023, although probably temporarily. Most importantly, her parents, neither of whom knew that streaming existed, supported her way of sharing her love of chess with the audience.
Anna competed in Reykjavik Open 2023, but stated that she would still upload or stream on YouTube or Twitch if she weren't a chess player. However, she would post traveling live streams or vlogs instead. As proof, she explained that she talked to her camera about the video games that she played, or the things that she's purchased since she was eight. Finally, Anna recently diversified her content by live-streaming video games such as Counter-Strike: Global Offensive (CS:GO) and Valorant and cooking.