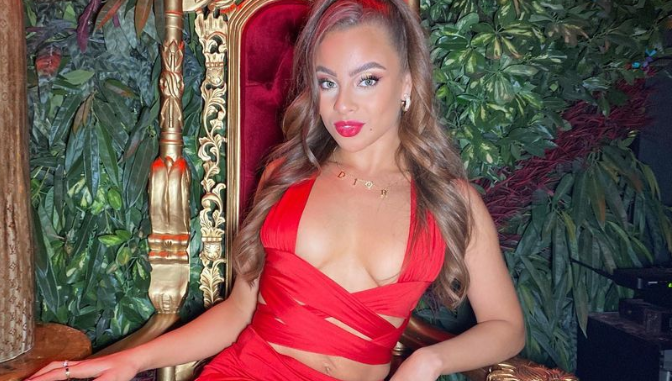 Danica Taylor arrived as a popular contestant on Love Island Season 8. She is the show's latest new bombshell during the islanders' "sex-sea" challenge. She made a splash as she explained that she's not afraid to "go in there and step on a few toes." She fiercely reiterated, "I am more than happy to go after what I want." Love Island 2022 will begin airing on Hulu in the US on Tuesday, June 21. 
Who is Love Island's Danica Taylor?
Danica Taylor is an English rock dancer, social media influencer, TV reality star, and model by profession. Currently, she is the second-youngest contestant next to Dressage Rider, Gemma Owen, aged 19. She arrived in the Love Island 2022 season 8 as a bombshell and she is very curious to find her true love. Talking about why she decided to sign up for the show, Danica said: "I feel like right now is the perfect time, I've just finished my university degree, I am single and I've been single for a year now so it just felt like the right time." She appeared on the Love Island 2022 villa on 17th June 2022. Additionally, she is also a brand ambassador for many fashion products. She recently graduated from university with a degree in dance. She also has her own YouTube channel, where she has built up a following of 29.6K subscribers.
 Here are the 5 Things to Know about Danica Taylor.
1. Danica is in her early twenties
Born on 14th April 2001, Danica Taylor's present age is 21 as of 2022. She celebrated her 21st birthday with her parents and dear ones. Her zodiac sign is Aries as per her birth date. 
2. She has thousands of followers on Instagram
Being a social media influencer, Danica Taylor has gained huge followers on her Instagram account. She has more than 28K followers on her Instagram account (_danicataylor) as of June 2022. Her Instagram account is filled with beautiful pictures of her. She has also posted a post in which she has worked with top brands like American Fast Fashion Brand in which she was promoting their clothes in a partnership. 
3. She is a Dancer, Model, and TV reality star by job
By profession, Danica is a rock dancer, TV reality star as well as a model. She started modeling at a young age and she continued her passion for dancing and television. She always wanted to be fashionable since her childhood. After her glamorous entrance into the Love Island villa, fans resurfaced Danica's dancing videos on social media where she's already making a name for herself as a dancer. She's also danced with one very famous international DJ, Jax Jones.
4. She is a contestant in Love Island 2022
Danica Taylor is one of the many bombshells who is headed into the Love Island villa. She made her entrance in style when she surprised the islanders during the "Sex Sea" challenge, before heading back to the villa to greet them on their return. Plus, she made quite a splash she chose to couple up with Luca Bish at the recoupling that evening, leading to what can only be described as a very awkward first date. She will be hoping to find her perfect partner and dreaming of securing the big cash prize as one of the next Love Island winners.
5. Danica also has a sister
Danica Taylor grew up with her sister, Chantelle Taylor in Manchester, Leicester, England. Her mother's name is Lindsey Taylor whereas her father's name is still to get revealed yet.