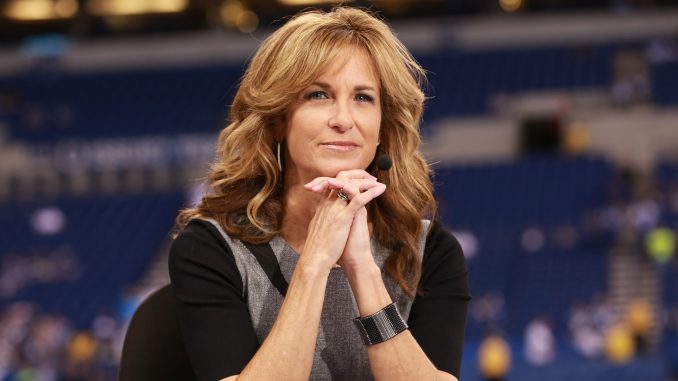 Who is Suzy Kolber?
Suzy Kolber is a sports journalist and television personality, best known for her work as a reporter and anchor for ESPN, covering various sports events, including the National Football League (NFL). Kolber gained significant recognition for her sideline reporting and hosting duties on ESPN's Monday Night Football.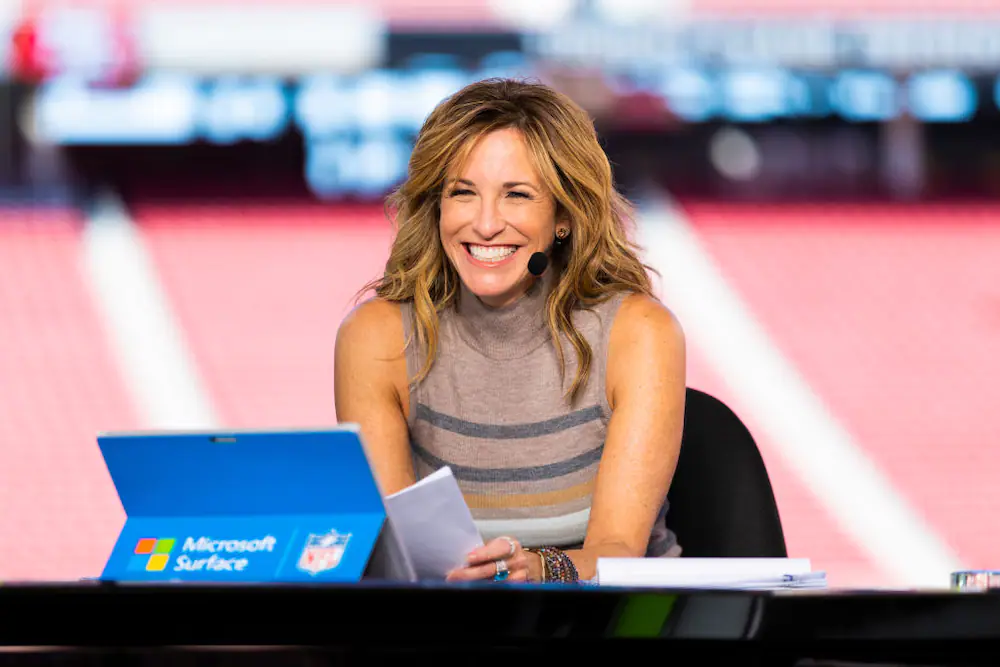 Suzy Kolber Wiki: Age, Childhood, and Education
Suzy Kolber was born on 14 May 1964, in Philadelphia, Pennsylvania, USA. She grew up in a sports-loving family, with her father being an avid football fan and her mother a passionate tennis player. From an early age, Kolber developed a keen interest in sports, often attending games with her family and immersing herself in athletics.
Kolber attended the University of Miami, where she pursued her academic and professional aspirations. She graduated with a degree in telecommunications, having begun honing her skills in sports journalism through internships and part-time jobs during her college years. Kolber had the chance to be mentored by renowned sportscaster and journalist Dick Schaap, whose guidance and expertise had a significant impact on her, further cementing her dedication to the field and inspiring her to strive for excellence in sports reporting.
Career Beginnings
She initially worked as a sports director at Dynamic Cable in Coral Gables, Florida, from 1984 to 1986. During this time, she also showcased her athletic prowess as a member of the University of Miami water ski team.
In 1986, Kolber landed a position as a videotape co-ordinator at CBS Sports in New York City, where she gained valuable industry experience. Building on her skills and knowledge, she joined WTVJ-TV in Miami, Florida, from 1985 to 1989, where she produced the 5:30 p.m. ET sportscast program. Her exceptional work earned her a local Sports Emmy in 1988, highlighting her talent and dedication.
Kolber continued to expand her repertoire by freelancing as a specials producer for WPLG-TV in Miami in 1989 and 1990, working on several projects. One of them was "Greyhound Racing America" in Miami from 1988 to 1990, and then joined "Cowboys Special Edition" in Irving, Texas, from 1990 to 1991. These roles allowed her to showcase her versatility and further establish her credibility in sports journalism.
We're live on @espn! pic.twitter.com/jlefcVxunS

— Suzy Kolber (@SuzyKolber) September 18, 2017
She started working as a freelancer in the early '90s; as a result, she was a reporter and producer for Breeders' Cup Newsfeed in Greenwich, Connecticut. Moreover, she was named the field producer for "Inside Edition" in New York City. She also served as a sports specials producer for WCIX-TV in Miami, and as a producer/director for NFL Films.
December 1991 marked a significant milestone in Kolber's career, as she joined WPEC-TV in West Palm Beach, Florida, where she served as a weekend sports anchor and weekday feature reporter, which further solidified her skills and helped her gain visibility in the industry.
Joining ESPN and Rise to Stardom
In 1993, Kolber's talent and dedication caught the attention of ESPN, leading to her transition to the network. Her extensive experience, coupled with her undeniable passion for sports journalism, allowed her to make a name for herself and establish credibility as she embarked on this new chapter in her career.
During her tenure at ESPN, Suzy covered a wide range of assignments, showcasing her versatility as a sports journalist. She made notable contributions to the network's coverage of the NFL, hosting shows, reporting on games, and conducting interviews.
Kolber's most recognized role was as a sideline reporter on ESPN's "Monday Night Football", where she worked alongside Michele Tafoya, and her reporting skills were highly regarded, as she provided live updates, conducted interviews, and offered insightful analysis during the games. Kolber's presence helped make "Monday Night Football" the most-watched program in cable television history. She is still on the show, while she's also contributed to "Monday Night Countdown" and was seen at the 2023 NFL Draft.
In addition, Kolber hosted ESPN's pre-race "NASCAR Countdown" program in 2007, expanding her repertoire beyond football. She also hosted ESPN's year-round "NFL Live" news and information show, contributing to the network's comprehensive coverage of the NFL Draft.
Kolber's role has extended to other sports events too – she served as an anchor on "SportsCenter", and covered tennis events such as the French Open and Wimbledon. She also hosted ESPN's coverage of the X Games, both the Summer and Winter editions.
Kolber's earlier contributions to ESPN included hosting "Sports Figures", a show that used sports celebrities and analogies to teach math and physics.
It's worth noting that during the 2011 NFL Draft, Kolber faced criticism for an interview with Mark Ingram II, in which he became emotional upon hearing an email from his imprisoned father. The interview was perceived by some as manipulative, although it showcased Kolber's ability to handle sensitive moments on live television.
Joe Namath Interview
One iconic moment in Kolber's Monday Night Football career occurred during a game between the New York Jets and the Miami Dolphins in 2003. She interviewed Jets quarterback Joe Namath, who became emotional and famously said, "I want to kiss you" to Kolber. It was a spontaneous and unexpected moment that showcased Kolber's ability to handle unexpected situations with grace and professionalism.
Brief Stint with Fox Sports
After her initial stint at ESPN, Suzy Kolber left the network in November 1996 to join Fox Sports, where she took on various roles and responsibilities, anchoring "Fox Sports News" for the fledgling Fox Sports Net, delivering sports updates and analysis. She also reported from NFL games, providing on-site coverage and insights into the action on the field. Her extensive knowledge and experience in football made her a valuable asset to the network's coverage of the NFL.
In addition, Kolber served as the lead reporter for Fox's coverage of the National Hockey League (NHL), hosting studio segments and providing analysis during the network's coverage of the Stanley Cup Finals in 1999.
In March 1999, she co-hosted a non-sports presentation on Fox with Maury Povich called "Opening the Lost Tombs: Live From Egypt." The event focused on archaeological discoveries and featured a live excavation on Egypt's ancient Giza plateau. Suzy ventured into the tomb and made a live report from the grave, adding her expertise and reporting skills to this unique event.
However, Kolber's time at Fox Sports was relatively short-lived, as she returned to ESPN in August 1999, her decision likely stemming from her previous success, and the opportunities available at the network.
Net Worth
According to authoritative sources, Suzy Kolber's net worth is estimated at $19 million, as of mid-2023.
Personal Life, Dating, Married, Husband, Children
Suzy Kolber has been married to Eric Brady since 2008. The couple has been together since the early 2000s and have one child together, daughter Kellyn Brady.
Appearance and Body Measurements
Suzy Kolber has blonde hair and blue eyes. She stands at a height of 5ft 7ins (1.7m), weighs approximately 130lbs (58kgs), with vital statistics of 32-23-33, bra size 34C.