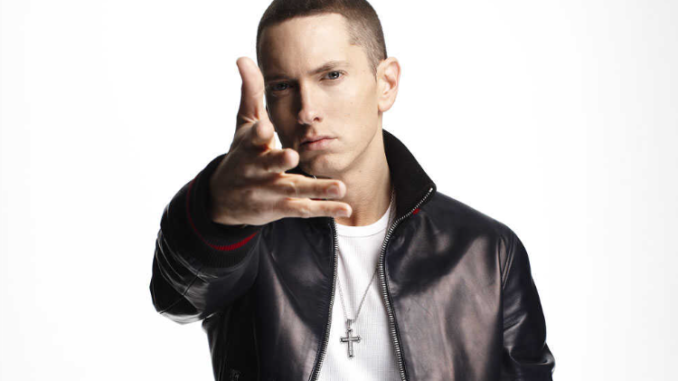 Eminem (King of Hip Hop) is an American rapper, songwriter, record producer, and actor who is the best-selling artist of the 2000s in the USA. Throughout his career, he has had 10 number-one albums on the Billboard 200 and five number-one singles on the Billboard Hot 100. He won the Best Rap Album Grammy for three consecutive albums; The Slim Shady LP (1999), The Marshall Mathers LP (2000), and The Eminem Show (2002). He released his debut album Infinite on March 12, 1996, through Web Entertainment. Eminem could sell only 1000 copies of the underground hip-hop album. In 2000, he appeared in the American horror/comedy film Da Hip Hop Witch as himself. The film is a parody of The Blair Witch Project. He started rapping at the age of 14 along with his friend. He took the name "M&M", which later changed to "Eminem". 
What is Eminem Known For?
Known for his songs, which often include dark and controversial rap lyrics.
Known for dying his hair platinum blonde in most of his songs.
What is Eminem Real Name?
Eminem's real name is Marshall Bruce Mathers III. He was born on 17 October 1972, in St. Joseph, Missouri, USA. His nationality is American and he is of English, German, Swiss-German, and Scottish ethnicity. He is the only child of Marshall Bruce Mathers, Jr. and Deborah Rae Nelson. His parents were in a band called Daddy Warbucks. His father left the family when he was a small kid. His mom was diagnosed with stage four breast cancer in the past. He has three half-siblings; Sarah Mathers (Half-Sister), Michael Mathers (Half-Brother), and Nathan Mathers (Half-Brother). He settled on the Eastside of Detroit when he was 12. Eminem attended Lincoln High School in Warren, Michigan. At age 14, Eminem began rapping with high-school friend Mike Ruby. He dropped out at the age of 17. He also competed in the 1997 Rap Olympics, where he was placed second.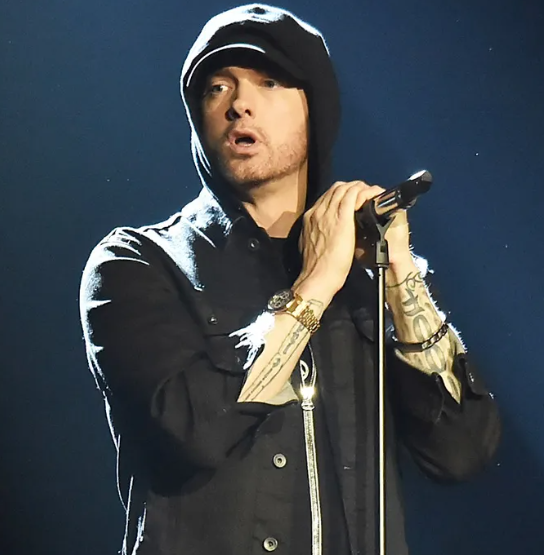 Eminem Career Timeline
It was in 1988, that he went by the stage name MC Double M and formed his first group New Jacks, and made a self-titled demo tape with DJ Butter Fingers. They later joined Bassmint Productions in 1989 and later changed their name to Soul Intent in 1992 with rapper Proof and other childhood friends. They released a self-titled EP in 1995 featuring Proof.
He made his first music video appearance in 1992 in a song titled, "Do-Da-Dippity". 
In the year 1996, Eminem and Proof teamed up with four other rappers to form "The Dirty Dozen" (D12), who released their first album "Devil's Night" in 2001.
He was then signed to Jeff and Mark Bass's F.B.T. Productions and recorded his debut album "Infinite" for their independent Web Entertainment label. 
He attracted more attention when he developed Slim Shady, a sadistic, violent alter ego. He even recorded his first extended play by the same name in the same year.
In February 1999, Dr. Dre helped Eminem release an album titled "The Slim Shady LP". it was one of the most successful albums of the year. 
Then, he founded the record label "Shady Records". 
Next, he released an album titled "The Marshall Mathers LP" in May 2000. 
He was also featured in "8 Mile", a movie based loosely on his life.
He then released popular albums like "The Eminem Show", and "Encore" between 2001-2004. During this time he also assisted Dr. Dre on several songs including the Grammy-winning "Forgot About Dre".
After that, he went touring with famous rap artists like Xzibit, Snoop Dogg, and Dr. Dre. 
He produced "The Re-Up", an album of compiled songs, under the banner of his label Shady Records in 2006. Moreover, he also sang for albums by Akon, 50 Cent, and Lil Wayne, the most memorable song being 'My Life'.
He published a book named "The Way I Am" in 2008. 
Next, he released the studio albums "Relapse", and "Recovery" from 2009-2010. 
He released an album named "SHADYXV" in 2014. 
A collection of ten discs titled "The VINYL LPS" was released in 2015.
He also made guest appearances in several movies including "The Wash", "Funny People", and "The Interview". He has also featured in a TV show named "Entourage".
Next, he released his album 
The Marshall Mathers LP 2. The album was released on November 5, by Aftermath Entertainment, Shady Records, and Interscope Records.
On October 19, 2016, he released a new song called "Campaign Speech", a political hip hop song. 
On November 22, 2016, Eminem released a trailer for a 10-minute short documentary called Partners in Rhyme: The True Story of Infinite. 
In 2017, he released the album "Revival."
On August 31, 2018, Eminem released his tenth studio album and first surprise album "Kamikaze". 
On January 17, 2020, Eminem released another surprise album "Music to Be Murdered By".
A deluxe edition of the album, titled Music to Be Murdered By – Side B, was released on December 18, 2020. 
He performed alongside LL Cool J at the Rock and Roll Hall of Fame ceremony on October 30, 2021.
He announced on May 23, 2022, on his Instagram that he and CeeLo Green will collaborate on a new track titled "The King and I" which will be produced by Dr. Dre and will appear on Baz Luhrmann's Elvis movie soundtrack. It was released on June 16, 2022. 
On 24th June 2022, he alongside Snoop Dogg released a song entitled "From the D to the LBC".
He announced his second greatest hits album on July 11, 2022, entitled Curtain Call 2, which will be a sequel to his first compilation Curtain Call: The Hits. It will be released on August 5, 2022, and will also include "The King and I", "From the D to the LBC", and one additional new track that will be announced before the release. 
Eminem Awards and Achievements
With global sales of over 220 million records, Eminem is one of the best-selling music artists of all time. He has had thirteen number-one albums on the Billboard 200: nine solo, two with D12, and one with Bad Meets Evil. Eminem's awards are 15 Grammy Awards, eight American Music Awards, and 17 Billboard Music Awards, Billboard named him the "Artist of the Decade (2000–2009)". He was also nominated in the Rock and Roll Hall of Fame Class of 2022, alongside Duran Duran and Dolly Parton. 
Who is Eminem married to?
Eminem was once a married man to Kimberly Scott. He met Kim in high school when he was 15 and she was 13. In 1989, they started dating each other. They dated ON and OFF and engaged in April 1995. Their daughter Hailie was born in 1995. The couple got married on 14th June 1999. They later divorced in 2001. After that, they briefly remarried in January 2006. He filed for divorce less than a year of their marriage. Their divorce was finalized later that year. He has custody of Anne's daughters from a previous relationship, Whitney Scott Mathers, and Alaina Marie Mathers. At present, he is single. His sexual orientation is straight.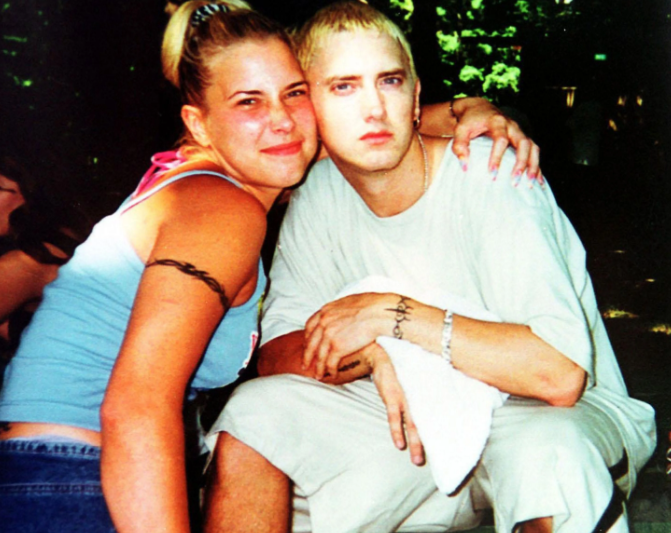 Previously, he dated Skylar Grey, Britney Spears, Kaya Jones, Kesia Alvarez, Kendra Jade, Brittany Andrews, Joy McAvoy, Beyonce Knowles, Mariah Carey, Kim Basinger, Gina Lynn, Brittany Murphy, Karrine Steffans, Tara Reid, Marni Bright, Tracy McNew, Nicki Minaj. 
How Rich is Eminem?
 Eminem is a multi-platinum-selling American rapper, producer, and actor. As of 2022, the net worth of Eminem is estimated to have $230 Million. He made this fortune throughout the music industry. He bought a house in 2000 at $1.483 million. This home is spread over 8,900 square-foot in Clinton Township, Michigan. Again in 2003, he bought 15,000 square foot house for $4.8 million. But he sold it for $1.9M in 2017. He is the topmost American rapper, producer, and actor, who is the highest-paid musical artist till now. He makes around $20 million a year. In 2007, he earned 18 million dollars. Then, in 2008, he earned 12 million dollars. It was 14 million dollars in 2009. His earnings then saw a drop in 2010 to 8 million dollars. In 2011, he earned 14 million dollars. In 2012, he earned 15 million dollars. In 2013, he earned 10 million dollars. In 2014, he earned 18 million dollars. In 2015, he earned 31 million dollars. In 2016, he earned 11 million dollars. In 2017, he earned 16 million dollars. In 2018, he earned 23 million dollars. In 2019, he earned 50 million dollars. More than 170 million records of his were sold during his career. He has made millions of music and albums by other artists under his label Shady Records. Today, he is living a lavish lifestyle. His main source of wealth is from music career. In 2005, he appeared in a television commercial for Apple iPod. 
How tall is Eminem?
Eminem is a handsome rapper with a good height of 5 feet 8 inches and his bodyweight is 68 kg. He has dark brown hair color and his eye color is blue. His shoe size is 10(US). He has also inked a lot of tattoos on his body. He has a healthy body.