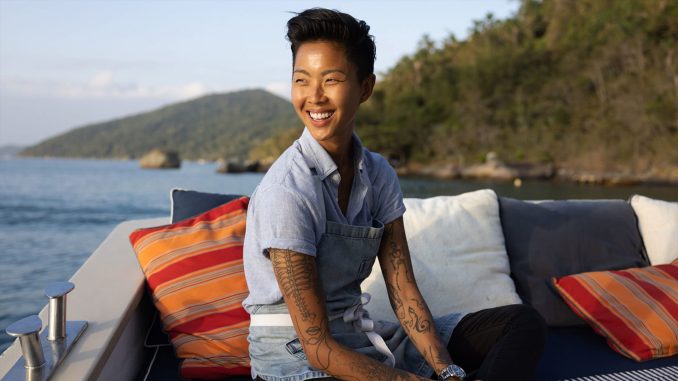 Who is Kristen Kish?
She rose to prominence as the second woman to earn the title of 'Top Chef', competing in the tenth season of the eponymous show, however, Kristen Kish's way to win was not as easy as it seems. She was eliminated in the 11th episode, but was able to return by winning five times in the "Last Chance Kitchen" segment. Kristen's life transformed in ways she could never have imagined after winning the aforementioned title, however, after more than ten years, she now admits that she never intended to be on "Top Chef".
More about her life, her aspirations, and career, you'll find in this article.
Early life, family, and education
Born as Kwon Yung Ran under the zodiac sign of Sagittarius on 1 December 1983, in Seoul, South Korea, Kristen was adopted by an American couple when she was just four months old, and raised by her adoptive parents in Kentwood, Michigan. She hasn't shared their names and occupations, as she respects their privacy, but when she talks about them, Kristen emphasizes how much support they gave when she stated that she wanted to be a chef.
Kristen knew her future profession from the age of five. She watched the cooking show entitled "Great Chefs in the World", which sparked her interest in cooking. Although she worked as a model during her high school days, Kristen said that she didn't like that job, so upon matriculating in 2001, she enrolled at Le Cordon Bleu College, in Chicago, Illinois, earning an Associate Degree in Culinary Arts in 2005.
From Chef de Cuisine to Top Chef
For some years, Kristen worked in numerous restaurants, until 2011 when she was hired as an instructor at a culinary demonstration kitchen in Boston, Massachusetts, called Stir. In 2012, the owner of Stir, Barbara Lynch, a famed American restaurateur, promoted Kristen to chef de cuisine; Barbara was the one who eventually convinced Kristen to compete in "Top Chef".
Kristen made her first appearance in the qualifying rounds, which premiered in November 2012, being tasked to create a signature soup. Kristen passed the challenge, and moved on to the competition. She won four elimination challenges before she was eliminated in the 11th episode during 'Restaurant Wars', but won her way back as described into the main competition, and made it to the finale. Her opponent was Brooke Williamson, over whom Kristen was declared the winner, becoming the Top Chef of Bravo's Top Chef Season Ten: Seattle.
Get to know @KristenLKish and @kylemartino, hosts of our new show #36Hours with the @nytimes! Watch it Mon. at 8|7c! pic.twitter.com/P2xDhR5uqU

— Trvl Channel (@travelchannel) August 13, 2015
After that win, Kristen served as the chef de cuisine at Barbara Lynch's restaurant Menton, and at Relais & Chateaux property. In 2015, she was seen as the co-host of the series "36 Hours" with Kyle Martino – the show featured the two of them spending time eating, drinking and exploring a given city for 36 hours.
Two years later, Kristen published her debut cookbook "Kristen Kish: Recipes and Techniques" co-authored with Meredith Erickson, then in 2018, Kristen opened her own lakeside restaurant, Arlo Grey, in Austin, Texas.
In 2021, Kristen was featured in the cooking competition show "Fast Foodies", alongside Justin Sutherland and Jeremy Ford. In the following year, she co-hosted the show "Iron Chef: Quest for an Iron Legend", with Alton Brown and Mark Dacascos.
Kristen's newest cooking show, "Restaurants at the End of the World", launched in March 2023, featured Kristen learning from chefs who overcome the enormous difficulties required to offer exceptional meals in the most isolated outposts on Earth. For example, in the first episode, Kristen was rappelling down a waterfall to pick some watercress.
The show was well-rated by the audience (8.2/10) – the biggest complaint the audience had was that the series only had four episodes!
When she's not filming, Kristen spends her time cooking in her restaurant. Some may assume that Kristen cooks traditional Korean dishes – as she put it when she tried kimchi for the first time when she was seven years old, she felt some connection. Because of her Asian heritage people often ask her does she prepare ramen or bulgogi. Kristen said that even though she likes to eat Korean food, she doesn't need to cook it, adding that other people can do it better.
Kristen focuses on French technique and inventive twists on the comfort food of her youth. She said that being raised in a White family, she has no connection with Korean tradition, so her meals are slightly differently presented versions of the dishes her adoptive mother and grandmother made, although, sometimes she'll throw in some Asian ingredients such as soy sauce or miso just because of the flavor.
Love life- Is she married?
Kristen has been the subject of various rumors about her romantic life, but kept it private and secret until March 2014, when she announced that she was celebrating the first anniversary of the relationship with her then-girlfriend, Jacqueline Westbrook; Kristen publicly came out as lesbian through her Instagram post. It isn't clear when the two separated.
In September 2019, via her Instagram, Kristen announced her engagement to Bianca Dusic, the Vice president of Food & Beverage for Standard Hotels. Bianca was born in Australia, and the two haven't shared how and when they met and began their relationship.
Kristen and Bianca exchanged their wedding vows on 18 April 2021, in their backyard in New York City. Both were dressed in black – Kristen donned a jacket, slacks, and a white shirt, while Bianca wore a sleeveless mock-neck dress. Shelley Armatino, a Justice of the Peace preacher, officiated the event, and the couple wrote their own wedding vows. At the time, Kristen was 37 years old, while Bianca was 42.
As of May 2023, the two are still together, and live in their home in Connecticut.
How rich is Kristen Kish?
When she won the "Top Chef" competition, Kristen received a prize of $125,000. As a restaurant owner and one of the most famous chefs, she's certainly accumulated decent wealth, thanks to her talent.
According to sources, as of May 2023, Kristen has a net worth estimated at over $1.5 million.