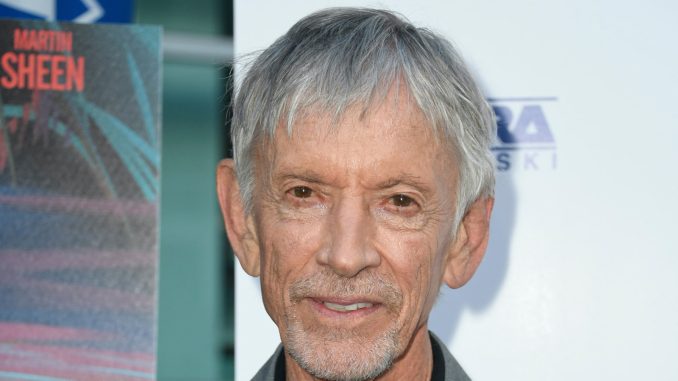 Who is Scott Glenn?
American actor Theodore Scott Glenn was born in Pittsburgh, Pennsylvania USA, on 26 January 1939, meaning that Aquarius is his zodiac sign;  he's of Native American and Irish ancestry.
He's appeared in more than 100 movies and TV series, but is perhaps still known best for playing Bart Mancuso in the 1990 action adventure thriller movie "The Hunt for Red October", which starred Alec Baldwin and Sean Connery, and was directed by John McTiernan. It follows the Soviet Union's best submarine captain who's violated orders and has headed for the US, but to claim asylum; the film won three of its 11 award nominations, including an Oscar win for Best Effects, Sound Effects Editing.
Scott's still today active in the film industry, and is currently shooting for the upcoming movie "The Hill".
once again pretending that i am reading the GQ Scott Glenn profile when I'm just looking at the pictures pic.twitter.com/mF7ylzkCtu

— Ayo Edebiri (@ayoedebiri) April 25, 2020
Education and early life
Scott was raised in Pittsburgh alongside his siblings Terry and Bonnie, by their father Theodore Glenn and mother Elizabeth; Scott hasn't shared many details about his family, because he respects their privacy.
He was often ill while growing up, and once had scarlet fever for which he had to spend a year bed-ridden. Scott studied at Pittsburgh High School, and was interested in several activities during his time there, such as acting with the school's drama club, running track and playing soccer.
He matriculated in 1957, and then enrolled at the College of William & Mary in Williamsburg, Virginia, from which he graduated with a Bachelor of Arts degree in English language in 1960.
Scott then joined the US Marine Corps, serving until 1963; upon his return to the US, he moved to Kenosha, Wisconsin and spent close to a year working for the newspaper "Kenosha News" as a news and sports reporter. He began taking acting lessons in 1964, only because he wanted to become an author, and had to learn the art of dialogue.
Roles in TV series
Scott's debut TV series role was playing Harry in the 1965 episode "The Perfect Hostess" of the family musical comedy "The Patty Duke Show", and the remainder of the '60s saw him appear in an episode of the crime drama "Hawk", another crime drama "N. Y. P. D.", and the crime mystery "The Edge of Night".
He appeared in only a couple of TV series in the '70s, and what marked the decade for him was perhaps playing Frank Lenox in two episodes of the popular crime mystery "Ironside", created by Collier Young, and which starred Raymond Burr, Don Galloway and Don Mitchell. It follows the life of wheelchair-bound detective Robert T, the series aired from 1967 through 1975, and won two of its 19 award nominations.
Scott had no TV series roles in the '80s, and his following appearance was in the 1998 episode "Ernest Hemingway: Wrestling with Life" of the historical documentary "Biography".
In 2003, he narrated two episodes of the popular biographical historical documentary "American Experience", created by Stephen Fitzmeyer, and which today stars David McCullough, David Ogden Stiers and Michael Murphy. The series covers the history of America, has been airing since 1987, and has won 84 of its 206 award nominations, including an Oscar nomination for Best Documentary, Features. Scott's only other role in the decade was playing Sheriff Rollins in two episodes of the 2008 crime comedy "Monk".
From 2014 through 2017, he played Kevin Garvey, Sr. in 11 episodes of the fantasy mystery "The Leftovers", which starred Amy Brenneman and Justin Theroux, and was created by Tom Perotta and Damon Lindelof. Set three years following the mysterious disappearance of two percent of the global human population, the series follows a group of people still coping with the strange event, and it won 15 of its 93 award nominations.
Scott's since had roles in two more TV series, playing Stick in six episodes of the 2017 action crime adventure mini-series "The Defenders", and Alan Pangborn in eight episodes of the 2018 fantasy horror "Castle Rock".
Roles in movies
Scott's debut film role was playing Tad Jacks in the 1970 drama "The Baby Maker", while some of his following roles were in the 1971 action thriller "Angels Hard as They Come", and in 1972 the western "In Pursuit of Treasure" and the horror "Gargoyles".
What marked the '70s for him was probably playing Army Private First Class Glenn Kelly in the popular 1975 musical comedy "Nashville", directed by Robert Altman, and which starred Keith Carradine, Karen Black and Ronee Blakley. It follows a group of people as they're preparing for a political convention, and the movie won 24 of its 50 award nominations, including an Oscar win for Best Music, Original Song.
Scott started off the '80s with roles in the 1982 action "The Challenge", the 1982 sports drama "Personal Best", and the 1983 biographical adventure "The Right Stuff". The year 1985 saw him star as Emmett in the crime action "Silverado", written and directed by Lawrence Kasdan, and which also starred Kevin Kline and Kevin Costner. It follows a group of misfits as they're righting the injustices in their small town, and the film won one of its five award nominations, including two Oscar nominations for Best Music, Original Score and Best Sound. Scott was then cast to appear in the 1986 drama "As Summers Die", the 1998 action thriller "Off Limits", and the 1989 drama "The Outside Woman".
In 1991, he portrayed Jack Crawford in the evergreen crime thriller "The Silence of the Lambs", which ranks amongst the best movies of all time. It starred Anthony Hopkins and Jodie Foster, was directed by Jonathan Demme, and follows an FBI cadet who's seeking help of an incarcerated cannibal to catch a serial killer; the movie won 70 of its 121 award nominations, including five Oscar wins, including for Best Director, Best Actor in a Leading Role (Hopkins) and Best Actress in a Leading Role (Foster). Some of Scott's other notable performances in the '90s were in the 1993 crime horror mystery "Slaughter of the Innocents", the 1997 crime action "Absolute Power", and the 1999 romantic drama "The Virgin Suicides".
What marked the 2000s for Scott was perhaps portraying Steve Gruwell in the popular 2007 biographical crime drama "Freedom Writers", written and directed by Richard LaGravenese, and which starred Hilary Swank, Imelda Staunton and Patrick Dempsey. It follows a young teacher who's encouraging her high school students to learn tolerance and seek knowledge beyond high school; the film won two of its three award nominations.
In 2012, Scott played Ezra Kramer in the action adventure thriller "The Bourne Legacy", and could then have been seen starring in the 2014 thriller "The Barber", and the 2015 action adventure "Into the Grizzly Maze".
His most recent film role has been as Dale in the 2020 action thriller "Greenland", which starred Morena Baccarin and Gerard Butler, and was directed by Ric Roman Waugh; the film follows a group of people during a cataclysmic natural disaster; it won one of its three award nominations.
Other credits
Scott performed stunts in the 1991 action mystery movie "Backdraft".
He produced the 2010 adventure documentary movie "Atlantic Crossing: A Robot's Daring Mission".
Scott received special thanks for the 2012 romantic adventure movie "On the Road".
Some of his recent talk-show appearances have been in "Josh Gates Tonight", "WTF with Marc Maron" and "GMA3: What You Need to Know".
Awards and nominations
Scott was nominated for a 2016 Academy of Science Fiction, Fantasy & Horror Film Award for Best Guest Performance in a Television Series, for "Daredevil".
Daredevil: Scott Glenn habla sobre Stick, el personaje que interpreta en la serie.Scott Glenn es el actor escogido…

Posted by SHIELD-Uprising on Sunday, April 19, 2015
Love life and relationships
Scott can rarely be heard speaking about his love life in public, but it's known that he's been married to American ceramist Carol Schwartz for more than five decades now. The two exchanged vows in a private ceremony in 1968, and Carol kept him company during some of his red carpet events; Scott converted to Carol's faith of Judaism (from Catholicism) following their wedding.
They have two daughters together: Dakota Glenn who's today a screenwriter and producer, and Rio Glenn who's an actress and musician.
There are no other women whom Scott's been with, that his fans know about; he's married to Carol Schwartz as of May 2023, and they have two daughters together.
Interesting facts and hobbies
Scott prefers to research his roles rather than to trust coaches and advisers.
He was against the death penalty until he was cast to appear in the 1991 movie "The Silence of the Lambs", for which he had to listen to a recording of two teenage girls being tortured and murdered.
Scott's appeared in four movies which have been nominated for an Oscar for Best Picture, including the 1975 "Nashville" and the 1983 "The Right Stuff".
Scott's revealed that the 1958 romantic war movie "Ashes and Diamonds" is his favorite film; it follows Russian forces and the Polish resistance as they're fighting for leadership in Communist Poland following World War II.
Height, eyes and wealth
Scott's age is 84. He has grey hair and brown eyes, is 6ft (1.83m) tall and weighs around 170lbs (78kgs).
Scott's net worth's been estimated at over $4 million, as of May 2023.