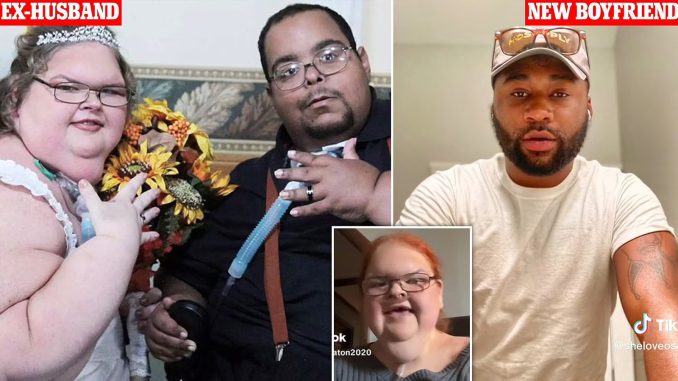 Tammy Slaton, a star of "1000-lb Sisters," was known as Tammy Willingham until a month ago, and her unannounced name change shocked the show's viewers. After all, she became engaged several months before and married a month after that. Even worse, due to the delay between filming and the air date, TLC broadcast her wedding in an episode on 21 March 2023, meaning that her nuptials were still fresh in everyone's mind. Unfortunately, the evidence points to the fact that she split with Caleb Willingham, and has moved on to dating a TikToker named Greg Morgan. Here's the scoop.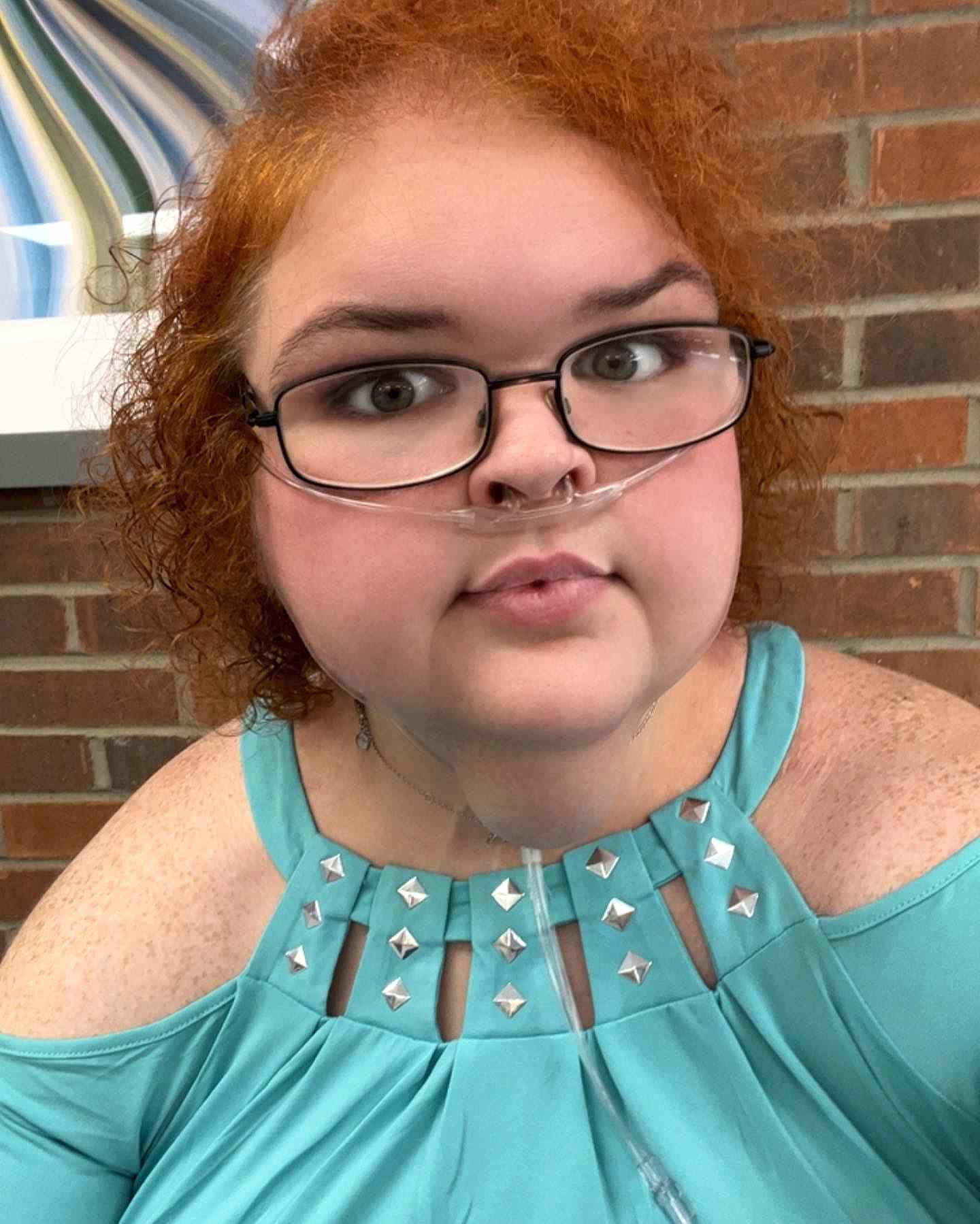 Tammy moved on quickly
Tammy met Caleb Willingham at the weight loss center in Ohio. Destiny seemingly brought them together, as although they were both patients, they didn't see each other. However, as luck would have it, doctors extended her residency because of a trach infection, while Caleb started leaving his room after a year of health problems. They fell in love quickly and passionately, became engaged in October 2022, and married in November.
They enjoyed the marital bliss until February of the following year, when doctors discharged Tammy, and she returned to her home state of Kentucky while Caleb stayed behind in Ohio. Unfortunately, there was trouble in paradise roughly two months later, and the two seemingly separated. However, the speculations about her relationship with Greg Morgan began less than a month afterwards, and an insider confirmed them in early May.
Her relationship with Caleb seemed fine
Tammy and Caleb were all smiles and had much in common when they met in the rehabilitation facility. She was losing a lot of weight, Caleb was becoming healthier, and their romantic spark benefitted both after Tammy checked out. Although her sister Amy initially doubted Caleb's intentions, she eventually relented and admitted that she felt his love and appreciated his support. Caleb confessed that he loved her regardless of size, and Tammy glowed with pride and happiness. Therefore, it seemed that they were in tune with one another, and would embark on a health improvement journey together. Sadly, things quickly turned sour.
She provided the first clue about the divorce
Discord existed before any news reached the public, and some entertainment websites such as ScreenRant.com created lists of reasons Tammy would regret jumping the gun. They pointed out that Caleb too is a food addict, and that they would enable each other when the hospital staff couldn't keep them accountable. Others noted that Caleb wasn't dedicated to weight loss, and that he would hold her back; luckily, that was pure speculation.
Sadly, Tammy stoked the fire in early April when she changed her name from "Tammy Slaton" to "Tammy Willingham" one morning, giving everyone a reason to worry. An insider filled in the blanks in the story after the news hit viewers who had just seen her wedding play out on TV.
According to the insider, Caleb had gained 30lbs or 14kgs after leaving the hospital, and wasn't sticking to his program. That was a huge problem; his health was declining, and they were in a long-distance relationship. Tammy felt that she would have to care for him despite barely being capable of caring for herself, making their relationship somewhat pointless. Moreover, the insider revealed that Caleb threatened to divorce her first, but went back on his word. However, Tammy was fed up, and her sisters Amanda and Amy were on her side. Thus, she told him that she would divorce him and felt safe doing so, because they had signed a pre-nup to protect personal assets.
Caleb confirmed the break-up
TLC failed to respond to the rumors; the couple was still working things out, and the production crew likely wanted to film the drama and let it unfold on TV. However, Caleb broke the silence, to put it that way – in an alleged private or deleted Facebook post, he told his followers and friends to 'delete him from friends if they were there only for his wife,' revealing, 'We are married by paper only right now. Her decision, not mine. It was more than that. I'm hurt, mad, confused, and alone even with others around.'
Greg Morgan is a small content creator
Greg Morgan is best known as a TikToker whose account, @sheloveosobaby, has over 2,500 followers. He goes by Greg Tuck, PrinceXtheYGN, and has named his CashApp account $thehirdumphrey. However, it's unclear how the 25-year-old makes money besides donations to his profile in the finance app. He likely receives revenue from his content, primarily comedy skits, shirtless videos, gym workouts, and his opinions on some trends.
Based on The US Sun article published on 11 May 2023, multiple sources claim that Tammy met Greg on a dating app, and that they immediately hit it off. They also claimed that Greg took a six-hour bus ride from Indianapolis to Kentucky, paid for by Tammy, and that they had seen each other a handful of times the previous month.
Moreover, they claimed that Tammy found him very attractive and that they liked each other, but were having trouble figuring out a meeting time and place because of Tammy's hectic filming schedule. However, the alleged visit was productive for their relationship; Greg visited Amy and met Tammy's nephews, Glenn and Gage.
Greg denied the rumors
Tammy's response, 'Aww, you love me!' to one of Greg's messages, started the rumors. However, many fans get excited about new couples, while ignoring the available information. Greg began with a TikTok video from 13 May 2023, in which a follower accused him of dating Tammy for the money, with 'For real, though, @Tammy Slaton and I are friends. You'll need to chill.' He uploaded another TikTok video the next day, with excerpts from the news about their relationship, and wrote, 'This is really irritating. Like people just can't be friends. This is crazy @Tammy Slaton.'
However, not everything is clear-cut. Despite repeatedly telling fans not to congratulate him and to find something else to do, Greg had two mysterious replies, which worked against him. When a TikTok follower under the handle @kimberlythomas181717, told him that she came to the source to see if the rumors were true, Greg replied, 'Watch the next season!' Additionally, when In Touch Weekly asked for his comment, Greg said, 'Tune in to the next season; you might get what you're waiting for!'
Not everyone liked Tammy's actions
Whether the rumors were true was irrelevant for some fans; they thought that she mishandled the situation. While Tammy received much praise for knowing what she wanted from romance and following her gut, many viewers felt for Caleb. When we look at the situation objectively, it's clear that she may have blindsided him, and married him while not being entirely sure of her decision. Although their marriage hasn't end on paper yet, the emotional connection only lasted four to five months.
Extra proof of her conflicted feelings is that only a month had passed between proposing and tying the knot, and roughly two months between her return home and the apparent break-up. Caleb is justifiably shocked. His alleged Facebook posts suggest that she broke up with him, and his reaction reveals that he felt angry, confused, and lonely after Tammy's sudden withdrawal from the relationship.
1000-lb Sisters star Tammy Slaton 'is just friends' with her rumoured toyboy loverhttps://t.co/h4hKxZ0IJd pic.twitter.com/SYXg84Rizj

— Mirror Celeb (@MirrorCeleb) May 16, 2023
Viewers will get proof in the fifth season
Based on Tammy's silence and Greg's hints that everything will be revealed shortly, fans suspect that Greg will appear in season five of "1000-lb Sisters." Also, based on available information, one of two things will transpire. If the insider's report is accurate, Greg is working on boosting his social media presence, while waiting for Tammy's divorce proceedings to finish, before going public as a couple.
Or, as he stated, they were friends from the get-go, and briefly considered a romantic relationship or flirted for fun. Whichever is true, TLC almost undoubtedly made him sign an NDA (non-disclosure agreement), which is standard practice for their show's cast members. That would ensure that he doesn't accidentally spill the beans while the production company builds hype for the upcoming season.