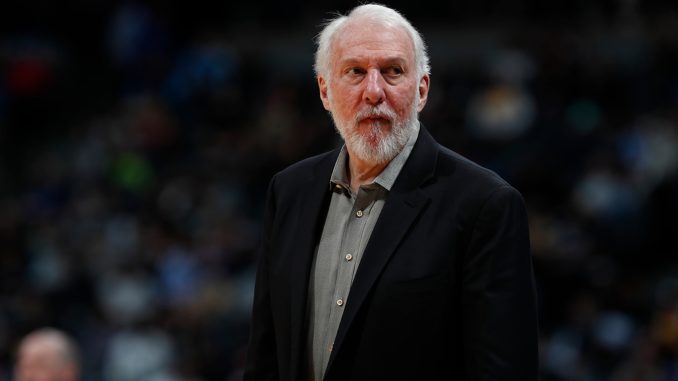 Gregg Popovich is the longest-tenured active National Basketball Association (NBA) coach, a respected American basketball executive, who is the current head coach and president of the team San Antonio Spurs.
Posted by Coach Gregg Popovich on Saturday, March 12, 2022
Age, Early Life, and Education Background
Gregg Charles Popovich is a native of East Chicago, Indiana, who was born under the Aquarius zodiac sign on 28 January 1949, which makes him 74 years old as of 2023. He is the son of Katherine Popovich and her husband, Raymond Popovich – Gregg's father was Serbian whereas his mother was Croatian. He developed an interest in basketball at a young age, and was drafted into the Gary Biddy Basketball All-Star squad in 1960.
Gregg attended Merrillville High School in Indiana and matriculated in 1966. Subsequently, he joined the US Air Force Academy, where he began playing for the Falcons basketball squad, and was selected as the team's captain in his senior year. Gregg trained in Air Force intelligence with the dream of joining the Central Intelligence Agency (CIA). He graduated with a Soviet Studies baccalaureate in 1970, and thereafter served five years of active duty in the Air Force and during this period, he toured the Soviet Union and Eastern Europe with the US Armed Forces Basketball team. As the team captain, Gregg helped Air Force Academy Falcons win the Amateur Athletic Union championship.
Gregg graduated with a master's degree in Sports Sciences and Physical Education from the University of Denver.
Interest and Facts
Popovich aka Coach Pop is one of the five NBA coaches who have won at least five championship titles – the other four are Phil Jackson, Red Auerbach, John Kundla and Pat Riley.
Gregg is an avid wine collector, who has invested in the Oregon-based A to Z Wineworks.
He's very outspoken when it comes to politics, and supported the 2017 Women's March. Popovich openly criticized the policies of the former US president, Donald Trump – he endorsed Joe Biden when he was running for the presidency in 2020.
Gregg devotes his time and money to various charity organizations, such as the Innocence Project and San Antonio Food Bank. He donated funds to the Shoe That Fit non-profit organization, which provided shoes to Gates Elementary School students, who were affected by Hurricanes Maria and Irma.
In 2005, Gregg was inducted into Merrillville High School's Athletic Hall of Fame.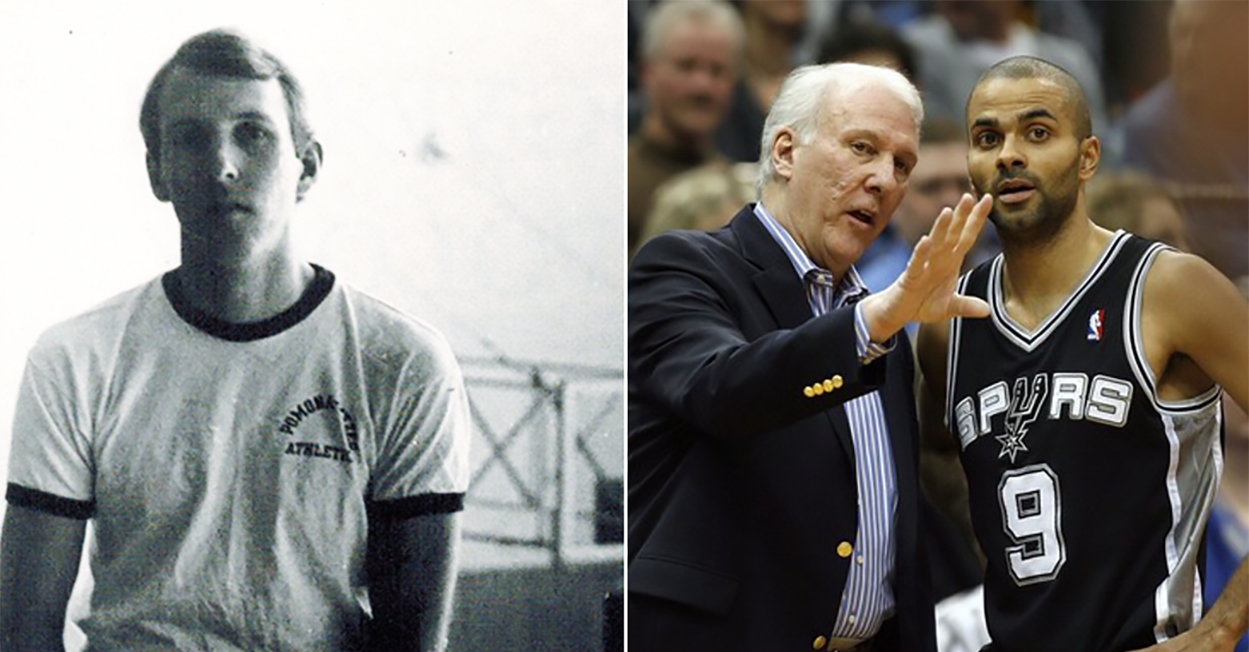 Career – College Career
In 1973, Gregg began serving as an assistant under the coach Hank Egan for the Academy Falcons. He worked for six years before he was hired as the head coach of Pitzer College and Pomona College joint men's team, Pomona-Pitzer Sagehens. Popovitch marshaled the team to its first outright title during his years as the coach (1979-1988). During this period, Gregg became good friends with the University of Kansas' head coach, Larry Brown, and he briefly volunteered as an assistant coach at Kansas during the 1985-1986 season – he's confirmed that he learned a lot from Brown.
In 1987 and 1988, Gregg joined coach Brown as an assistant coach of the San Antonio Spurs, and from 1988 to '92, he became Larry Brown's top assistant, but in late 1992, he briefly left the Spurs to work as an assistant coach for the San Francisco-based basketball team, The Golden State Warriors.
NBA Career – San Antonio Spurs
Gregg returned to the Spurs in 1994 as the Vice President and General Manager of Basketball Operations, shortly after Peter M. Holt purchased the team. Immediately after assuming the position, Popovich signed Avery DeWitt Johnson as the Spurs' starting point guard, and went on to trade Dennis Rodman for Will Perdue – in his 1996 book entitled "Bad As I Wanna Be", Rodman disclosed that he wasn't fond of Popovich. In December 1996, Popovich fired the team's head coach, Bob Hill, and named himself the new coach. Some of San Antonio Spurs' key players – such as David Robinson and Sean Elliott – suffered injuries in the 1996-1997 season, and as a result, the team performed dismally, winning only 17 games in the season. However, the team blossomed in the 1997-1998 season after Gregg took over fully as the head coach – it won 56 games in that season, and in 1999, Gregg marshaled the Spurs to its first NBA title victory.
Gregg Popovich is the first coach in NBA history to reach 1,200 career wins with one team.#GoSpursGo pic.twitter.com/jD6jpcWPXC

— San Antonio Spurs (@spurs) October 28, 2018
Gregg won four more championship titles with the Spurs, in 2003, 2007 and 2014. Moreover, he was named the National Basketball Association's Coach of the Year in 2003. In April 2008, he returned to the US Air Force Academy to collect the academy's Distinguished Graduate Award. In 2012 and 2014, Popovich was named NBA Coach of the Year again, which saw him awarded the Red Auerbach Trophy in 2014, for winning Coach of the Year title thrice. In early 2019, he became the ninth head coach in the history of the NBA to win 1,000 games – Popovich and Jerry Sloan are the only NBA coaches who have won 1,000 games with one team. In 2019, Gregg surpassed coach Lenny Wilkens to become the winningest coach in NBA regular season games.
National Team Career
During the 14th edition of the FIBA World Championship in 2002, Popovich served on the coaching staff for the US Basketball Men's National Team. Together with Larry Brown, he steered the team to win the bronze medal at the 2004 Summer Olympics held in Athens. Popovich was selected as the head coach for the national basketball team in October 2015, and led the national squad to a gold medal at the Tokyo 2020 Summer Olympics, where the US team beat France 87-82 in the final.
Personal Life
Popovich married Erin Conboy on 10 October 1976. Erin preferred to stay away from the spotlight and as a result, nothing much is known about her. The couple welcomed two children, a son and a daughter named Micky Popovich and Jill Popovich respectively. Sadly, Popovich's wife passed away at the age of 67 in April 2018, after a long battle with heart complications.
Height, Weight, and Physical Appearance
Popovich is of Caucasian ethnicity and has a set of brown eyes and gray hair. He's 6ft 2ins (1.88m) tall and weighs approximately 230lbs (104kgs).
Net Worth
Gregg holds various NBA records and has earned a good sum from his career as a basketball coach and executive. His annual salary is around $6 million, and he's reputedly worth approximately $40 million as of 2023.