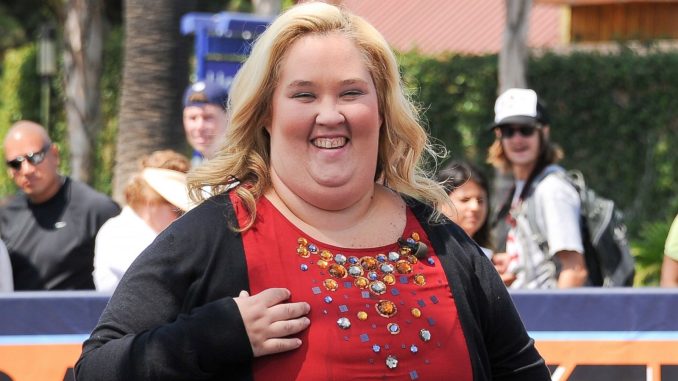 June Shannon, better known as Mama June, became a reality TV star when TLC gave her and her daughter the TV show "Honey Boo Boo," in August 2012. Although it was canceled in August 2014, she didn't disappear into obscurity. Instead, Mama June rebranded herself through her weight loss journey, and WE tv granted her the TV show, "Mama June: From Not to Hot," in 2017. Sadly, that's also when her health problems began; she experienced vision loss and had several surgical opertions. Then, after regaining the weight that she'd lost, she made things worse by ecoming addicted to cocaine, and was subsequetly arrested with her boyfriend in 2019.
However, what worried her fans the most was her struggle to control her lymphatic system, which threatened her life in 2021. Despite alleviating the pain and swelling, Mama June ran into a new set of issues, with lightheadedness and migraines in September 2022. Still, doctors couldn't diagnose her with anything specific. Mama June's journey to find what has been ailing her is the main topic of the sixth season of her show on WE tv; we've compiled a list of her symptoms to see if we can guess the reason.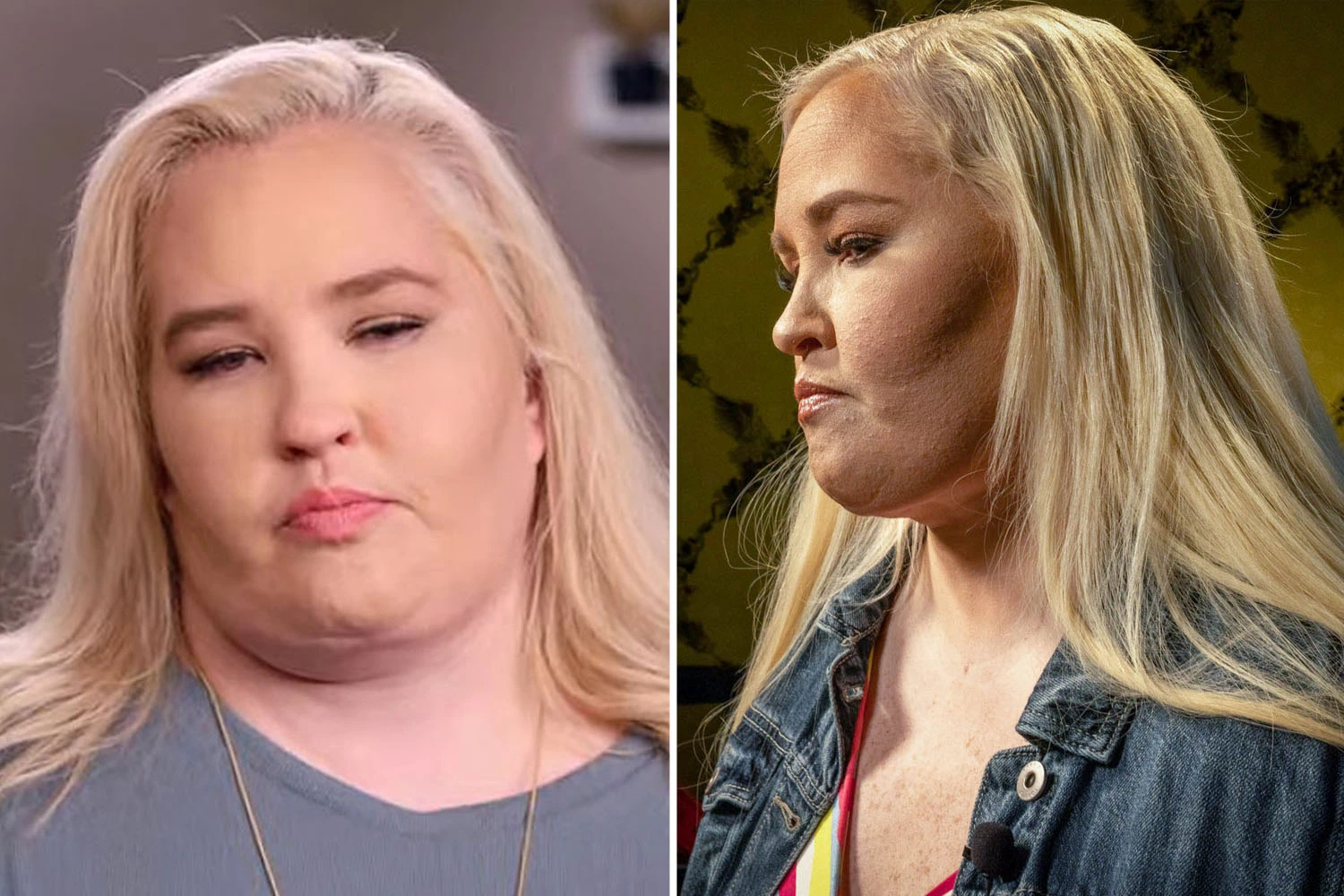 Mama June's eye damage could have had consequences
All viewers eventually noticed that Mama June squints frequently, and that her eyes seem out of the ordinary. However, it wasn't until one episode of "Mama June: From Not to Hot" in 2018 that she revealed the cause. After experiencing eye problems, she said, '"I'm totally scared about losing my vision. I feel like I'm going to lose my independence, and it's really starting to weigh on me.'
She revealed in a confessional that she was born with cataracts in both eyes but that her parents didn't intervene, consequently, she went blind in her right eye in 2014. However, nothing happened to her left eye until that fateful episode when she woke up blind. That prompted her then-boyfriend Geno and daughter Alana "Honey Boo Boo" to take her to the hospital.
After doctors diagnosed her with a detached retina, Mama June underwent four eye opertions to correct the damage – one included applying a scleral buckle to attach the retina to the eye and restore her eyesight. Despite her fears that she won't see her daughter's baby since Lauryn "Pumpkin" Shannon's delivery date was approaching, she never complained about her eyesight again until 2022. However, Mama June briefly gained weight since she couldn't exercise, and started living a sedentary lifestyle. She also felt slightly depressed, because she had to rely on others for everyday tasks.
She struggled with drug addiction
Police officers booked her and her then-boyfriend Geno Doak for having drug paraphernalia in their car on 13 March 2019, and for threats of violence. They pleaded guilty in October, attended drug rehab, the went their separate ways afterwards. Mama June later admitted to spending $3,000 daily on her drug habit, and over $1 million on her cocaine habit. That ruined her family dynamics, for obvious reasons, and her finances; she spent that year slowly selling everything she owned in garage sales. That also destroyed her relationships with neighbors and fans since she ignored their warnings.
Mama June received bad news over two years ago
Her addition and cataracts were worrying from the get-go, but not to the point of requiring emergency care. What scared everyone was her sudden prediction that she could 'die within six months,' which was allegedly confirmed by the doctor. In an episode of her family show, aired on 26 March 2021, her sister Doe Doe asked her why she was using a walker, suspecting that drugs were the cause.
Mama June rejected that claim, and explained to her audience and her sister that her doctor, who removed fat from her chin, told her that he thought that she had lymphedema and lipidemia. The former illness is a swelling caused by the build-up of the body's lymph fluid, causing tingling sensations, feelings of heavy limbs, pain, and more. Lipidemia suggests the presence of extra lipids or fats in the blood, and irregular distribution of fat across the body.
And yes it's crazy in sept last year I was diagnosed with lymphedema and Lipidemia a lot of women that r obese have this it happens in every 9 women out of 10 so if r having issues women get checked #MamaJune

— Mama June (@MamaJune_BooBoo) March 27, 2021
According to the doctor, Mama June had reached a worrying point. She was at stage 3 of lymphedema, meaning that fibro adipose tissue began accumulating in her skin, and that she had skin changes. After his explanation, she realized that the disease, not obesity, caused her uneven limbs. Mama June explained that her left leg was larger than the right by 13in or 33cms. Similarly, her left arm was 27in or 68cms in diameter while her left was 6in or 15cms smaller. After the episode aired, Mama posted on Twitter that she wanted to inspire other women to check if they have the same condition. She credited Dr. Schwartz for enlightening her; lymphedema is more common in larger women and is often misdiagnosed as cellulitis or morbid obesity.
She was hospitalized last September
News broke in September 2022 that Mama June had to be hospitalized. When she was released from the hospital, she explained that she'd begun experiencing dizziness and headaches routinely, but swore that she didn't experiment with alcohol or drugs. Nonetheless, despite performing various tests and scans, the doctors didn't identify the cause of Mama June's problems.
Mama June's weight loss helped minimally
Her struggles with lipidemia confused some followers who thought that her weight loss would help her condition. Additionally, Mama June underwent a gastric sleeve, tummy tuck, and other cosmetic operations. Additionally, her nutritionist likely recommended a diet with low carbohydrates and high-fat macronutrients. After combining an operation, proper diet and exercising with Atlanta-based personal trainer Kenya Crooks, Mama June lost about 300lbs or 135kgs from her peak weight.
Unfortunately, medical research shows that lipedema fat cells are nearly immune to diet and exercise. Some experiments suggest that a ketogenic diet reduces pain and swelling and mildly affects the loss of actual fat; hence, it is the go-to diet.
Nonetheless, in the absence of a cure, patients who want to reduce the number of fat cells must choose an operation, usually liposuction or lymphatic drainage. Therefore, Mama June likely started doing aqua aerobics, yoga, pilates, and wearing compression garments, all promoting lymph flow.
Her daughter also had an abnormal growth
Another scary bit of information is that her daughter, Anna "Chickadee" Cardwell, had a stage 4 adrenal carcinoma in January 2023 after complaining of stomach and back pain. Although she initially only had a cyst, which they removed, the doctors later discovered that the cancer had reached her lungs, spleen and liver. Anna seemed to be recovering, and had a scan on 6 May to assess the situation, but she hasn't shared the results. That type of cancer predominantly attacks children and middle-aged adults, meaning that Mama June is at risk based on her age and genetics. However, her issues a few months before the diagnosis were too mild to say for sure, and doctors did not want to rush to conclusions.
She encountered new medical issues this May
While she seems to be taking care of her illness, Mama June started experiencing different symptoms during the sixth season of her show, "Mama June: Family Crisis." In the debut episode aired on 5 May 2023, the cameras follow her and her new husband, Justin Stroud, as they relocated to Alabama without notifying any of her children.
While having breakfast and discussing their marriage, Mama June started complaining to her husband about unusual symptoms, that she'd began losing feeling in half of her body and face.
Mama June's symptoms contiued, and Justin took her to the emergency room the next day, but she received no conclusive diagnosis. Therefore, viewers had to speculate on what happened, which could be intentional; it boosts the reality TV show's viewer base. Based on her known medical history, a lymphedema flare-up was the predominant guess on the Internet. However, one of her daughters was immediately suspicious that June was taking drugs after three years of sobriety and that she was having a bad reaction.
Mama June's medical condition is still unknown
When accused of drug relapse, Mama June commented, 'I'm getting tired of having severe headaches and not being able to think… I'm getting tired of being dizzy and not being able to see straight.' She indirectly denied the accusations, and stated that she couldn't have taken drugs even if she wanted, as her prior drug addiction makes doctors suspicious, and they think that she fakes symptoms to obtain painkiller prescriptions. However, she's now sought new doctors who would take her seriously, because 'she was tired of tests coming back normal', and refusals.
Mama June wanted to run more tests and do extra bloodwork to determine what was happening. Unfortunately, according to her, good doctors have a busy schedule; hence, she needs six or seven months to get them to see her. Her eyes could be causing the issues with headaches and dizziness, however, it might be something that she hid, too; losing feeling in one half of her body may indicate a stroke; some reports were that Mama June 'had mini-strokes' in September 2022.
Also, that wasn't the first time that she'd kept some things to herself. For example, while she was open about her drug habit, she didn't reveal one detail until recently. During a recent discussion about her health issues, Mama June off-handedly mentioned that snorting cocaine damaged her vision, forcing her to transition to smoking crack cocaine. Regardless, she's adamant that drugs aren't the root cause of the problem.
Her family will keep her accountable
Although something is wrong with her body, Mama June has improved her mental health. She recently got her priorities straight and started focusing on her family; her biggest criticism was prioritizing her former relationships over caring for her daughters. Early in 2023, after constantly traveling back and forth to her, Mama June welcomed her daughter Anna into her Alabama home and tended to her during cancer treatments.
Moreover, she was overcome with guilt over spending so much money on drugs, and now handles finances responsibly. Her family thinks that she's taking it to the extreme; she admits to being a penny pincher, while her husband calls her a money hoarder.
Overall, Mama June is dedicated to her and her family's health, and is eager to find the cause of her mysterious illness by seeing the right doctor. She also stopped denying help and accusations of bad behavior or poor self-accountability. Most importantly, she is honest about her symptoms, and refuses to take unnecessary drugs, increasing her chances of finding a professional willing to dig deeper.