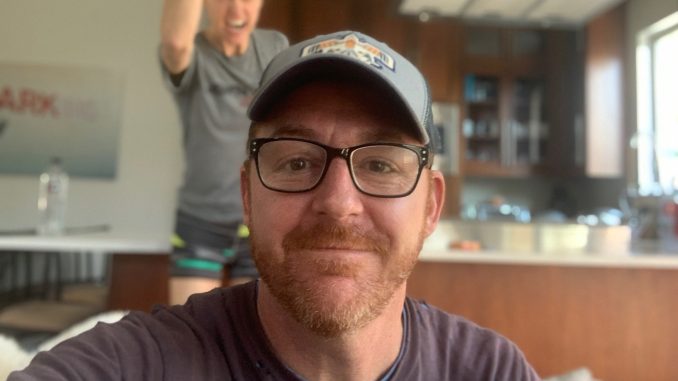 Who is Scott Grimes?
Scott Grimes is an American actor and singer, best known for his roles in popular TV shows such as "Party of Five" (1994-2000), "ER" (2003-2009), and "The Orville" (2017-2022). He's also been the voice of Steve Smith in the animated sitcom "American Dad!" In addition to his acting career, Grimes has released several albums, and is a successful singer-songwriter.
Scott Grimes Wiki: Age, Childhood, and Education
Scott Grimes was born on 9 July 1971 in Lowell, Massachusetts, USA, but spent his early childhood in Albuquerque, New Mexico, before moving to Dracut, Massachusetts at the age of 10, where he went to Dracut Public Schools. His parents are Pam and Rick Grimes, and he has a sister named Heather Grimes, who is also an actress. Grimes is the uncle of Camryn Grimes, famous for her roles as Cassie Newman and Mariah Copeland in "The Young and the Restless".
Career Beginnings
Scott Grimes began his career at the young age of 13, appearing in various television movies and series. He made his debut as Charles Wickes in the TV movie "A Doctor's Story" (1984) alongside co-stars Julie Kavner and James Sloyan, and the same year, he appeared in the TV movie "The Night They Saved Christmas" as David Baldwin with Jacqueline Smith and Art Carney, then also played Robbie Westin in "It Came Upon the Midnight Clear" with Mickey Rooney.
In 1985, Scott made his TV series debut in "The Twilight Zone" as Kenny in the episode "Little Boy Lost", then appeared in two episodes of the TV series "Who's the Boss?" (1986-1987) as Chad McCann, starring alongside Tony Danza and Judith Light. The same year, he landed his first film role as Brad Brown in "Critters" with Dee Wallace and M. Emmet Walsh, then also starred in 19 episodes of the TV series "Together We Stand" (1986-1987) as Jack Randall, with Elliot Gould and Dee Wallace.
Following his early success, Scott Grimes continued his career in both film and on television. He lent his voice to Pinocchio in the 1987 animated film "Pinocchio and the Emperor of the Night", then in 1988, he played the role of Georgie Gillis in "Bring Me the Head of Dobie Gillis", later reprising his role of Brad Brown in "Critters 2: The Main Course". In 1989, he appeared as Eric in the television series "Star Trek: The Next Generation", in the episode "Evolution".
Here's the cover for #theorville Library Edition, Vol. 1, in stores Oct. 11. + the inks. This is a WRAPAROUND cover so, yes, there are a lot more characters featured on it. You'll see the full image as soon as @DarkHorseComics shows it officially. @DavidAGoodman @atiyehcolors pic.twitter.com/HAkkVLEleo

— David Cabeza (@kashinorei) March 16, 2022
"Party of Five" and Further Success
Scott landed one of his most notable roles in "Party of Five", a TV drama series created by Christopher Keyser and Amy Lippman. The show premiered in 1994, and focused on the lives of five siblings who were forced to take care of themselves after their parents are killed in a car accident.
Scott played the character of Will McCorkle, a high school student and friend of Bailey Salinger, one of the main protagonists of the show. Scott appeared in 70 episodes throughout the show's run from 1994 to 2000, sharing the screen with future stars such as Jennifer Love Hewitt, Neve Campbell, Matthew Fox and Scott Wolf, among others.
After that success, Scott Grimes continued to land prominent roles in both film and television. In 1995, he played Petty Officer Hilaire in the blockbuster film "Crimson Tide", starring alongside Denzel Washington and Gene Hackman. In 1999, he portrayed Brian "Birdie" Burns in the sports comedy-drama "Mystery, Alaska", which also starred Russell Crowe and Burt Reynolds.
Scott also had a recurring role in the long-running medical drama series "ER", in which he played Dr. Archie Morris from 2003 to 2009, appearing in a total of 112 episodes. His character was initially portrayed as an overconfident, somewhat bumbling doctor, but later evolved into a more competent and likable character. His performance was praised by critics, and earned him a nomination for a Screen Actors Guild Award in 2008.
Happy Birthday, Scott Grimes!

Posted by ER: The Series on Thursday, July 9, 2020
Continued Success
Grimes continued to expand his repertoire by taking on a variety of roles in film and television. In the romantic comedy, "Couples" (2002), Grimes played the character Owen; he also starred in the Hallmark TV movie "Dreamkeeper" (2003) as both Tehan and the Red-Headed Stranger. In 2004, Grimes played Jerry in "To Kill a Mockumentary", a comedy about a fictional documentary crew. Notably, from 2005 to the present day, Grimes has been a main cast member of the animated series "American Dad!" mainly voicing the character of Steve Smith, as well as other characters.
Grimes also took on a role in the 2010 film "Robin Hood," starring as the famous outlaw's loyal companion Will Scarlet.
After his role in "Winter's Tale" as a carriage driver, Scott Grimes went on to play Lieutenant Gordon Malloy, one of the main characters in the TV sci-fi series "The Orville", created by Seth MacFarlane. The show premiered in 2017, and quickly became a hit among sci-fi fans. The series is set four centuries into the future, and follows the adventures of the crew of the USS Orville as they explore the galaxy. Grimes' character is the ship's helmsman and a skilled pilot, and has been one of Scott Grimes' most successful and popular roles to date.
To speak further of his accomplishments, Scott is set to appear in the upcoming TV comedy series "Ted", created by Seth MacFarlane. He will portray Matty Bennett, who was previously portrayed as Steve Bennett by Ralph Garman in the first Ted movie. The series is a prequel to the films, and is the third overall installment in the 'Ted' franchise.
Music Career
Additional to his success as an actor, Scott has released three studio albums, "Scott Grimes" (1989), "Livin' on the Run" (2005), and "Drive" (2010), which have spawned such hits as "I Don't Even Mind" (1989), "Sunset Blvd" (2005), and "Livin' on the Run" (2005).
Net Worth
According to authoritative sources, Scott Grimes's net worth is estimated at over $5 million, as of mid-2023.
Personal Life, Dating, Married, Wife, Children
Scott Grimes has experienced a few significant events in his personal life. He's married three times, his first marriage being to Dawn Bailey in 1997 – they were together for 10 years and had two children before ultimately divorcing in 2007. He then went on to marry Megan Moore in 2011, but the two parted ways in 2018 after six years of marriage.
In 2019, Grimes became engaged to his Orville co-star, Adrianne Palicki. The couple tied the knot in May of that year in Austin, Texas, but just two months later, Palicki filed for divorce, though it was dismissed a few months later. The couple separated again in June 2020, and Palicki filed for divorce once more in July. The couple is separated, but they haven't yet divorced officially.
Appearance and Body Measurements
Scott Grimes has brown hair and blue eyes. He stands at a height of 5ft 8ins (1.73m), while he weighs approximately 165lbs (75kgs). His vital statistics are 42-14-34.