About "Paternity Court"
"Lauren Lake's Paternity Court", which ran from 2013 to 2020, was a non-traditional court show starring Lauren Lake, a respected family lawyer and legal analyst. The series was a 79th & York Entertainment and Orion Television production, and received a Daytime Emmy Award for Outstanding Legal/Courtroom Program in 20019. Unfortunately, MGM was forced to discard all courtroom programs due to financial struggles in the wake of the COVID-19 pandemic and changes in ownership of the network.
With court programming being the second highest-rated genre on daytime television as of 2012, the inception of "Paternity Court" was also helped by the success of "Maury". Nevertheless, there was a marked difference between the two shows, as "Maury" was more focused on drama and shenanigans, whereas "Paternity Court" worked towards using the test results as a way for the participants in the show to build healthy and long-lasting relationships. Ultimately, the goal of the program was to reinvigorate the court show genre by reaching the widest possible audience.
The format of each episode sees Lauren Lake speak to the show's litigants and decide cases based on the results of DNA tests. Probate disputes over wills were also an integral part of the show; in early 2013, the show's creator, David Armour, shared more of what happened on set – "We don't take any of this lightly. There is a responsible side to the show where we help families get on the right path," he shared. "We want to dig into these stories much deeper than any other court show does. We're dealing with resolutions about how families can move forward now that they have results."
Before and after the results, Lauren would take time to speak with her litigants. Most episodes of "Paternity Court" only focused on one case, unlike other present-day court shows which focus on two. However, it's unclear just how involved MGM or the production team were with each family when filming wrapped up.
The doomed court series spawned two sister shows: "Personal Injury Court", which was hosted by Gino Brogdon, and "Couples Court with the Cutlers", which was hosted by Keith and Dana Cutler and used testing and evidence to prove – or disprove – infidelity. Sadly, all three shows were cancelled after ending production due to the coronavirus pandemic.
Saddest Moments
"Paternity Court" regaled its viewers with truly heart-breaking moments over the years, such as the episode in which Donna Andrews asked for a paternity test to prove that the man who had raised her was her biological father. Donna, who had gone out to dine with some friends in Atlanta one fateful evening, was shocked when a man approached her out of the blue and showed her a tattoo of her name on his leg. Obviously, this caused her to doubt everything about her childhood and the man she believed to be her biological father.
William Glenn, who claimed to be Donna's biological father, said that he'd kept it a secret for thirty years because Donna had been raised in a loving household and he didn't want to turn her life upside-down. Roger Andrews, the man who raised Donna, was deceased, as well as Donna's biological mother. The plot thickens, as it turns out that Donna was aware of William's existence due to him being the father of one of her younger sisters.
Although Roger and Donna didn't actually live together, perhaps due to him being separated from Donna's mother, he did everything a supportive father does, and was even present during Donna's high school graduation ceremony. When Roger passed away on the due date of Donna's second child, she was understandably traumatized; when she was approached by William at the restaurant that fateful night, she was still mourning Roger's death, but made it clear that she wasn't looking for a replacement by taking the case to "Paternity Court".
Telling his side of the story, William shared that he and Donna's mother began dating in 1976 and that Donna was born when William "left" for eight months. When William asked Donna's mother about her pregnancy, she didn't give him any clear answers or indicate that he could be the biological father.
Before the restaurant incident, other odd things happened to Donna that made her doubt Roger being her real father. While on a plane, she was somehow seated next to someone who claimed to know who her biological father was. When this person gave Donna a description, she was confused because it didn't match Roger at all. Then, a few months after Roger died, one of Donna's cousins confessed that she wasn't really his daughter.
"You waited until my mother passed away. We don't have nobody's word but your word now," Donna reproached William. When the DNA results revealed that William was indeed Donna's biological father, she was blown away, and broke down in tears. Donna, who had brought a framed picture of Roger with her to the courtroom, also showed William the photo and doubled down on her stance: she considered Roger her father, not him.
The case that made the top spot on our #countdown is Precious, the case of Raysor/Hunt vs. Hammonds! #PaternityCourt pic.twitter.com/J3CrmD4E5i

— Paternity Court TV (@PaternityCourt) September 5, 2014
The next case we'll be discussing is equally depressing. Siblings Hector Hunt and Precious Raysor decided to sue their parents for a paternity test after a huge argument in which it was revealed that the man that they believed to be their father, Richard Jacobs, wasn't after all. Despite being the only father figure in the siblings' life, Richard allegedly revealed that the siblings weren't his biological children while arguing with his wife. However, Richard claimed that he only said that in the heat of the moment, due to a hurtful comment his wife, Daisy Hammonds, had made.
"This is the only man I've known for all my life," an emotional Precious berated her mother. "He's been there for my kindergarten graduation, my sixth-grade graduation, how many men do you know sit in the delivery room with their daughter while they're having a baby?" When Precious's mother confessed that she didn't really know who their father was, Precious exploded, as she had planned on Richard walking her down the aisle at her wedding, which would take place a few months after the episode.
As it happens, for years there had been rumors in the neighborhood of a man named Tommy Farmer being Precious and Hector's biological father. When Tommy was shown on the screen for a videocall, Precious was so incredulous that she walked out of the courtroom. Daisy confessed to having had a sexual relationship with Tommy around the time of her pregnancy with Precious, and refused to look her children in the eye, which made her appear guilty.
When it was revealed that Richard wasn't Precious or Hector's biological father, he and the siblings broke down in court. Tearful hugs were shared between the three and Daisy also appeared visibly devastated. The episode ended on an even worse note, when Daisy shared that she wasn't Hector's biological mother, but rather a woman that had died shortly after childbirth was.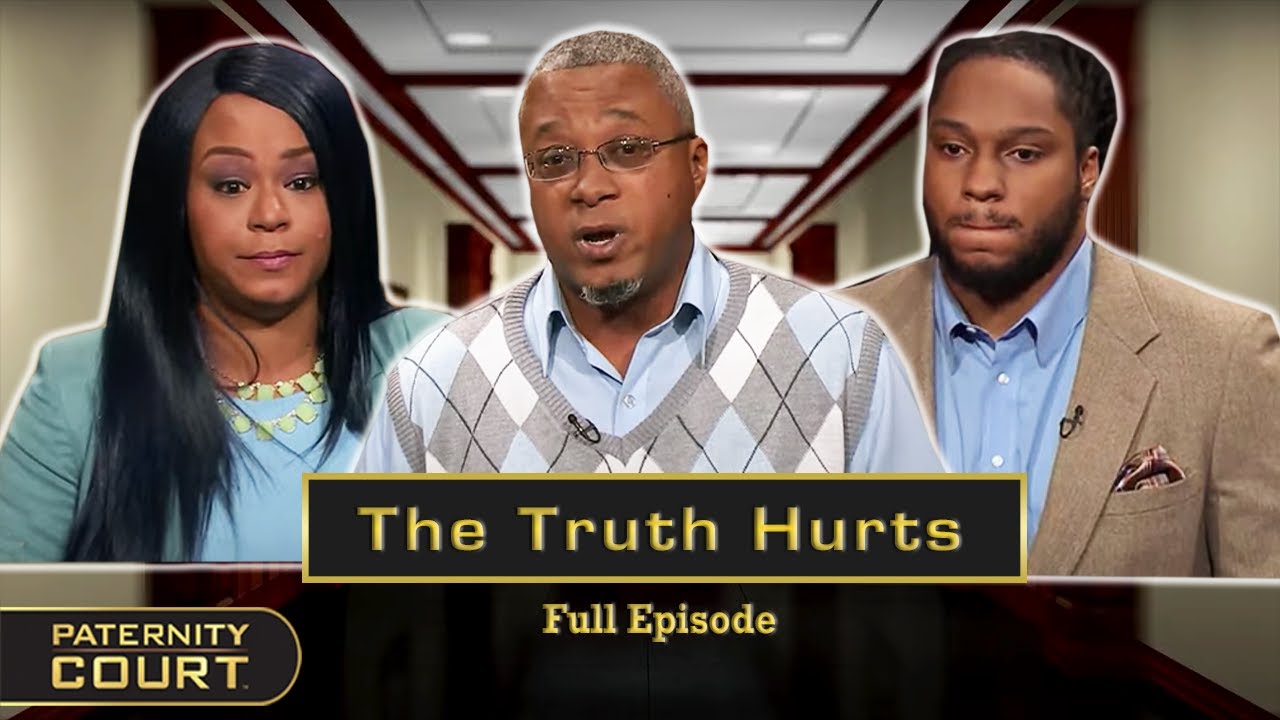 For the first 33 years of her life, Jazmine St. James was a daddy's girl and was even walked down the aisle by the man she believed to be her father, Kenneth Esaw. However, six months before appearing in the show, Kenneth revealed during an argument that she wasn't his biological daughter. Stunned, Jazmine and her brother opened a paternity case to get the answers they needed.
Kenneth always believed that he wasn't Jazmine's biological father but never found the right moment to tell her the truth. Apparently, he agreed to take a paternity test so that the truth could set him free, as the secret had been haunting him for over three decades. The argument between Jazmine and Kenneth started when Jazmine confronted her father as to why he wasn't more present in his grandchildren's lives.
After discovering the truth, Jazmine began suffering from depression and anxiety. "I feel like I'm going to die of heartbreak," she confessed tearfully, sharing that she hadn't been eating or sleeping since Kenneth dropped the bombshell.
Kenneth then shared that, shortly after getting into a relationship with Jazmine's mother, they learned she was pregnant. However, when they went to the doctor, they realized that he couldn't be the father because she was too far along. Kenneth's mother was also present in the courtroom and corroborated his version of events.
When the DNA results proved that Kenneth wasn't Jazmine's biological father, he looked somewhat relieved, whereas she looked completely heartbroken. Even so, she thanked Kenneth for raising her as his daughter.
We can all agree that, although "Paternity Court" was never picked up by another network following its cancellation, Lauren Lake and the production team did a great job at sharing these people's stories, and helping some families find the closure they needed to move on in their lives.