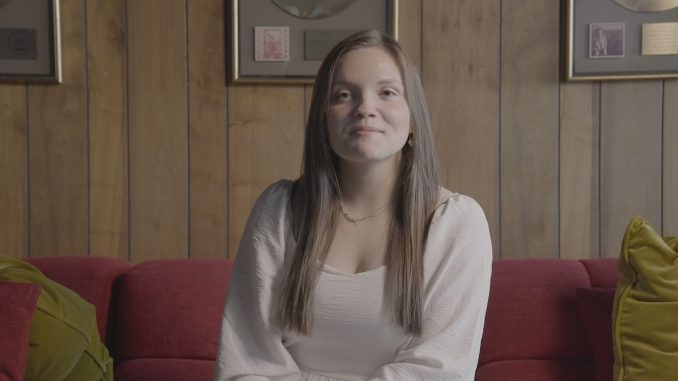 Megan Danielle
Millions of viewers tuned in to the Season 21 finale of "American Idol" on 21st May 2023. Many were rooting for young Georgia native Megan Danielle to win the coveted $250,000 and recording contract; however, the talented brunette lost out to Iam Tongi, despite wowing the crowds and judges with her performances throughout the evening.
Megan donned an eye-catching blue dress for her first performance of the night, an incredible cover of Keith Urban's "God Whispered Your Name". The show's judges – Lionel Richie, Katy Perry and Luke Bryan – were blown away by her soulful vocals, with Katy complimenting Danielle's artistic growth and newfound abilities.
"It's a version of you that's always been inside of you, and it's so comfortable and proud of how far you've come and I think our job here is done because that's the gift," Katy declared.
Later, Megan sang Journey's "Faithfully", her debut single "Dream Girl", and a duet with Lauren Daigle. Throughout the night, she was showered with praise, with Luke Bryan describing one performance as "beautiful from top to bottom".
As is the case with every season finale, netizens took to social media platforms almost immediately when the results were announced to voice their discontent. However, many criticized Megan's debut single and blamed it on her not winning, with one Instagram user writing: "This performance was painful to watch. From her audition to all of her other performances… I don't feel her at all in this song and thus [sic] is her 'new' already? She looks like she doesn't truly want to be singing this."
Meanwhile, Megan's fans felt that Iam didn't deserve to be the winner. "He [Iam] is someone that you would see playing in a coffee house or something similar… he was voted on for his story and his heart instead of his talent… he has talent just not at the level of Meghan [sic], too often Idol is a popularity contest!!" one disgruntled Instagram user commented.
Megan is no stranger to talent shows, as she was also in Season 18 of "The Voice". The brown-eyed brunette became part of judge Kelly Clarkson's team, following a heartfelt rendition of "Remedy" by Adele. During the Battles stage of the competition, she covered the Dixie Chicks' "On Top of the World" and won against Samantha Howell, soon becoming a fan favorite. Similarly, she fought for a spot on the show against CammWess in the Knockouts stage, and was later saved by Kelly during the Live Playoffs.
Ultimately, Megan was eliminated in the semifinals after a lackluster performance. She was just 17 years old At the time, and would take a break from TV for the next few years until her grand comeback on "Idol".
The Christian singer-songwriter was born in Douglasville, Georgia in November 2003. Her parents, DJ Phillips and Monica Page separated during her childhood, with Monica becoming Danielle's primary caregiver. Her father, who is the owner of Phillips Electrical, has always worked in the residential and small commercial electricity sector.
Many details of Megan's personal life and education remain a mystery, but we do know that her boyfriend, Levi Walker, is her number-one supporter, and will surely remain at her side while she works on taking her promising career to the next level.
Iam Tongi
Next up we'll discuss Iam Tongi, the unlikely winner of this year's "Idol". At just 18 years old, the Hawaii native has been considered a force to be reckoned with since his audition, a performance of James Blunt's "Monsters" that quickly went viral and racked up millions of views on YouTube.
"I really love performing live," Iam told HollywoodLife. "It just feels good when I'm on that stage and the lights and I just close my eyes and get into that feel. When other people witness that and also can connect to it's just crazy."
*pass the tissues* @wtongi is making us emotional. 😭 #IDOLpremiere pic.twitter.com/cxMe9Cc8OJ

— American Idol (@AmericanIdol) February 20, 2023
Iam, who moved to Seattle in 2020, suffered the devastating loss of his father a few months before his "Idol" audition; after that airing, Iam shared a photo of his father's graveside and captioned it: "I got that golden ticket dad, wish you were here."
The high school senior, who has made history as the first Hawaiian to win the talent show, is also the first non-country singer to take the first place since 2020. Iam, who's of Tongan, Samoan and Irish descent, hails from the small town of Kahuku and was forced to move with his family when they were "priced out of paradise".
Iam studies at Decatur High School in Federal Way, Washington, and previously auditioned for "Idol" when his father was alive. Despite not passing the initial screening, he was encouraged to keep working on his music by his father, who always had high expectations for him.
The Hawaii native is aware that his father wasn't a perfect man, but has said that he was the best father he knew, adding: "I want everyone to know that he's a tough guy. He always told me the truth, he always loved me. And I always loved him too."
Interestingly, Iam often loses his voice before performing, and makes sure to wear a warm scarf around his neck and drink plenty of fluids to avoid that from happening. Before being crowned the winner of the 21st season, he also performed his original single "I'll Be Seeing You", which he dedicated to his father.
With over 335,000 followers on TikTok and another 615,000 on Instagram (and counting), the future is looking bright for Iam. Despite being accused by some of Megan's fans of using his father's death to his advantage in order to win the public over, many others felt that the high school senior was deserving of the prize.
Just a couple of days after winning, Iam's original single was #1 on iTunes USA and #36 worldwide. Although we don't know what the future holds for him or Megan, both are reportedly planning on doing as many live shows as possible, while they work on original music.