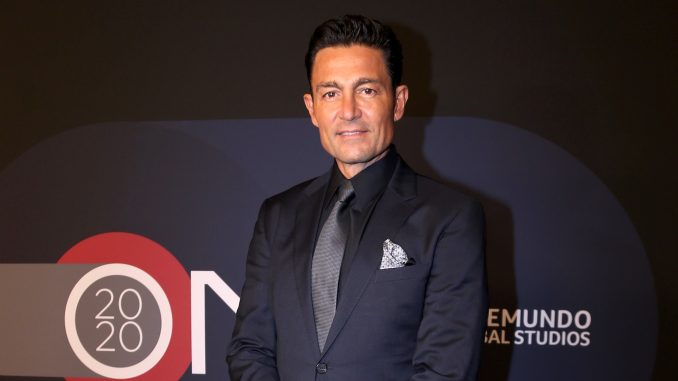 Who is Fernando Colunga?
He's a Mexican actor with over 30 acting credits, and the only one who filmed five very successful telenovelas consecutively, so it isn't too much to say that Fernando Colunga is the King of Telenovelas. He gained international fame starring in soap operas, and not just because of his great acting skills, but also because of his good looks. Many ladies around the world dreamed of this heartthrob, who was dubbed 'the most handsome television actor' multiple times.
In 2022, there were some speculations about his health, and rumors were saying that Fernando had been diagnosed with cancer, which is completely false. To learn more about his life and his career, and what he's doing now, keep on scrolling.
Early life, family, and education
Born Fernando Colunga Olivares under the zodiac sign of Pisces on 3 March 1966, he's today aged 57. He's a native of Mexico City, Mexico, where he was raised sn only child by his parents, Don Fernando and Dona Margarita.
Fernando dreamed of becoming an actor from an early age, however, his parents believed that he should have a good education, and pursuaded Fernando to devote himself to his studies. Upon matriculating from high school in 1984, he enrolled at the University of Mexico, from which he graduated with a Bachelor's degree in Civil Engineering in 1988.
Soon after his graduation, Fernando enrolled at the Centro de Education Artistica, an entertainment educational institution run by the major Mexican media conglomerate, Televisa, where he studied acting.
Acting career
Fernando began his acting career as a stuntman in the series "Sweet Challenge" in 1988. The producer of the show noticed Fernando's talent, and he debuted as Luis in the 1990 series "La Telarana". His first notable role came two years later when he was cast to play Chico in the series "Maria Mercedes". Fernando made an appearance in 59 episodes of this romantic drama, which aired until 1993.
In the following years, Fernando guest starred in "Marimar" (1994) making his movie debut as Arturo in the 1995 romantic fantasy comedy "Besame En La Boca", which followed the story of an artist and millionaire, Claudia (Paulina Rubio), who dies in a motorcycle accident, and returns from heaven in the body of a simple, middle-class girl.
Seguimos celebrando los 52 años de Fernando Colunga, ¿lo recuerdas en 'María la del Barrio'? 🎉 https://t.co/OFqByaTNKN pic.twitter.com/mjopxoa3zU

— CARAS (@CARASmexico) March 3, 2018
Later that year, Fernando landed his first lead role as Luis Fernando de la Vega in the telenovela "Humble Maria" (original title: "Maria la Del Bario"). He was seen in 185 episodes of this romantic drama which aired until 1996.
In the following year, Fernando was seen starring opposite Leticia Calderon in "Esmeralda", a romantic drama series about a poor blind girl and rich doctor. This telenovela made Fernando very popular not just in Mexico but also in 170 countries worldwide. His journey as a huge TV star had begun.
In 1998, he starred as Carlos Daniel Bracho in another hit series, "La Usurpadora" opposite Gabriela Spanic, followed by his role as Luis Gustavo Uribe Del Valle in the 1999 romantic drama "Nunca te Olvidare", which also gained huge success around the world.
From 2000 through 2001, Fernando played Carlos Manuel Rivero in "Abrazame Muy Fuerte", in which he starred opposite Victoria Ruffo, Cesar Evora and Aracely Arambula. This romantic drama followed the story of a girl from a rich family who falls in love with a worker at her father's hacienda, and becomes pregnant. Her father gives her baby to a maid at the hacienda, and forces his blind daughter to marry a powerful Don Federico. For his performance, Fernando won the TVyNovelas Award for Best Actor.
In 2003, Fernando was cast to play Manuel Fuentes Guerra in "Amor Real", also a successful telenovela, in which he starred opposite Adela Noriega and Mauricio Islas. From 2005 through 2006, Fernando starred as Luis Manrique y Arellano in "Alborada", a romantic drama about a woman who married a man not knowing about the rumors concerning his sexuality. The great Mexican actress, Lucero, played the lead female role in this telenovela, which was considered very important because it has shown how women were presented as second class citizens. This role brought Fernando another TvyNovelas Award for Best Actor.
Silvia i Fernando Colunga <3 Fernanda i Eduardo / Franco <3 Telenowela ,, Jutro I Na Zawsze " / ,, Mañana Es Para Siempre " ❤

Posted by Silvia Navarro – Polski Fan Club on Sunday, December 17, 2017
Fernando followed with another lead role, as Ricardo de Salamanca in the series "Pasion" (2007-2008), and was then seen as Eduardo Juarez Cruz in "Manana es Para Siempre" (2008-2009).
In the following years, Fernando starred in "Soy tu Duena"(2010) and  "Porque el Amor Manda" (2012-2013), returning in the cinemas as Alejandro Toledo in the 2015 movie "Ladrones". This comedy followed the story of a legendary thief, Alejandro, who return to his roots with a new partner, Santiago Guzman (Eduardo Yanez), and their plan to reclaim the hard-working community's stolen land.
Later that year, Fernando was seen as Eladio in the series "Passion and Power" (2015-2016), followed by his role as Aquiles Greco in the 2022 series "El Secreto de la Familia Greco", also starring Lisa Owen and Manuel Masalva. The series follows the story of the Greco family who kidnap rich people and then demand ransom money from their families, trying to achieve and maintain a high status in society.
This was Fernando's most recent role, and when he returned after a six-year-long hiatus, it was obvious that he had lost a lot of weight, which caused various rumors about his health.
Love life and wife
For years, Fernando has been the subject of rumors concerning his sexual orientation, and most of them say that he's gay, and that he's had several secret relationships with men. He hasn't commented on these assumptions, and when he would speak about love and marriage, Fernando would often say that he wants to marry once, and be happy with that woman for the rest of his life, just as his parents did.
In 2019, Fernando married Blanca Soto, a Mexican actress perhaps known best for her role as Sara Aquilar in "Lady of Steel". As of May 2023, the two are still together, and don't have children.
How rich is the King of telenovelas?
Fernando has amassed a sizable fortune through his roles in multiple hit telenovelas; he's also the owner of an auto-parts company. According to sources, as of May 2023, his net worth has been estimated at over $5 million.