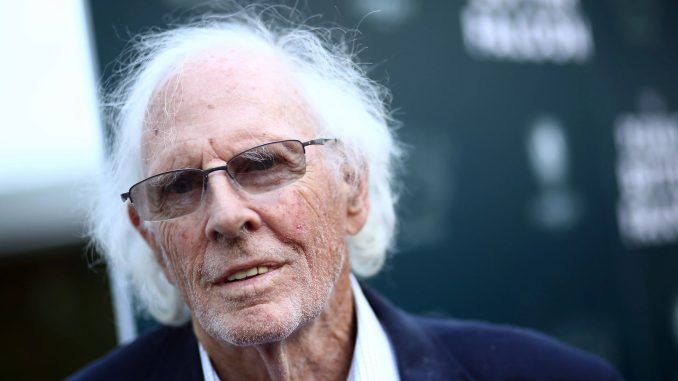 In his extensive acting career, the two-time Academy Award-nominated American actor Bruce Dern, has portrayed many legendary villains and modern-day heroes, that has seen him make a name for himself in Hollywood.
Age, Early Life, and Education Background
Bruce MacLeish Dern is a native of Chicago, Illinois, who was born under the Gemini zodiac sign on 4 June 1936, which makes him 87 years old as of 2023. He's the son of a lawyer and utility chief John Henry Dern, and his wife, Jean MacLeish Dern. He spent his formative days in Kenilworth, Illinois, together with his siblings John Dern Jr. and Jean Dern Sigel. Dern is related to many famous people; his paternal grandfather George Dern, was a Secretary of War and Governor of Utah. His maternal grandfather served as the Vice President of The Sullivan Centre (then known as Carson, Pirie, Scott, and Company Store). Moreover, Bruce's maternal granduncle, Archibald MacLeish was a writer and a poet. He's the godson of the late presidential nominee and Governor of Illinois, and US Ambassador to the UN Adlai Stevenson II.
Dern was very physically active when he was in New Trier High School in Winnetka – he was a track runner, and tried out for the 1956 Olympic Trials but failed to qualify. Dern is an alumnus of the University of Pennsylvania. He developed an interest in acting when he was young, and took classes at The Actors Studio, where he met and became good friends with Lee Strasberg and Lyle Kessler.
Career Beginnings – Late '50s and '60s
Before he began appearing in TV series and films, Dern performed in several plays in the late '50s, including "Waiting for Godot" by Samuel Beckett. He starred with the late legendary actors Geraldine Page and Paul Newman in the play "Sweet Bird of Youth" by Tennessee Williams, before making his film debut as Jack Roper in the 1960 drama "Wild River." He appeared in a season or two of several TV series in the early '60s, before he landed the role of E.J. Stocker in the Western series "Stoney Burke" in 1962, then went on to play a sailor in the 1964 psychological thriller "Marine," a murderous lover in the thriller "Hush…Hush, Sweet Charlotte" in the same year, and a poor farmer in the 1969 psychological drama "They Shoot Horses, Don't They?" which was adapted from an eponymous novel by Horace McCoy.
December 10
50TH ANNIVERSARY
THEY SHOOT HORSES DON'T THEY?
by Sydney Pollack
Stars: Jane Fonda @Janefonda, Michael Sarrazin, Susannah York, Gig Young, Red Buttons, Bruce Dernhttps://t.co/r8I6Pj3891 pic.twitter.com/iLqAKqJSEU

— cinemAnni (@cinemAnni) December 10, 2019
'70s-'90s
Dern mainly appeared in films in the '70s, '80s, and '90s. He starred as Freeman Lowell in the 1972 sci-fi "Silent Running," and later that year played cattle rustler Long Hair in the western movie "The Cowboys". His next notable appearances were in the 1974 romantic drama "The Great Gatsby," the 1978 war drama "Coming Home," and the 1981 erotic thriller "Tattoo." Before the '90s, Dern starred in the sports drama film "That Championship Season" (1982) and Joe Dante's 1989 black comedy film "The Burbs." Dern's next most notable appearances were in the sports drama film "Diggstown" in 1992 and the Western movie "Wild Bill" in 1995.
21st Century Appearances
Between 2006-2011, Dern played Frank Harlow in 29 episodes of the Bill Paxton-starring HBO drama "Big Love." In 2012, he assumed the minor antagonist role of Old Man Carrucan in the Quentin Tarantino-written and directed revisionist western movie "Django Unchained," which starred Jamie Foxx, Leonardo DiCaprio, and Christoph Waltz. 2013 saw him star alongside Bob Odenkirk in the Alexander Payne-directed comedy-drama hit "Nebraska" In 2015, he was cast in another Quentin Tarantino western film entitled, "The Hateful Eight" and he appeared alongside Kurt Russell and Samuel L. Jackson. He then appeared in eight episodes of the crime drama series "Mr. Mercedes" and the legal drama "Goliath" in 2019 and 2021 respectively. Some of Dern's most recent appearances are in the 2020 Western historical drama movie "Emperor," the 2021 crime thriller film "The Gateway," and the 2023 action thriller "The Weapon." Dern will appear in the upcoming Mark Lambert Bristol-directed comedy-drama movie "Chocolate Lizard."
Awards and Nominations
Dern has scooped 18 awards and received over 40 nominations as of 2023. He won a Cannes Film Festival Award for Best Actor for his performance in "Nebraska" in 2013, a Los Angeles Film Critics Association Award (LAFCA) for Best Actor in the same film in 2013, and a Hollywood Film Award for his appearance in the Western film "The Hateful Eight" in 2015 among others. Dern was nominated for an Academy Award for his performances in the films "Nebraska" and "Coming Home," a Primetime Emmy Award for his performance in the series "Big Love," and a BAFTA Award for Best Leading Actor for his performance in "Nebraska." Moreover, the veteran actor has been nominated for four Gold Derby Awards, two Online Film & Television Association (OFTA) Awards, and two Screen Actors Guild Awards, among others.
Personal Life
Bruce is married to Andrea Beckett. Beckett had just lost her husband and high school sweetheart in a car accident when she met Bruce in the summer of 1969; she was 24 years old and had moved to Los Angeles to pursue a career in modeling and acting. Dern was giving lectures at the Los Angeles-based Strasberg Institute when they met; she was then modeling for the women's clothing store, Bonwit Teller. The duo walked the aisle in 1969 and have been together for almost five and a half decades. They have no children together.
Dern's first wife was Marie Dawn Pierce. They tied the knot on 7 September 1957, but separated a year later. In 1960, he exchanged vows with the American actress, Diane Ladd who has appeared in at least 120 TV series and films, and is an Oscar Award nominee who scooped a BAFTA Award for her performance in the 1974 movie "Alice Doesn't Live Here Anymore." The couple's first daughter, Diane, tragically died of drowning in California when she was one and a half years old. They have another daughter named Laura Dern who followed in her parents' footsteps, and is an acclaimed actress perhaps best known for her performance in the "Jurassic Park" franchise. She has received numerous accolades including an Oscar, five Golden Globe Awards, and a Primetime Emmy Award. Unfortunately, Dern's second marriage also ended in divorce on 18 September 1969.
Height, Weight, and Physical Appearance
Bruce is of White ethnicity and has a set of blue eyes and gray hair. He's slim, weighs approximately 155lbs (70kgs), and is 6ft (1.83m) tall.
Net Worth
Bruce Dern is a household name. He began acting in the '60s and has appeared in many successful projects, which has seen his fame and wealth grow significantly. He's worth approximately $20 million as of 2023.