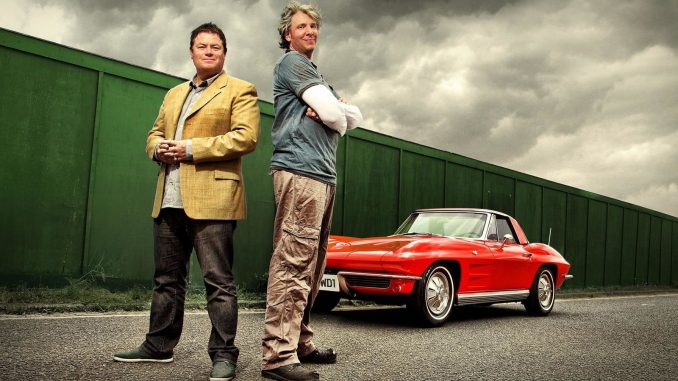 Edd China and Mike Brewer
"Wheeler Dealers" fans remember the dynamic duo which Edd China and Mike Brewer made for several seasons; however, things went wrong somewhere down the line, and the previously close friends are now said to barely be on speaking terms. Dozens of wild theories concerning Edd and Mike's fallout have been bandied about, with Edd's fanbase making Mike out to be the villain in the story.
Although Mike has been gracing our screens since the late 1990s, he only became a minor celebrity thanks to the success of "Wheeler Dealers". After learning how to customize vehicles from his father during his childhood years, Mike got his first job as a teenager and purchased his first vehicle – a Mini 850cc – as soon as he could.
The auto expert's life changed for the better in 2003 when he was offered a co-hosting gig on "Wheeler Dealers", working alongside Edd. For over a decade, things were going swimmingly for the pair – but when Edd unexpectedly left the show in 2017, viewing figures plummeted, and Mike was lambasted on social media without the whole story coming out first.
It's important to note that Edd announced his departure via a YouTube video, insinuating that he had gone his own way and there was little possibility of him reaching an agreement with the show's production team. As it happens, the talented mechanic left the show due to an executive decision to cut his educational workshop segments out of each episode. Many amateur auto fans who tuned in exclusively to learn cheap and easy ways to fix cars were outraged by the change of format, and of course less screentime for Edd would inevitably lead to a lower salary.
Days after the announcement, Edd uploaded another YouTube video speaking on the alleged abuse and death threats Mike and his family had received. It would appear that irate fans blamed him for Edd leaving the show, and he was also being heavily criticized on social media for not sticking up for his co-host. Some cynical viewers even considered that Mike wanted Edd gone so that he could be the star of the show; more optimistic fans of the two hoped that Mike would also leave Discovery, which he clearly had no plans of doing.
Great evening at #lajollaconcours with @mikebrewer and friends looking forward to tomorrow #wheelerdealers x https://t.co/URyD0Iq1Dm pic.twitter.com/SFBuPfgedH

— Michelle Brewer (@MrsMBrewer) April 8, 2018
Mike's wife, Michelle, rehashed the topic in mid-2020, when she posted a screenshot of some of the anonymous commentary directed at her husband. The caption read: "This is the kind of daily abuse that someone in the public eye has to endure every day… This is totally unacceptable, and social media companies now need to make everyone accountable."
Fans were surprised to learn that Mike was still being insulted and even threatened some years after Edd's departure. Apart from that, Michelle has so far refused to comment on the rumored rivalry between her husband and his former co-host. When Edd launched his YouTube series, "Workshop Diaries", in March 2021, the couple were also some of the first people to congratulate the mechanic.
Although we have no concrete evidece regarding Edd and Mike's current relationship, both have been publicly supportive of each other since the 2017 fiasco. Edd is doing well for himself with his YouTube channel and other projects, having tapped into the lucrative market of content creation. Some netizens believe that the mechanic was quietly blackballed from Discovery Channel, but it would appear that he has no intention of returning to TV either way.
Taking away his work on "Wheeler Dealers" and other car-related shows, Edd's small-screen appearances have been few and far between. In 2005, he participated as a celebrity guest in an episode of "Ready Steady Cook", with all proceeds going towards Children in Need. Two years later, he interviewed performers at the Edinburgh Festival in an episode of "The Culture Show". The engineering product design graduate has been enamored with cars and inventions since a young age, with his first project of note, the Casual Lofa, helping him get noticed by bigshots in the entertainment industry.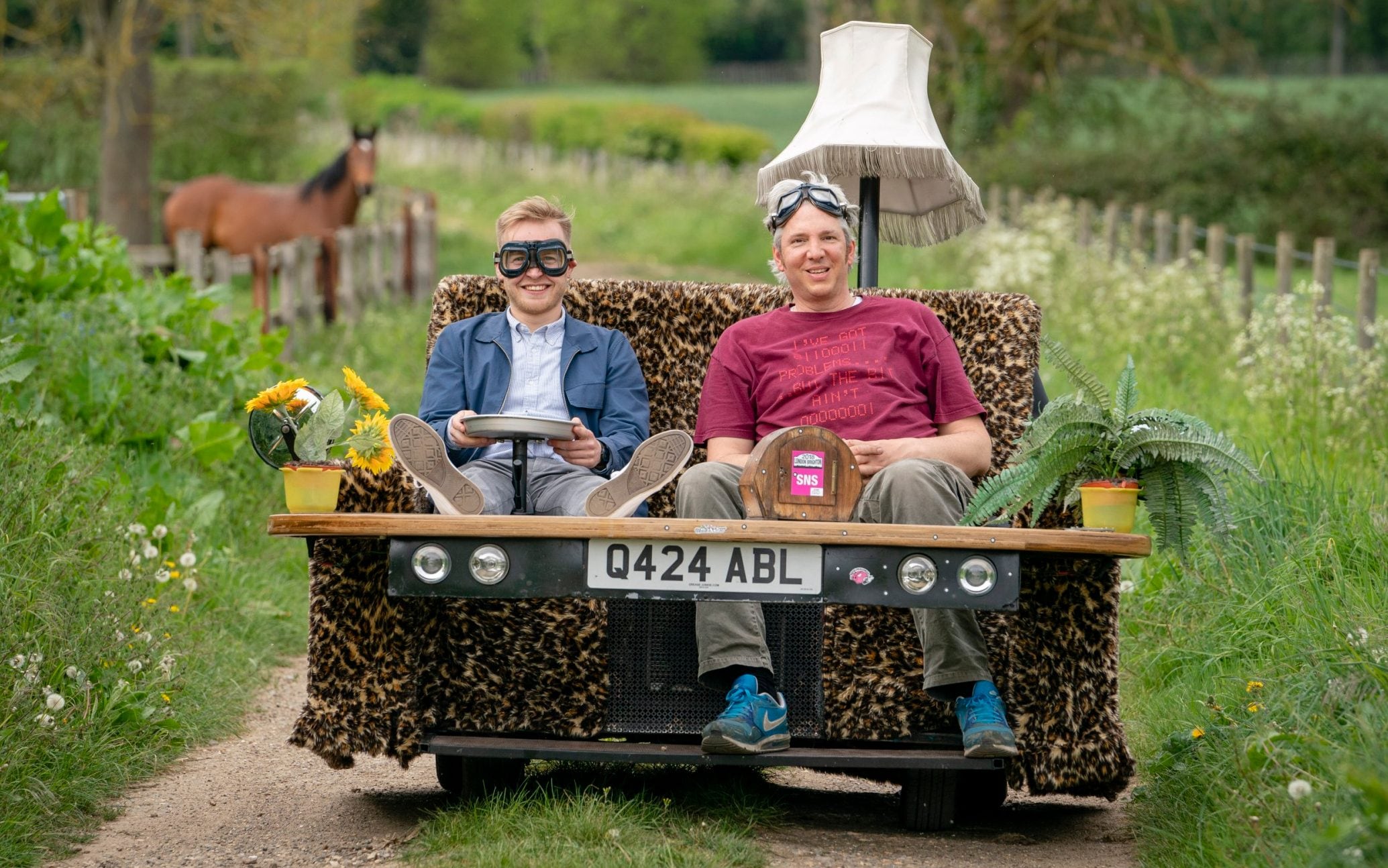 The Casual Lofa featured in "Scrapheap Challenge", "The Big Breakfast", and "The Most Outrageous Jeremy Clarkson Video In The World… Ever!" to name a few. The driving sofa, which Edd built to raise funds for a trip to Belize, basically launched Edd's career, and helped him get his first gig as a special effects technician in the mid-1990s.
Fans claim that Edd's inventions are special not only because he isn't afraid to think outside the box, but because they're relatively cheap and attainable. For example, the London native built a James Bond-inspired car on the low budget of $300 during a "Top Gear" segment. In 2012, he landed a coveted spot in the Guinness World Records after building the world's fastest milk float as part of a sponsored challenge. Amazingly, he also holds records for the fastest toilet, fastest bed, and largest motorized shopping trolley.
These days, Edd is thriving as a content creator with his "Workshop Diaries", in which he keeps fans up to date with his latest projects, and "Edd China's Garage Revival". The latter series is basically an extended version of his "Wheeler Dealers" workshop segments, as he teaches viewers on a budget the basics of mechanics.
As for Mike, he has also had a successful career with plenty of accolades. He's known for his position as the image of Mike Brewer Motors, a car dealership based in Luton and Sheffield which has often been praised for above-average customer service. Although many believe that the TV host is the sole owner of the dealership, as well as Mike Brewer Preparation Centers and Mike Brewer Accident Repair, the truth is that co-owner John Tustin is responsible for the brand's management and growth, whereas Mike is in charge of promoting the dealership and its many services.
Posted by Discovery Channel UK on Friday, December 20, 2019
Mike's other career highlights include his work as a host of "Auto Car", "World's Greatest Cars", and "Wheeler Dealers: Dream Car", as well as an annual gig presenting coverage of the British Rally Championship for Sky Sports. In 2010, Mike stepped out of his comfort zone by travelling to Afghanistan for the filming of "Frontline Battle Machines", another Discovery show – Mike's close contact with frontline troops put him in danger, as the pilot of his helicopter was forced to land after being hit by enemy missiles.
Overall, both Edd and Mike are highly talented individuals who have made a name for themselves in the auto world. "Wheeler Dealers" aired its 18th season in March 2023 and has, so far, continued to receive largely positive ratings.