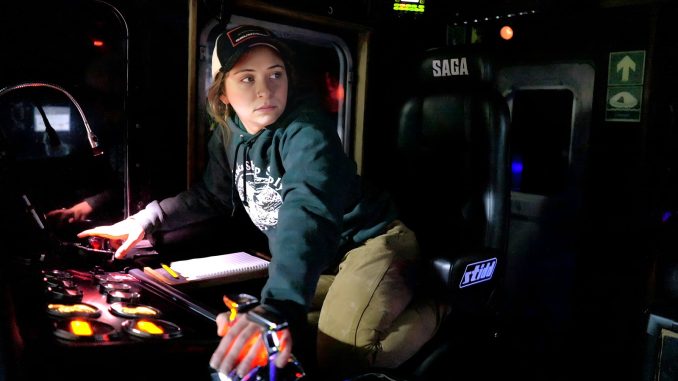 Sophia 'Bob' Nielsen was definitely off the radar until 11 April 2023, at which point she was featured in the one-and-a-half-hour opening episode of the 19th season of "Deadliest Catch", entitled "New Blood, Primal Fears." Her showing up was a definite surprise to everyone, as women are rarely seen on the decks of these storm-sailing ships.
Aside from her strange nickname, what made her all the more interesting to the fans was the fact that fishing for king crab in the frozen waters of the Bering Sea runs in her blood. In fact, her appearance in the series is meant to do way more than provide a simple paycheck. Sophia is in it for the long run, to honor the sacrifices of her family, and prove herself as capable as they were.
Staying true to her roots
Born in 1999 in Kodiak, Alaska, Sophia Nielsen carries the torch of her family's fishing legacy. Her father, Gary, and grandfather were esteemed figures in the industry, navigating treacherous waters and braving the perils of the deep to provide for their loved ones. The Nielsen family's commitment to the fishing business spans generations, instilling a passion for the sea within Sophia from an early age.
Tragedy struck young Sophia when she lost both her parents at a rather young age, which left her feeling alone in the world. Despite the heartache, her determination to carry on her family's legacy burned brighter than ever, leading her to become the present-day king crab fisherwoman.
The end of someone, and the start of something
In one of the very few interviews of Sophia that exist in early-to-mid 2023, she and her captain were asked how such an arrangement even came to be, and Nielsen revealed quite a few details. She explained that she got into the business just after her father's fatal heart attack, which left her and her brother two fishing vessels.
In spite of Gary Nielsen being a dedicated fisherman his entire life, just like his own father too, Sophia hadn't been interested enough to try being on the ship with him while he was alive. However, she quickly realized upon his passing that fishing was her true calling, and immediately took to tending to both of the vessels.
The more prominent one is the F/V (Fishing Vessel) Victory, which has a wooden hull 74 feet (22.5 meters) in length. That being said, it wasn't as though Sophia was just going to claim the vessels and magically learn everything there is to know about the treacherous waters. She needed a guide, and, fortunately, her father had quite a few fishing friends.
As she made her best to understand the difficult tasks of vessel maintenance and slowly get into the craft of crab fishing, captain Jake Anderson from the F/V Saga took note of the endeavor, and her story was definitely close to home.
He explained in the same interview that Sophia's loss of both parents was something that deeply moved him and allowed him to easily connect with her, as he had suffered greatly upon losing his own father. He took on the risk of bringing a complete greenhorn to his vessel, hoping to impart upon Sophia all of the necessary skills of a true Bering Sea captain.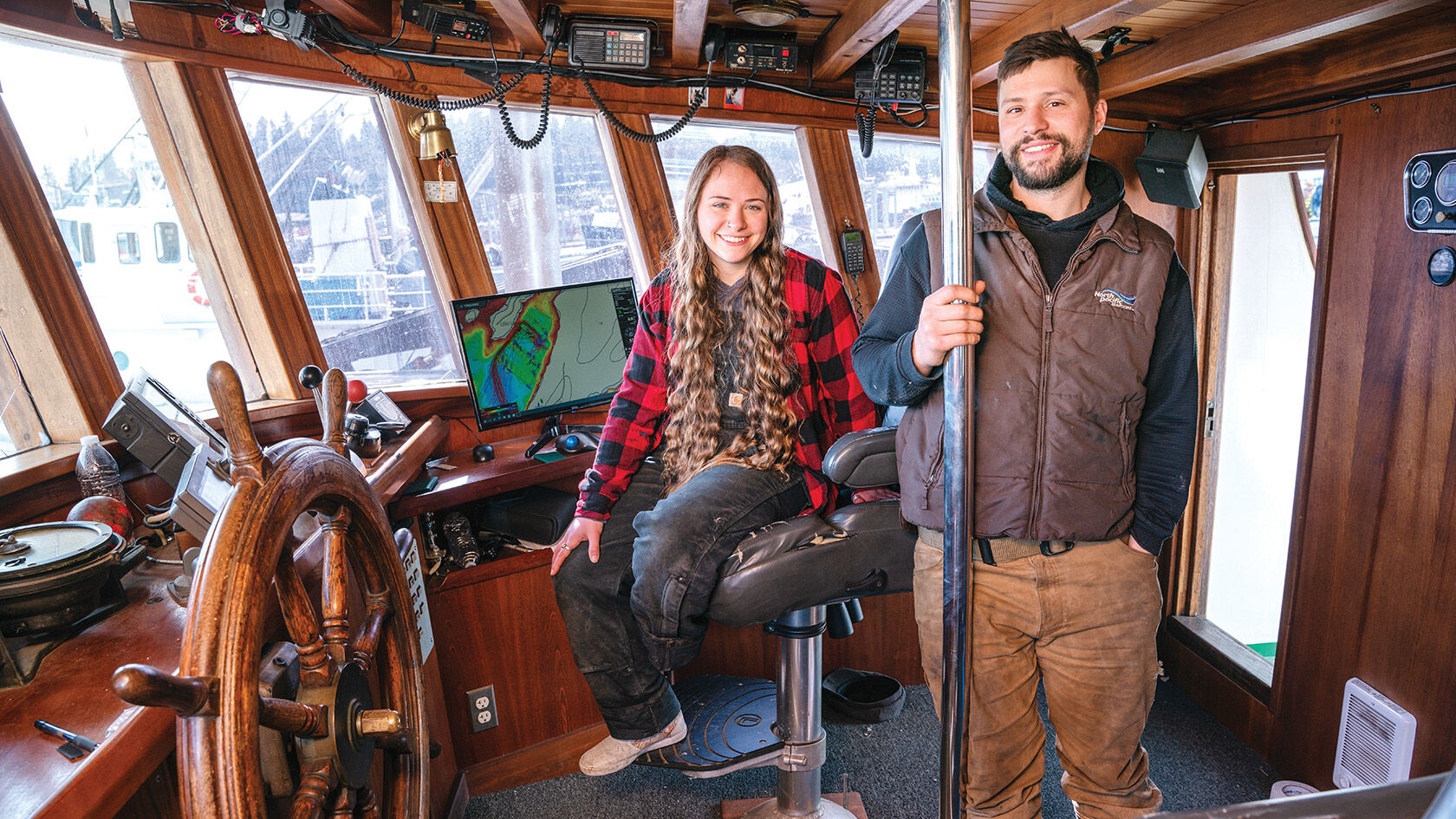 Jake made sure to clarify that it's almost impossible to make it in such a 'cutthroat industry' with a burden as heavy as Sophia was carrying, so he took significant time out of his career to help her along. Anderson stated that he spent a month each year since the death of Sophia's father working on her ships.
As a result, the two came into frequent contact, seeing each other on an almost daily basis year-round. Once the Eastern Bairdi islands were announced to the captains as the new hunting grounds, Jake figured that would be the perfect opportunity to prepare Sophia to be a captain in her own right, perhaps even next season.
There was a lot to catch and great amounts to deliver ashore, and young Nielsen, at the age of only 23, was to come along for the ride. More specifically, Jake took her so that she could learn how to manage mountains of cargo, in terms of the entirety of the process that the crew undergoes to bring home thousands of dollars.
Coming to terms with reality
Sophia was only 13 years old when her father passed away in 2013, an event affecting her deeply and completely derail her life at the time. She admitted that, being only a child, having a job and working was the least of her concerns at the time. Obviously, she didn't want to fish for giant crab either, and the prospect of being out n freezing waters was definitely not attractive to her.
She had the plans of her peers, which was to spend summers at home and use her free time to have fun. The issue with Alaskan king crab fishing is that one is either working on their vessel or hauling their catch in open seas, with very little time for rest in between. Knowing the way her father lived, Sophia was well aware of the sacrifice that that life required, and she was definitely not ready to commit to it.
To add fuel to the fire, her brother greatly disliked her attitude, stating that she would never be able to work on anyone's vessel other than her own due to the way she behaved with others. Regardless, Sophia was absolutely sure of her eventual success, as the hardships she had been through forced her to develop a responsible mindset with an enviable work ethic.
Nielsen revealed that she would like to believe that it was precisely such virtues that made the greatest contribution to Jake eventually deciding to take her on, rather than the fact that she had suffered a family tragedy.
The formula she intends to follow in her pursuit of success out on the water is determination and adaptation, as, according to her words, the business is not what it used to be two or three decades ago. In the modern age, king crab fishers have to try harder than ever to keep themselves afloat, both financially and physically.
Various new conservation laws and other changes in legislation have brought many new hoops for crab fishermen to jump through, and there's the looming threat of ever-riskier fishing grounds on top of that. With the globally changing average temperature, every part of the world is beginning to experience more extreme weather all around, leading to stormier-than-ever high seas.
With all of this in mind, there is indeed a lot for Nielsen to adapt to, and it remains to be seen how she takes to the ever-changing environment of a veteran boat such as F/V Saga. Her mindset at least seems to be in the right place, as she vehemently stated that she plans to pull out of the business only when she utterly and miserably fails.
The yearly switch-up
As captain Jake proceeded to explain, right after Sophia laid out her plans for the year, the federal and state governments often get in the way of the fishers' intended routes, implying various legal repercussions upon failing to strictly follow the new regulations. According to the captain, this is because the relevant authorities aim to keep the fisheries permanently viable, which requires them being untouched throughout crab population declines.
For example, it was revealed in October 2022 that Alaskan state officials took the decision to completely cancel the snow crab season, as well as the fall season of Bristol Bay red king crab. On top of that, even the smaller snow crab winter harvest had to become a no-go, owing to the massive successes of "Deadliest Catch" crews, and many more who aren't televised.
Aside from the government's impedances, fishers also have to deal with life itself, as entire migrations of various species throughout the waters tend to occur from time to time, leaving them and marine biologists stumped at the outset.
It was also announced in October 2022 that billions of snow crabs had vanished without a trace from the high seas around Alaska. While overfishing is a most definite driver of such changes, it can't explain sudden and massive disappearances like this one. What makes the situation worse is the fact that snow crab is by far the most prolific species in those waters, bringing food to the tables of numerous families in the region.
In spite of the snow crab population declining from approximately eight billion in 2018 to just over one billion in 2021, experts have determined that overfishing isn't the real cause behind the disappearance. Global warming seems to be the driving factor of this change, as the temperatures in Arctic waters rose four times as quickly as anywhere else on the planet.
Being cold-water species, snow crabs generally reside in areas where the temperature is lower than two degrees Celsius (35 Fahrenheit). In waters warmer than that, their bodily functions perform with severe impediments. Migrations are thus a natural course of action for a great variety of marine wildlife, which in itself poses additional challenges for those who life off it.
The Alaska Department of Fish and Game said this week it canceled the winter snow crab season in the Bering Sea for the first time because of a decline in the crab population. Biologists say the warming of the waters is a possible factor. https://t.co/q1pAoOE8AS

— The New York Times (@nytimes) October 14, 2022
All is not lost, however, as the scientists are doing their utmost to track the displaced crab populations. There is also a glimmer of hope in the now abandoned area, as small numbers of juvenile snow crabs were seen persisting there. That said, it will take approximately three to four years of uninterrupted breeding for them to reach a population that is safe to harvest.
These changes mean that, for example, "Deadliest Catch" crews will have to brave even more dangerous waters in the coming season, with more fishing restrictions than ever before. The scientists, as well as the fishermen, are hoping for a potential cooler period that would see the migrants return, if even for a single season.
Riding the wave
Fortunately for Sophia, Captain Anderson has a whole slew of fishing permits under his belt, which is essential if sone is to adapt to all of the newly imposed restrictions. According to Jake, the government's fishing bans are cyclical, as one population reaches fishing maturity and another loses it, so there's a different target every year.
In order to make the most out of these rotations, fishing vessel captains require a permit to fish for that particular species, or in a select area of the open seas. Captain Anderson went through a whole lot to be able to frequent most fisheries, having obtained the permits for golden crab, blue crab, red crab, snow crab, and so on.
To Nielsen's fortune, Jake is also the number one catcher of black cod, which is almost as lucrative as the highly sought-after Alaskan red crab – the latter is Anderson's favorite species to fish, as it definitely brings in the greatest profit. In turn, it's a massive slap on the wallet for boats like the F/V Saga when the government cancels the fishing season for certain species, while crews without permits for those fisheries aren't really affected.
As Jake admits, the 2022/2023 season doesn't come with ample opportunity for great profits, but there's still money to be made wherever his vessel is allowed to cast its nets. He called his crew fortunate enough to be able to switch and adapt to any change, stating that his business relies on a system that is no different from the stock market.
I got the opportunity to work with some great people this fall killing black cod. 2 more weeks then I'll make my way to see my grandmother Regina Palutis!

Posted by Sophia Nielsen on Wednesday, November 2, 2022
Whatever decision the government makes, his fishing routes become altered to make up for the loss inflicted by the change, with access to vast amounts of different sea food, involving various species of fish and less sought-after crab.
With a solid plan for the season in place and the experienced crew readier than ever to take on the new challenge, it is yet to be seen whether Sophia will rise to the occasion and turn into a fine captain of herself, possibly of her own vessel.