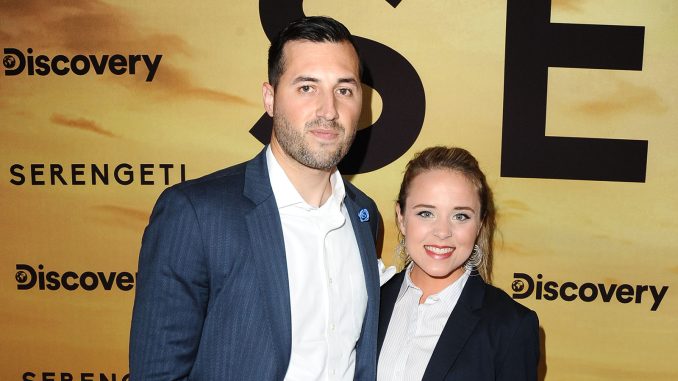 Jinger Vuolo, nee Duggar, is an American reality television star best known as one of nineteen children born to the Duggar family, featured in the reality hit series "19 Kids and Counting", as well as the spin-off series "Counting On".
As many of Jinger's fans and followers, or viewers of "Counting On" would know, the former reality television star went on to marry retired football (Soccer) all-star, Jeremy Vuolo. Their romance became something of interest to many viewers, and Jeremy even featured alongside his wife on "Counting On".
The couple have now been married for several years, celebrating their continued romance over the years, as well as the birth of their two daughters, Felicity and Evangeline. However, some rumours recently popped up suggesting that the couple might be facing difficulties in paradise, even going so far as to insinuate potential divorce.
While Jinger and Jeremy have faced their fair share of unfortunate hardships over the years, which includes a sad miscarriage, it seems unlikely that these rumours might hold any truth. As always, we took the liberty of investigating in the hopes of separating fact from fiction. With these questions surrounding the couple's future, we take a look into the current affairs of Jeremy and Jinger Vuolo.
What To Expect
Looking into the divorce rumours surrounding Jeremy and Jinger, we will briefly dive into the lives of both Vuolo and Duggar, reliving their rise to fame and how they have continued to achieve success in life.
We will also take a stroll down memory lane, looking back at how the couple met, and how their love blossomed over the years they have been together, while also discussing the hardships they endured.
Lastly, we will address the rumours concerning their possible separation, hoping to clarify the truth and get to the bottom of this hot topic.
Jeremy and Jinger
Born on 21 December 1993, Jinger Nicole Duggar is the sixth child of Jim Bob and Michelle Duggar, earning her claim to fame at a very young age when she featured as part of the Duggar family's reality TV series, originally documented on Discovery Health Channel in the documentary "14 Children and Pregnant Again" back in 2004.
The documentary focused on the peculiar circumstances of the Duggar family, who became renowned as one of the most expansive families in the United States. The documentary followed the family as they faced the difficulties associated with being a bigger family, but also centred more specifically on the lives of the children.
Subsequently, the documentary's popular reception eventually led to the creation of a continued series that would air on the TLC network, and as such, Jinger and her siblings eventually grew up before the eyes of the many viewers "16 Children and Counting" gained. As the family grew, so the series continued, eventually becoming "19 Children and Counting", and of course the show's popularity developed into the spin-off many people continue to watch, namely "Counting On".
However, Jinger's success in life didn't only arise from her claim to fame in front of the camera, as today she's an established author with several published works. Most of her books document her life as part of the Duggar family, though some of her work includes a couple of self-help books concerned with Jinger's inclination to the Christian religion.
Jinger's husband, Jeremy Joseph Vuolo, was born on 5 September 1987 and is a former American soccer star who played in the Major Soccer League and the North American Soccer League as a goalkeeper. Jeremy later starred in "Counting On" following his marriage to Jinger, and remains a constant supporter, always at his wife's side.
Jeremy was homeschooled for most of his life, though completed his senior year at Downingtown West High School, later graduating from Hartwick College with a degree in Business Administration. While attending college, Jeremy discovered his love for soccer and embarked on his early career, eventually as an all-star.
Vuolo later played for Syracuse University, while also appearing in the Premier Development League for Reading United. Following college, Jeremy signed with Finnish football club AC Oulu, playing a total of twenty-four matches with the club.
Returning to the US, Jeremy signed with the New York Red Bulls as part of his Major League career, though following his release from the team, Vuolo took some time away from soccer to focus on his career as a minister in the Christian religion.
In 2013, Jeremy returned to the soccer scene playing in the North American League, signing with the San Antonio Scorpions until his retirement in 2014. Following his soccer career, Jeremy later became known as Jinger Duggar's romantic interest, and after marrying her, he earned some recognition after appearing on television with his wife. Today, Jeremy is a full-time, practising minister, and spends all of his time sharing in the love of Jesus.
Jeremy and Jinger on their Valentine's Day date!

Posted by Duggar Family Official on Monday, February 19, 2018
The Love They Hold
While most fans of the Vuolo couple simply adore the cute romance shared between Jeremy and Jinger, which was quite often open for display on "Counting On", one can definitely say that their love blossomed rather quickly.
As it would appear, the couple fell head over heels for each almost from their first encounter, and it didn't take them long to cement their love with wedding vows. Jeremy and Jinger first met after Vuolo became good friends with Duggar's brother-in-law, Ben, and following their first meeting, the two travelled together to Central America as part of a Christian mission.
However, Jeremy would easily admit to the public that it wasn't easy to win over Jinger's hand, as her father, Jim Bob, posed a 50-page questionnaire to Jeremy as a test of his devotion to Jinger, which had to be completed before Jeremy was even allowed to court his future wife.
Despite the difficulty presented by Jim, Jeremy, and Jinger fell deeply in love, as Jinger would later reflect, she'd never experienced such a strong attraction to anyone as she did with Jeremy. That might explain why the couple's romance flourished so quickly.
The couple became engaged in New York City on 16 July, a little less than a year after their initial meeting. The couple broke the news about their engagement on social media, expressing how grateful they are to the Lord for bringing them together, and they are truly blessed to have discovered true love.
Three months later, in November of 2016, the pair married in front of 1000 guests in the Cathedral of Ozarks at John Brown University. The following year, the couple shared beautiful pictures of their big day on Instagram as part of their first-anniversary celebration, once again expressing how blessed they believe they are for experiencing such deep romance.
On 19 July 2018, the couple welcomed their first child into the world, Felicity Nicole, and the couple would go on to share their first experience of parenthood with the world through both of their social media profiles, as well as appearances on 'Counting On". Naturally, their fans and followers celebrated the joy with them, but in 2020 the couple shared some unexpected sad news.
Jinger Duggar weds Jeremy Vuolo — details: https://t.co/9oXAde8nzM pic.twitter.com/WNkPZ0U2Xr

— Us Weekly (@usweekly) November 6, 2016
While trying for a second child, the couple announced that they experienced a miscarriage, and while the family was shaken by the event, they continued to post grateful messages on their social media, in which Jeremy expressed how thankful the couple is for the child they do have, and despite the hardships, continue to consider themselves loved and blessed by the Lord.
However, later that same year in May, the couple announced that Jinger was expecting their second child, and in November 2020, Jinger gave birth to their younger daughter, Evangeline Jo. As the years passed, it seemed as if Jeremy and Jinger only continued to successfully pursue happiness, and the couple couldn't seem any more content with their lives. As proof, they remained active on social media, often posting sweet family moments, despite their departure from reality television.
The couple also went on to co-write a family memoir, entitled "The Hope We Hold", which documented everything from the joys they experienced in life, to the hardship of dealing with a miscarriage. What can be clearly deduced from their book, is that the couple seems to be in the happiest possible place they could be.
Those Nasty Rumours
Despite the couple's happy facade on television, and now on social media, fans nonetheless began putting rumours out that suggested things between the couple might not be all as rosy as it appears. These rumours began circulating following a recent trip Jinger took to Arkansas to visit her family; among the many photos she shared on social media, her followers noticed one picture in particular which raised fears and questions.
The picture in question was one in which Jinger snuggled with her nephew Truett, Jedidiaha, and Katey Duggar's son, who would be turning a year old later in 2023. While inconspicuous, fans noticed that Jinger wasn't wearing her wedding ring, and of course social media began buzzing with speculations.
Some fans began questioning the mother of two on her social media profiles, while others chose to defend her, suggesting she took off her ring to avoid scratching the baby. Regardless of what some fans suggested, Jinger did not immediately respond, raising even more fears among the couple's admirers.
However, during a recent confessional video the couple posted on YouTube, mostly to discuss Jinger's latest book, "Becoming Free Indeed: My Story of Disentangling Faith From Fear", Jeremy and Jinger attempted to silence the rumours. During the discussion, the point about their possible divorce was raised, and the couple simply responded by making jokes about it, almost suggesting it could happen -Jinger denied the allegations, saying that they weren't splitting up, though neglected to provide any reasoning for taking off her ring.
Regardless, people and gossip outlets took the couple's word, and as such, it's confirmed that Jeremy and Jinger are still happily married, and are not making any plans to separate. Thus, the rumours seem once again to be false, and fans can rest easy knowing that the Vuolos will remain a happy family.
Conclusion
Rumours are what rumours more often tend to be, nothing but pure speculation. In the case of Jinger and Jeremy's divorce rumours, it once again appeared to be false hearsay, despite maybe originating from valid fears and evidence.
It seems that Jinger and her family are as happy as they have ever been, and quite surely, their adoring admirers wish them nothing but the best.