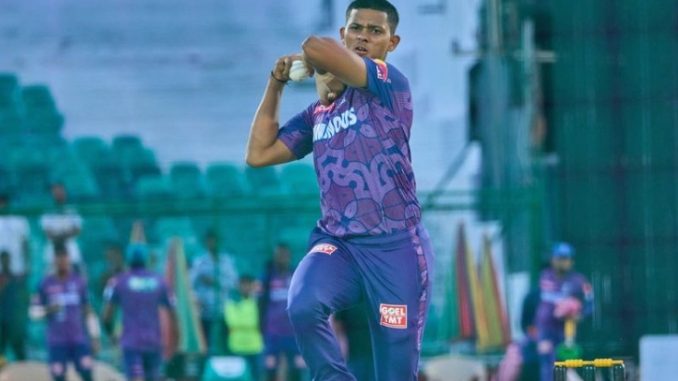 Yashasvi Jaiswal is a rising star of Indian cricket, known for his exceptional performance both in domestic cricket and the Indian Premier League (IPL). He currently plays for Mumbai in domestic cricket and for Rajasthan Royals in the IPL. Jaiswal holds the record for being the youngest cricketer in the world to score a List A double century and was the leading run-scorer of the India U-19 team. He also bagged the Player of the Tournament award at the 2020 Under-19 World Cup in South Africa. In 2020, Jaiswal was bought by the Rajasthan Royals for ₹2.4 crores (US$300,000) at the IPL auction, which was a testament to his growing reputation and potential.
As a talented left-handed opening batsman, Jaiswal has already shown his mettle in the cricketing arena and has become a role model for aspiring cricketers in India. His impressive stats and records at a young age speak volumes about his dedication and hard work toward the sport.
Who are Yashasvi Jaiswal's Parents?
Yashasvi Jaiswal, currently 21 years old as of 2022, was initially named Yashasvi Bhupendra Kumar Jaiswal at birth on 28 December 2001 in Suriyawan, Bhadohi, Uttar Pradesh, India. He is the fourth of six children and his father, Bhupendra Jaiswal, owns a small hardware store while his mother, Kanchan Jaiswal, is a housewife. One of his sibling's names is Tejasvi Jaiswal who is an older brother. He identifies as of Indian-Asian ethnicity and holds Indian nationality. When he was ten, Jaiswal moved to Dadar, Mumbai, to train in cricket at Azad Maidan. However, he struggled to find a place to stay nearby and eventually ended up living in a dairy shop in the Kalbadevi neighborhood in return for menial work. After he was asked to leave the shop, Jaiswal had no place to go and ended up sleeping in a tent with the groundsmen at the Maidan. During this time, he often went hungry and sold panipuri to earn a living. After three years, Jwala Singh, who ran a cricket academy in Santacruz, noticed Jaiswal's potential and offered him a place to stay. Singh became Jaiswal's legal guardian and obtained his power of attorney.
As of February 2020, Yashasvi was a high school student, studying in the 10th grade. 
Yashasvi Jaiswal Cricket Career
Yashasvi Jaiswal's youth career in cricket has been nothing short of remarkable. He first gained recognition in 2015 when he broke an all-round record in school cricket by scoring 319 not out and taking 13/99 in a Giles Shield match. From there, he was selected for the Mumbai under-16 squad and eventually made it to the India under-19s team. In 2018, he was the highest run-scorer and player of the tournament in the Under-19 Asia Cup, which India won.
In 2019, Jaiswal continued to impress by scoring 173 off 220 balls in a Youth Test match against South Africa under-19s, leading his team to an innings win. He also scored 294 runs in the under-19 tri-series in England, which featured Bangladesh as well. However, it was his performance in the 2020 Under-19 Cricket World Cup that truly cemented his place as a rising star in the cricket world. Jaiswal became the leading scorer in the tournament and scored a century against Pakistan in the semi-final.
After impressing in the youth circuit, Jaiswal made his first-class debut for Mumbai in the 2018-19 Ranji Trophy. He later made his List A debut in the 2019-20 Vijay Hazare Trophy, where he made history by becoming the youngest double centurion in List A cricket at 17 years and 292 days. He smashed 203 runs off 154 balls against Jharkhand, including 17 fours and 12 sixes, against a formidable bowling attack consisting of Varun Aaron and Shahbaz Nadeem. He was also among the top five run-scorers in the tournament, with 564 runs in just 6 matches at an average of 112.80. Jaiswal's performances earned him a place in the India B squad for the 2019-20 Deodhar Trophy.
In the 2020 Indian Premier League (IPL) auction, Jaiswal was picked up by the Rajasthan Royals. He made his Twenty20 debut for the team later that year. Although he did not have a great season, he impressed with his grit and determination. Jaiswal continued to work hard on his game, and finally, in 2023, he scored his maiden century in T20 cricket, scoring 124 off just 62 balls against Mumbai Indians. Even though his team lost, Jaiswal's performance was a testament to his talent and potential, and he remains a promising young talent to watch out for in Indian cricket.
Yashasvi Jaiswal Awards and Achievements
Indian Premier League runner-up 2022
Yashasvi Jaiswal Cricket Stats
Yashasvi Jaiswal has played in 15 first-class matches, 32 List A matches, and 46 T20 matches. He has scored 1,845 runs in first-class matches, 1,511 runs in List A matches, and 1,078 runs in T20 matches. His batting averages are 80.21 in first-class matches, 53.96 in List A matches, and 25.06 in T20 matches. Jaiswal has hit 9 centuries and 2 half-centuries in first-class matches, 5 centuries and 7 half-centuries in List A matches, and 1 century and 7 half-centuries in T20 matches. His highest scores are 265 in first-class matches, 203 in List A matches, and 124 in T20 matches. He has bowled 48 balls in first-class matches, 285 balls in List-A matches, and 13 balls in T20 matches, but is yet to take a wicket in any format. His bowling average in List A matches is 36.71 and he has taken 7 catches in List A matches and 13 catches in both first-class and T20 matches. These statistics are as of 9 April 2023, according to ESPNcricinfo.
Is Yashasvi Jaiswal dating someone?
Yashasvi Jaiswal is currently not married and has no plans to do so anytime soon. Being a young cricketer, he is primarily focused on his career and does not have a girlfriend or any rumored relationships. He seems to be enjoying his single life, and his main priority is to continue improving his skills and performing well on the cricket field.
While some cricketers may find it difficult to balance their personal lives and their career, Jaiswal appears to have found a way to maintain a healthy balance. He is determined to achieve success in his profession and become a renowned cricketer, and his hard work and dedication have already brought him many accomplishments.
How much is Yashasvi Jaiswal's net worth?
Yashasvi Jaiswal has established himself as one of the most promising cricketers in India with his outstanding performances. He has accumulated a considerable amount of wealth from his cricket career and various endorsements. His estimated net worth as of 2023 is $1.1 million or INR 12 crore, which is a remarkable achievement for someone his age. Jaiswal earns over $40,000 every month, which is a testament to his skill and dedication to the sport. He has been sponsored by the cricket equipment manufacturer SG (Sanspareils Greenlands) Cricket. He is also expected to earn more in the future as he continues to perform at the highest level.
Jaiswal's story is one of hard work and perseverance. He is an inspiration to many young cricketers who are struggling to make their mark in the sport. With his net worth and earnings, Jaiswal is not only setting an example for his peers but also providing for his family. His success on the field and off it has made him one of the most popular cricketers in India, and his fans eagerly await his every match.
Yashasvi Jaiswal's possessions include a luxurious designer house in Suriyawan, Bhadohi, Uttar Pradesh, India, and several other real estate properties across the country. Although his car collection is small, it includes some of the best luxury cars in the world, such as a Mercedes SUV.
How tall is Yashasvi Jaiswal?
Yashasvi Jaiswal is a talented young cricketer with a slim build. He stands at an impressive height of 5 ft 11 in or 180.5 cm and weighs 70 kg or 154.5 lbs. Jaiswal has distinctive features that include a lean physique, an affable smile, and short-cropped black hair. 
In addition to his height and weight, Jaiswal also has hazel eyes that complement his striking appearance. With his tall height and lean physique, Jaiswal has become a notable figure in the world of cricket, and his physical attributes have helped him stand out among his peers. Overall, Jaiswal's impressive appearance, coupled with his talent and dedication to the sport, make him a rising star in the cricket world.